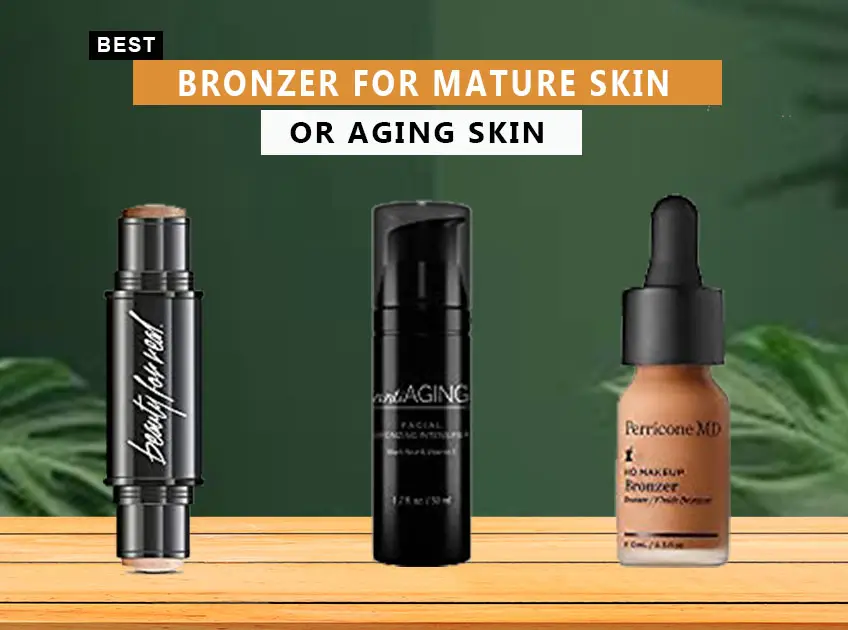 Aging is one of the natural processes, and there is no denying that. Sooner or later, the skin starts aging, too, reducing its natural glow and suppleness. Moreover, the estrogen level declines as we age, making skin drier than ever. These, along with other factors, take a toll on the skin.
Bronzers are one of those makeup products that can help bring a natural glow and shine to the skin. Therefore, they are good for mature skin.
While looking for the best bronzer for mature skin, you need to ensure that it consists of skin-loving, especially skin-hydrating properties. At the same time, it should go well with skin tone and skin type.
Bronzer for Mature Skin
If the bronzer makes the skin drier, it is not suitable for mature skin. It should be soft, easily gliding, and seamlessly blending. Once you find the perfect bronzer for mature skin, nothing can stop you from looking youthful and younger.
Check out the top 7 best bronzers for mature skin
7 Best Bronzer for Mature Skin
1. Keep skin Hydrated: Delilah – Sunset – Matte Bronzer Compact
Matte bronzer, giving a gorgeous sunkissed glow
Contains vitamin E to help protect the skin
Includes jojoba oil, which helps to offer natural hydration to your complexion
Ultra-light, silky texture blends perfectly over the skin
Soft-focus pigments help to veil any imperfections, leaving beautiful, even, and healthy-looking skin
What We Don't Like: Even though it is the best overall bronzer, the price is high.
2. Skin Firming Formula: Nars Laguna Bronzing Cream – Laguna 03
Infused with monoï de Tahiti oil from tiare petals oozing skin-softening properties and pleasing aroma
Helps lock in moisture and glow for hours
The firming formula delivers sun-warmed, seamless, and long-lasting radiance
Easy-to-blend formula effortlessly fuses to the skin and builds seamlessly to create a long-lasting, natural finish
What We Don't Like: It comes with a hefty price tag and may not fit everyone's beauty budget.
[ Read: 7 Best Firming Masks For Mature Skin ]
3. Comforting All Day Formula: Beauty For Real Bronze + Glo
Formulated with Vitamin E and grape seed extracts that help nourish the skin
Infused with pomegranate extracts that provide benefits of anti-aging properties and antioxidant protection
Made of a creamy powder formula that blends into the skin
Gives a natural, weightless finish with a youthful rosy shade on the cheekbones
What We Don't Like: Some users say the stick melts in hot conditions. Also, the stick is not very suitable for everyone's use.
[ Read: How to Get Perfect Cheekbones With Makeup ]
4. The goodness of Natural Ingredients: Onyx Indoor Dark Tanning Bronzing Intensifier
Infused with matrix 3000TM and green tea extract that enhances your suntan look and helps prevent premature aging
Formulated with macadamia oil, cranberry seed oil, and raspberry seed oil, making your skin silky and moisturized
A blend of a sweet floral fragrance and a fruity tone makes it pleasingly aromatic
Rich in antioxidants, giving a soothing and conditioning effect
What We Don't Like: Some may find the fragrance overpowering.
5. Best Waterproof Bronzer: IT Cosmetics Ombre Radiance Bronzer
Provides both the benefits of a bronzer and a highlighter
Features long-wear, waterproof formula
Developed with drops of light technology and merged with the benefits of hydrolyzed collagen and peptides
Natural remedy for aging skin as it improves the overall appearance
What We Don't Like: It may cause skin irritation to certain skin types; therefore, a patch test is recommended.
6. Bronzer with Shimmer: Dr. Denese SkinScience SunShield Anti Aging Bronzer
Formulated with multi-peptide technology, providing cheeks with a shimmery bronze hue
Contains ceramide two and palmitoyl oligopeptide that combats the signs of aging and boosts healthy shine into the skin
Clinically tested and offers tight, firm, and younger-looking skin
Suitable for all skin types and free of parabens, sulfate, dye, and phthalate.
What We Don't Like: It may make the skin dry.
[ Read: How to Get Healthy Skin Naturally at Home ]
7. Best Bronzer with Sun Protection: Perricone MD No Makeup Bronzer Broad Spectrum
Gives you a believable golden bronze glowActs like a sunscreen by protecting your skin from the real suntan
Formulated with vitamin C ester and mineral SPF 15, improving discoloration or dullness over time
Highly pigmented and highly adaptable, giving a flattering glow
What We Don't Like: The results of this bronzer may not be very long-lasting, and reapplication would become necessary.
[ Read: Essential Oils Vitamin C Facial Cleansing Wipes Review ]
Conclusion
Even though diet, lifestyle, and sun exposure affect skin tremendously, bronzer can help combat many skin issues, especially with mature skin. It can cover blemishes and signs of aging. Buy any of the above-listed products and look flawless.
You Might Also Like: