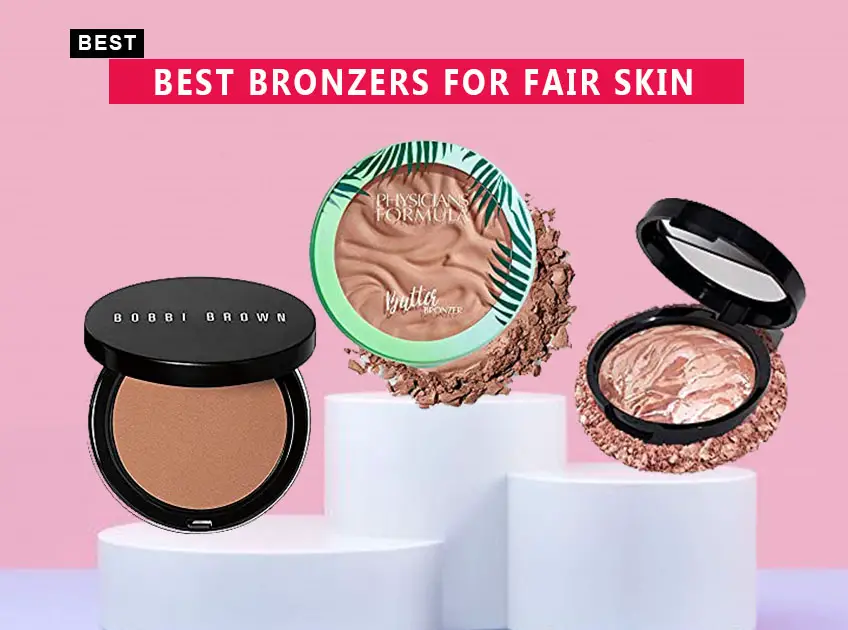 Bronzers are supposed to give a sun-kissed look to your skin. It should make you look like you have basked in the sun's glory or recently stepped out off the beach.
When choosing the best bronzer for fair skin, a few things should be kept in mind. First, it should give a sheer finish and blend effortlessly into the rest of your makeup. Moreover, it should not make you look orange or ashy.
Using a bronzer that gives too dark or muddy-look would be a complete waste of time, effort, and money. Apart from complexion, you also need to understand your skin's undertone.
Bronzers for Fair Skin
As a thumb rule, your bronzer color should be one to two shades darker than your surface tone. Keeping all this in mind, we have listed the top 7 best bronzer for fair skin.
Check them out and find your pick!
7 Best Bronzers for Fair Skin
1. Dermatologist Approved: Physicians Formula Happy Booster – Light Bronzer
Formulated with plant extracts and is dermatologist-approved
It is non-comedogenic and hypoallergenic and is suitable for sensitive skin, helping prevent skin damage
Free of paraben and gluten
It comes with an applicator and in-built mirror
What We Don't Like: If you have dry skin, this product may make it drier.
[ Read: Home Remedies for Dry Skin on Face ]
2. Power of Three in One: Hourglass Ambient Lighting Palette
Features three powders that give aggressive flashlights a soft look on the skin
Colors in the palette are Incandescent Light, Dim Light, and Radiant Light
Perfect for blurring imperfections and balancing warm and cool tones
Soft-focus finishing powders, suitable for all day radiant look
What We Don't Like: It is an expensive product.
[ Read: NYX Professional Makeup Ultimate Shadow Palette Review ]
3. Best Matte Finish Bronzer: Bobbi Brown Bronzing Powder – Golden Light
Features silky smooth texture helps give the tanned look
A perfect mix of red and brown shades helps make a real tan color
Blend well with makeup, giving a healthy, toned skin
It is a matte-finish product available in six different shades for different skin tones
What We Don't Like: Bobbi Brown is an expensive brand whose products do not fit everyone's beauty budget.
[ Read: 10 Best Homemade Skin Toners For Glowing Skin ]
4. Three Shades Bronzer: theBalm Take Home The Bronze Anti-Orange Bronzer
It helps achieve a golden glow without the orange undertones
It blends easily, helps the skin get a natural tan, and is made cruelty-free
It is free of paraben and other ingredients harmful to the skin
Available in three different shades
What We Don't Like: Even though everything about this product is great quality, performance and price, its application is messy.
5. Best Natural Finish Bronzer: Laura Geller Baked Bronze-N-Brighten Bronzer
It helps attain a beautiful, bronzed glow on your cheekbones, nose, and chin
One of the best natural-looking bronzers for light skin
It gives a natural appeal without the orange hint of real suntan
It ensures no orange tint and comes in three different shades
What We Don't Like: It may contain a color additive, carmine, that may cause an allergic reaction in some; therefore, a patch test is recommended.
[ Read: How to Get Perfect Cheekbones With Makeup ]
6. Best Vegan and Cruelty-free: Physicians Formula Butter Bronzer
Made of murumuru, cupuacu, and tucuma butters,
Suitable cream bronzer for sensitive skin
It consists of ultra-refined pearls and soft-focus bronze pigments that give you a moisturized, smooth-textured skin
It gives nutrient-rich coverage on your skin along with a bronze finish
What We Don't Like: It has a typical beachy fragrance that may be a little strong for some people.
[ Read: 5 Easy Homemade Moisturizers for All Skin Types ]
7. Dewy Finish: Benefit Cosmetics Hoola Matte Bronzer For Light Skin
It helps give a natural-looking contoured appearance
It comes with a built-in mirror
Available in four different shades
It gives a flawless matte finish
What We Don't Like: According to a reviewer, the compact might be too small for the brush to pick up a good amount of product.
[ Read: How to Contour Your Face: A Step-By-Step Guide ]
Conclusion
To err is human, but making mistakes with your makeup can degrade your look and make you something to laugh at. Therefore, using the right makeup products is essential.
You are blessed if you have pale or fair skin, as most of the makeup goes well with such skin. However, the right shade will only work when it comes to making it tan.
Choose any of the bronzers mentioned above and flaunt your sun-kissed look all the time.
You Might Also Like: