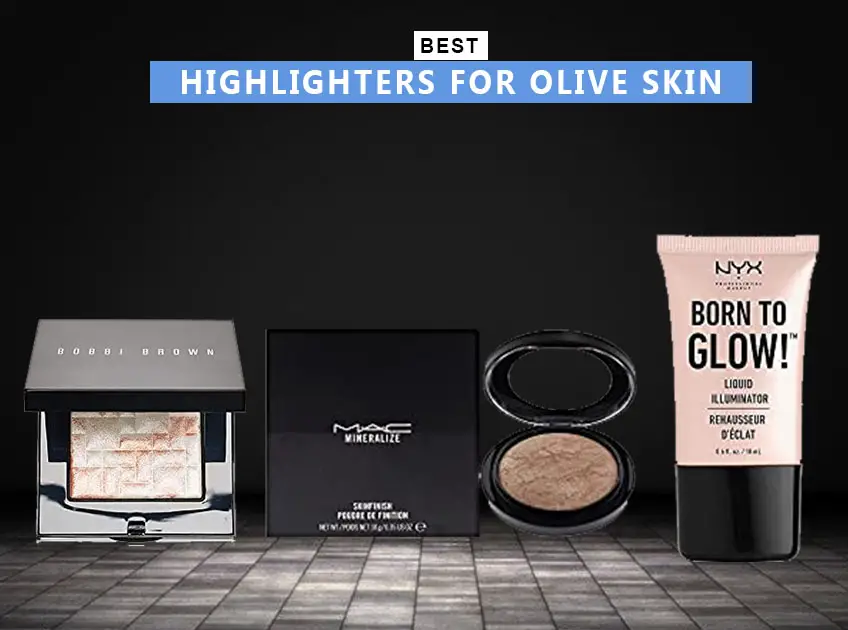 Olive skin looks stunning with yellow, green, or golden undertones. Due to the amazing complexion, the skin often looks tan. Believe me; you are blessed if you have olive skin, as people bask under the sun for hours and use different products to achieve such skin tone.
Highlighters
Olive skin looks great in its own way; however, when it comes to makeup, using the right shade makes all the difference. Here we have come up with some of the best highlighters for olive skin that can be used to give this skin complexion a natural, subtle, and shimmery glow.
All these highlighters are selected based on their quality and performance. At the same time, we have also considered users' reviews and opinions while curating the list.
Check them out!
7 Best Highlighters For Olive Skin
1. Gorgeous Finish: Hourglass Ambient Lighting Palette
It contains three shades- dime light, incandescent strobe light, and radiant light
Offers natural light refection to make olive skin appear more radiant
It features fancy Photoluminescent Technology that filters out harsh light and refines the appearance of the complexion
Layering it with different powers helps create a multidimensional glow
The lightly pigmented and very finely milled powder helps achieve the best look
What We Don't Like: More shades are expected.
[ Read: 10 Best Highlighter For Fair Skin ]
2. Airbrushed Effect: Bobbi Brown Highlighting Powder
The palette shades in this product include Bronze glow, Pink glow, Sunset glow, Afternoon glow, and Moonglow
Lightweight powder that stays gentle on the skin and doesn't feel uncomfortable
Allows full control over highlighting and building up the intensity with ease
The pearly formula helps get rosy pink highlights
It offers natural luminosity and can be used with a brush or fingers
Doesn't settle down on fine lines and ensure a flawless look
What We Don't Like: It is pricey.
3. Luxurious Glow: MAC Mineralize Skinfinish Powder Highlighter
The shades in the palette are Lightscapade, Soft and Gentle, and Cheeky bronze
Easy to blend, this slow-baked highlighter offers a sheer luminous glow on the face
It is designed with the MAC Multi-Mineral Complex and vitamin E ingredients
It makes skin buttery soft and lasts all through the day
Ensures natural and soft shimmer
It is tested and approved by dermatologists and ophthalmologists
What We Don't Like: It may clog pores, so not suitable for acne-prone skin.
[ Read: How to Apply Highlighter Makeup Correctly ]
4. High Quality: Estee Lauder Double Wear Brush-On Glow BB Highlighter
It comes in two shades- ON Soft Pink and 1C light
It is a silky, luminous, long-wear BB highlighter that brightens, perfects, and corrects
Made with exclusive Photo Optic Technology to bring a brightening effect to the areas where the light falls
It can be used as a dewy finish concealer too
It reduces skin imperfections like dark circles, fine lines, blemishes, and wrinkles
Creamy formula and smooth texture
What We Don't Like: Only two shades are available.
5. Best for Subtle Shimmer: NYX Professional Makeup Born To Glow! Liquid Illuminator in the shade Sunbeam
Brightens the face in a jiffy, making you photo-ready all the time
It comes in a peach undertone, thus suitable for olive skin
It offers a subtle shimmer and a natural glow
Formulated with an intensely moisturizing formula
It blends into the skin and is easy to apply
Ensures smooth and dewy finish
The skin-friendly formula stays gentle on all skin types
What We Don't Like: Overuse may lead it to settle down on fine lines and pores.
[ Read: Best Makeup Tips for Olive Skin Tone ]
6. Subtle Dewy Finish: Too-Faced Diamond Highlighter
It is packed with ingredients like real crushed diamond powder and light-reflecting pearls
It brings a natural glow to the skin and lightens and brightens up the complexion
Available in two shades- Fancy pink diamond and Diamond Fire
It is buildable and easy to blend
The highly reflective finish is another biggest USP of this highlighter, making it suitable for olive skin
What We Don't Like: It is a delicate formulation that may break while handling.
7. Multiple Shades Highlighter: Anastasia Beverly Hills Glow Kit
It comes in six different shades- Blue ice, Star, Purple horseshoe, Pink heart, Lucky clover, and Blue moon
Suitable for people with medium to deep skin tones
It can be used on wet or dry skin
The power features a silky texture that helps to create a customized glow
It also gives a shimmering finish to the skin
The effortlessly buildable formula that is easy to apply on the face
What We Don't Like: The pans are small and lack a mirror.
[ Read: 10 Best Highlighter For Fair Skin ]
Conclusion
These are some of the best highlighters for olive skin that help bring a natural glow to the complexion, making you photo-ready all the skin. Grab them and look stunning wherever you go.
You Might Also Like: