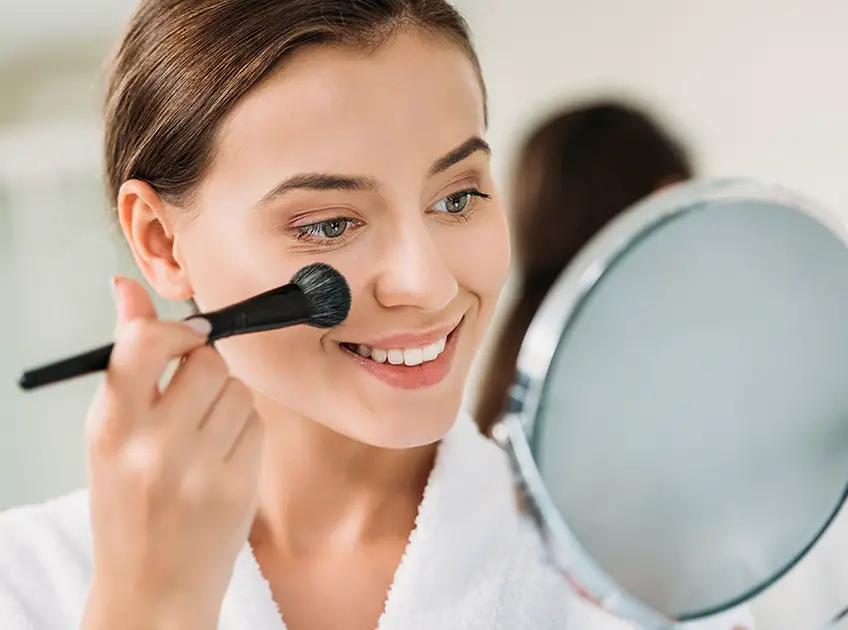 Have you just got a new foundation? Does it give you a zombie-like appearance? It might make you go back for a shade that is slightly warmer. However, it might make you look as if you have been tanning for long in a salon because it isn't the right foundation shade for you. This is primarily because you are somewhere in between the cool and warm spectrum. If your skin has a green tinge that comes with a little brown, you have olive skin tone. This can range between pale and dark. The green pigments that are present in the skin combine with the brown and red hues to give you the olive skin tone appearance. It is usually associated with people having brown shades in the complexion. Rather than having a cool or neutral tone, people with olive skin tone have a neutral tone.
The type of makeup that you want to use depends on you. However, we will talk about some makeup tips that will complement the skin you have.
5 Best Makeup for Olive Skin Tones
1. Choose the Right Foundation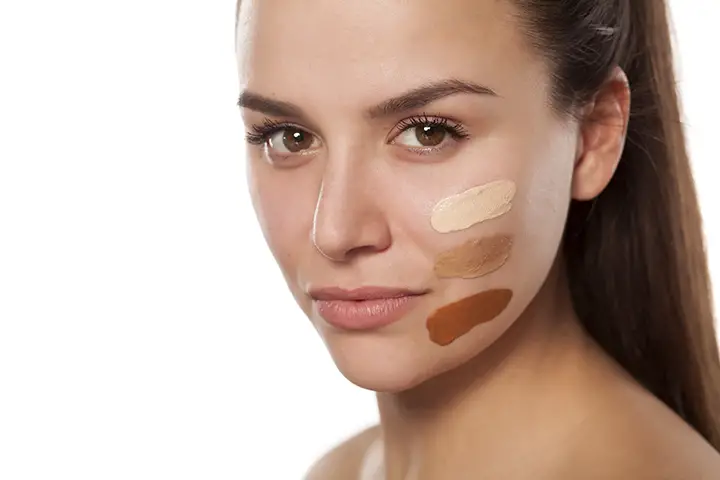 When you have oily skin, it can serve as a blessing as the skin will glow but will not turn red. The advantage that you enjoy is that you will not have to conceal much.
You just have to find a foundation that is good enough. Generally, the foundations which are labeled as neutral is ideal for olive skin. However, you can also experiment with a few cool and warmers tones.
Keep in mind that it is all about what is going to look the best. Experiment and play around a little. If you do not like foundations, you can use BB or CC creams for your evening outing as it adds a light coverage.
However, there are various ranges of olive skin tone, so check which of the products look great on an olive skin tone.
It is a good idea to use the foundation when you are going out to parties or big events.
It is advised that you use the foundation only when you are going to put makeup or else a BB cream with the right lipstick is more than enough.
[ Read: How To Apply Foundation Correctly ]
2. Opt for the Best Blush for Your Skin Tone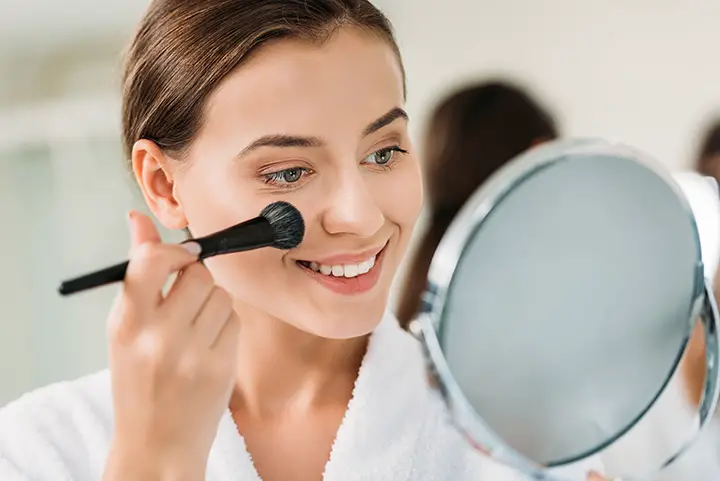 The colors which complement your skin tone when it comes to the blush are pinks and peaches. You can also opt for bronzy shade. Use a little shimmer as it can work wonders. Blush and a highlighter can work great too.
You need to take the bone structure of your face when using the blush. The cheek color must be swept on your face in accordance with your bone structure.
Never use shimmery blush on bumpy skin.
Blush can be used on any facial feature.
[ Read: How To Apply Blush ]
3. Choosing the Best Eye shadow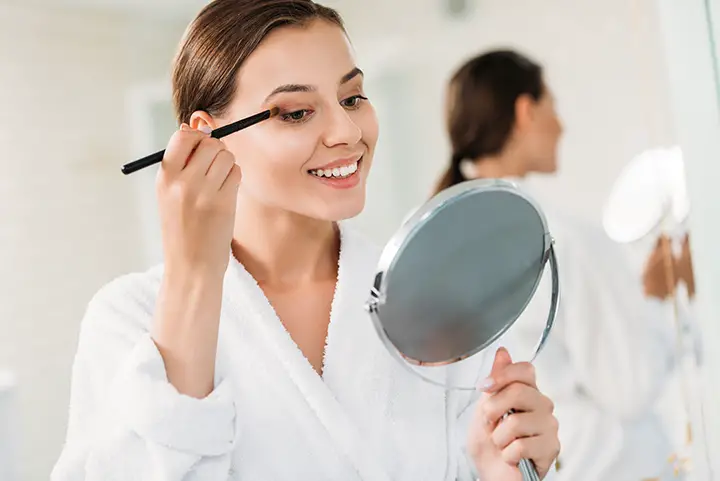 While choosing the best eye shadow for olive skin, bronze and gold are the best options. You will find many palettes available in the market.
These shades can be your go-to option when you do not have enough time to decide what look is going to look good.
In case you want to play a little, choose purples or deep blues. Shimmery emerald green can be wonderful. If you are confident enough, try out the classic smokey eye.
Use a cream shadow rather than using a powder for the quick application using fingers.
Make eyes beautiful by using two shades darker foundation and give your face a contrast look.
Get the correct amount of shadow on your lower lid by using a small brush.
[ Read: How To Apply Eye shadow Like A Pro ]
4. Lipsticks to Use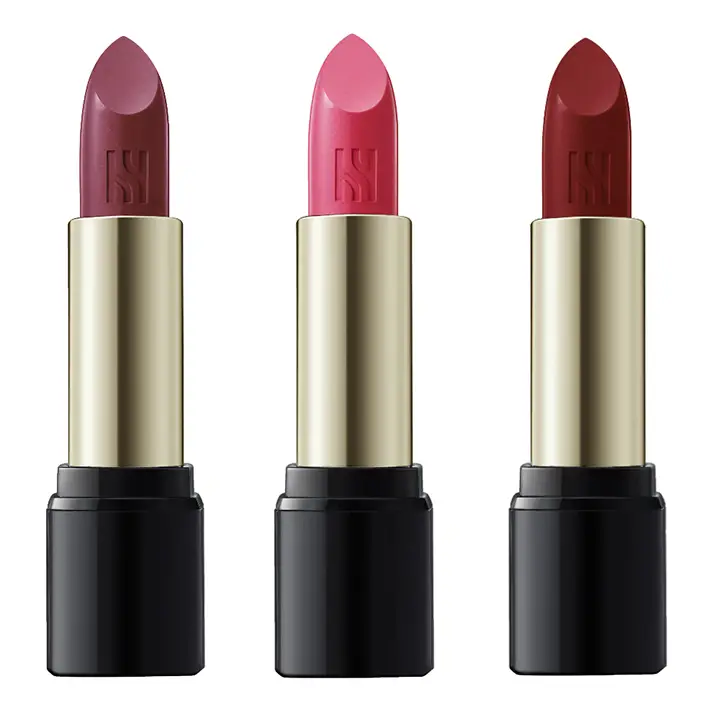 Do I Need Darker or Lighter Shades?
People with olive skin tone should consider you to be lucky. This is because there are ample lip colors which are suitable for your skin.
Starting from pinks to bright oranges, you will find it all. It is just about how comfortable you are and how much are you ready to play with the colors. You will only face a problem with the nude colors.
Makeup brands that design nude colors do not actually take people with darker skin colors into consideration. Thus, they end up looking dull or ashy on darker or pigmented lips.
Exfoliate the lips with a toothbrush to remove the dead skin.
Use a moisturizer primer on the lips so that the lipstick sits on it well.
Work on the lip edges with a flesh-toned liner to prevent the lipstick from bleeding.
Apply a thin layer over the lips first and then add another layer if needed.
[ Read: How to Apply Lipstick Like a Pro ]
5. Choosing a Highlighter and Contouring Kits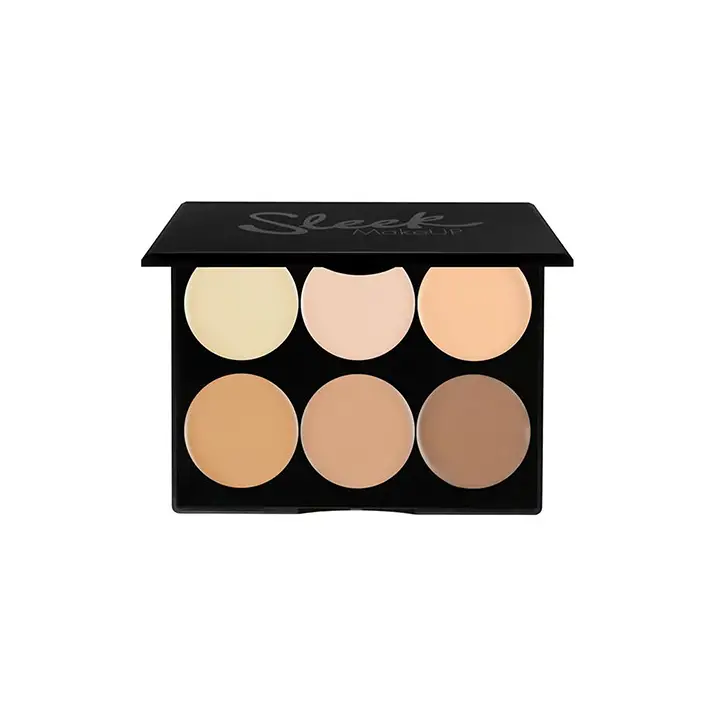 Many people think that they cannot contour when they have an olive skin tone, but that is not actually true. You just have to find out the right shades. When you have a pale color, use a light hand to make sure that you don't overdo it.
Use matte bronzer to contour. However, there is no need to warm up the face as you already have a caramel color.
Use warmer tones for darker skin. To get a bold look, try cream contours and for a polished look, use the powder contours.
A little contouring is a good option rather than sculpting the entire face.
Balance the application with a blush and a highlighter.
By now you have come to understand what you should do and what you shouldn't and you will be ready to try out the makeup tips all by yourself. What's best about skin tone is that there are only a few days where you do not glow. Your olive skin has natural pigments which are in a perfect balance of cool and warm tones. This will make you appear bright all the time. So, don't step back from flaunting it.
You Might Also Like: