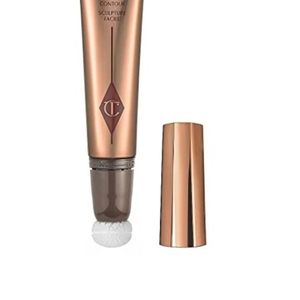 Seeing the popularity and demand of Charlotte Tilbury makeup, there is no need to prove how good they are. When a brand is loved by celebrities like Kate Moss and Kourtney Kardashian, it is safe to say that they are the best of all.
From Charlotte Tilbury Pillow Talks to concealer, foundation, and illuminator, every product is ah-so-good. But, the only downside is the hefty price tag due to which these products are out of reach of mainstream consumers.
So, what's the solution? Well, we have found some amazing Charlotte Tilbury alterniatives that are equally good and cost a fraction of the price. Maybe the hardcore fans of Charlotte Tilbury makeup will not find them equally good, but they are way too closer when compared.
So, if you can't afford Charlotte Tilbury makeup, you always have alternatives to them. These cheaper Charlotte Tilbury alterniatives will surely fit your beauty budget and make you look gorgeous before heading out of the home.
Charlotte Tilbury
Want to check them out? Before that, let's find out what makes Charlotte Tilbury makeup so popular and demanding,

5 Charlotte Tilbury Alternatives
1. NYX Born To Glow Liquid Illuminator for Charlotte Tilbury Hollywood Flawless Filter
Getting the same glow as Charlotte Tilbury Hollywood Flawless Filter offers is not possible, but NYX Born To Glow Liquid Illuminator can give results close to the real thing without digging a hole in the pocket. It smoothens, blurs, and illuminates skin to give a real-life filter effect.
Luminous lit from within glow year-round with the luxuriously lightweight NYX Born to Glow Liquid Illuminator.
A multifunctional moisturizing formula can be used as a foundation base or as a highlighter over cheekbones, décolletage, and cupid's bow for a natural-looking radiance.
Aids in color correction and coverage for an extra glow.
Certified and acknowledged by PETA as a cruelty-free brand.
2. L'Oreal Age Perfect Radiant Serum Foundation For Charlotte Tilbury Light Wonder Foundation
While Charlotte Tilbury Light Wonder Foundation is known as a perfect lightweight foundation that gives ultimate hydration to the skin, L'Oreal Age Perfect Radiant Serum Foundation is no lesser and an affordable alternative to it. With similar liquid consistency and good coverage, it ensures giving stunning radiance finish.
Formulated foundation made with Vitamin B3 and Hydrating Serum for mature skin.
Provides lightweight coverage while also being suitable for sensitive skin.
Evens tone with natural, radiant coverage that doesn't settle into lines.
Additionally, it provides all-day hydration and SPF 50 for sun protection.
Ensures smooth, even finish that illuminates look and hides imperfections.
3. Trestique Bronzer Stick, Refillable Contour Stick With Built-in Blending Brush For Charlotte Tilbury Contour Wand
Even though Charlotte Tilbury contour wand promises to give sculpted mega-watt cheekbones with its blendable formula, the trestique Bronzer Stick is equally good, coming with a refillable contour stick with a built-in blending brush.
Blends seamlessly into skin for the most realistic, sun-swept color, resulting in naturally defined and sculpted skin with a fresh-from-the-beach finish.
Consists of a custom-designed, angled contour brush seamlessly diffuse color to create visible definition without streaking.
Formulated with ingredients free of parabens, phthalates, sulfates, PEGs, BHA, gluten, fragrance, mineral oil, formaldehyde, triclosan/tri carbon, and more.
4. NYX Matte Bronzer For Charlotte Tilbury Airbrush Matte Bronzer
Giving great contouring and amazing natural color, Charlotte Tilbury Airbrush Matte Bronzer is a one-stop product for a flawless look; however, you can get the same look without emptying your wallet by buying NYX Matte Bronzer.
Giving matte finish and medium golden bronze shade, this Charlotte Tilbury alterniative cost an only fifth of the price.
Matte bronzer gives a radiant glow without the glitter, perfect for a tan glow all year long.
Perfect for warm, sun-kissed complexion, defining your facial features and contouring the hollow areas of the face.
Easy application and provide good coverage.
5. L'Oreal Voluminous Lash Paradise Mascara For Legendary Lashes Volume 2 Mascara
One of the best alterniatives for Charlotte Tilbury, L'Oreal Voluminous Lash Paradise Mascara gives the same wispy and voluminous lashes without making your wallet go light.
Volumizing and lengthening mascara delivers a full lash fringe that's feathery soft, with no flaking, no smudging, and no clumping.
Ensures voluptuous volume and intense length.
Charlotte Tilbury Makeup Products
We have met many people who are in love with Charlotte Tilbury makeup, but not with its price. Being one of the iconic makeup brands, Charlotte Tilbury features high-quality and beautifully packed makeup that gives a jaw-dropping look.
Let's take a look at some of her most popular products of all time-
Charlotte Tilbury Lipsticks- Charlotte Tilbury lipstick features magical beauty secrets that are combined to give a perfect pout on your face. The use of high-grade ingredients in the Charlotte Tilbury lipsticks ensures healthy lips that look gorgeous and stunning. The highly pigmented and ultra-hydrating properties of these lipsticks make sure you get the best look.
Charlotte Tilbury Contour Wand- According to Charlotte Tilbury, her contour wand is a magical product that helps get gorgeous sculpted mega-watt cheekbones without much effort. The bendable formula and the presence of a cushion applicator make Charlotte Tilbury Contour Wand easy to apply. Also, it helps to dispense product evenly on the face.
Charlotte Tilbury Magic Cream- Creating magic on skin, Charlotte Tilbury Magic Cream is one of the most effective moisturizers of the time. It holds the position of being an award-winning product among different makeup and skincare brands. Formulated to deliver the goodness of skin-loving ingredients, this product is one of its kind. As long as you don't mind paying the price, Charlotte Tilbury Magic Cream is your go-to moisturizer.
Charlotte Tilbury Pillow Talk- With the help of Charlotte Tilbury Pillow Talk, it becomes easy to get three-dimensional and bejeweled lips to get a flattery party look or a dreamy day look. Another good thing about Charlotte Tilbury Pillow Talk is the presence of iconic formulas and finishes that are perfect for all occasions.
Even though all these products and more from Charlotte Tilbury are lovable, they are definitely not affordable to be consistently replenishing products over again. If your budget allows, we would recommend using them 100%; however, if not, there are some great Charlotte Tilbury alterniatives impressively close to the real thing.
If you have tried some of Charlotte Tilbury's products but looking for affordable options to make repeat purchases easier on the wallet, we have got your back.
Pros
Made with high-grade ingredients, safe for skin.
Multiple makeup products are available to get a flawless look.
Suitable for all skin types.
Cons
Charlotte Tilbury products are expensive and not easily affordable by all.