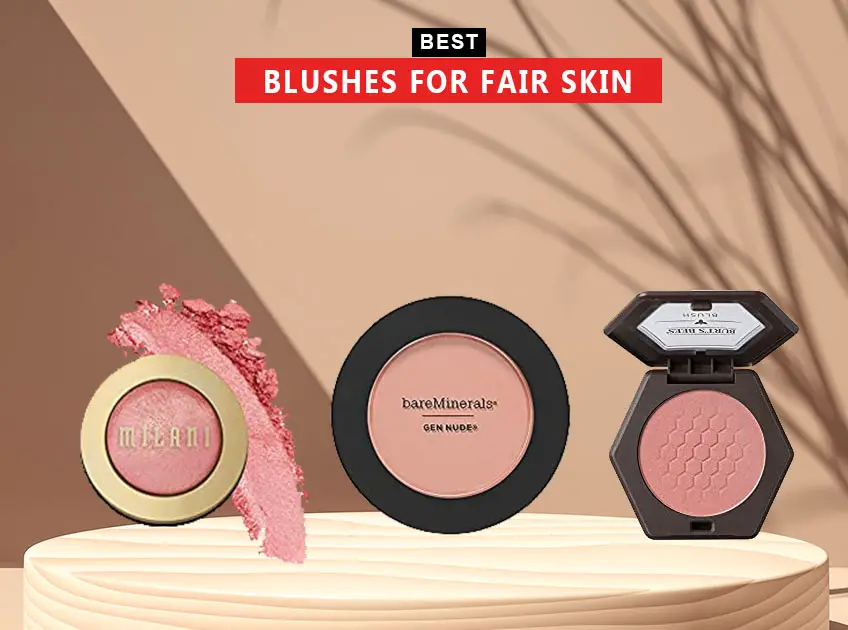 Blush is an important part of makeup and the right shade can boost your complexion besides adding a healthy glow. Less colour can result in a washed-out appearance while the excess of it will make you look quite artificial. You need to decide on the blush colour based on your skin complexion. For fair skin colours, lighter shades such as baby pink and coral are better blushes. Patchy skins need soft and smooth blushes; cream-based blush is better for dry skin, whereas powder blush suits those with oily skin.
Blushes
Just like foundation, contour or highlights, blush plays a unique role in adding a healthy glow to the skin and making it appear flawless. But the wrong blush shade can ruin the whole makeup effort and make you look artificial. There are a large number of blush shades available for all types of skin tones and it can be confusing to find the right one for yourself. So, in this article, we have focused on some best options for fair skin. Read on to know more.
7 Best Blushes for Fair Skin Tone
1. Burt's Bees Natural and preservative-free Shy pink blush
Buy On Amazon
Why Do We Like It?
Shy pink is perfect for a fair to medium complexion skin tone.
Has a nourishing effect because of the all-natural ingredients such as bamboo, honey, jojoba seed oil, soybean oil, alumina, silica and others.
It blends well, resulting in a natural look.
Doesn't have sulphates, parabens, SLS, petroleum, phthalates or synthetic fragrances.
Vitamin E is infused into the product.
What We Do Not Like?
Packaging could have been made eco-friendly by avoiding plastic.
[ Read: The 7 Best Blushes For A Medium Skin ]
2. Bare Minerals Gen Nude blush for oily skin
Why Do We Like It?
The powdered and cushiony texture of the blush is perfect for oily skin
Doesn't have any artificial fragrances added.
Has high pigmentation.
Gives a perfect matt finish.
What We Do Not Like?
3. Hypoallergic Physician Formula Multi-coloured Palette Blush
Why Do We Like It?
Made using Italian talc, that results in a natural finish.
The multicoloured blush palette is perfect for the right mix and match.
The Colour remains intact for long hours.
Approved by dermatologists-hypoallergic and non-comedogenic.
Doesn't have any oil or artificial fragrances.
Cons
Beginners may not find it easy to use the multi-colour palette.
4. NYX Professional Dusty Rose Blush For Sheer Coverage
Why Do We Like It?
It is a well-pigmented, sheer-looking blush that has luminosity resulting in a glowing face.
Travel-friendly and easy to do touch-ups when you are busy.
Blends well for a natural finish.
Last long.
What We Do Not Like?
Fair-toned individuals might find this colour a bit darker on their skin tone.
5. Neutrogena Blush For The Best Blendable Experience
Why Do We Like It?
Imparts a healthy glow to the skin.
It is non-greasy and shimmery which adds depth to your look.
Has a richness of vitamin C.
Imparts a perfect finish for oily skin.
Soft and easy to blend.
Tested by dermatologists.
What We Do Not Like?
The shimmeriness could have been a little more.
[ Read: 7 Best Primers For Glowing Skin ]
6. Mineral Fusion Blush For Your Sensitive Skin
Why Do We Like It?
It is made using organic ingredients.
Skin looks naturally ageless.
It is a cruelty-free product.
Best for chemically sensitive skin.
Natural shade blends in easily.
It is free from gluten and talc.
What We Do Not Like?
The price is on the higher end.
7. Milani Baked Blush – Dolce Pink for a pigmented look
Why Do We Like It?
This blush has a peachy orange shade that imparts a natural look.
Has rich pigmentation
Lasts longer.
It is cruelty-free.
What We Do Not Like?
Careful application is needed with a light hand as it is very soft and creamy.
Conclusion:
Applying the right shade of blush on the cheeks completes the look. Since a blush elevates your look, you can make it last longer by using a base or primer before using the product. There may be various cheaper options available, but those might be made using poor-quality ingredients that will harm the skin in the long run. Hence, be very mindful while investing in your blush for a glamorous look.
You Might Also Like: