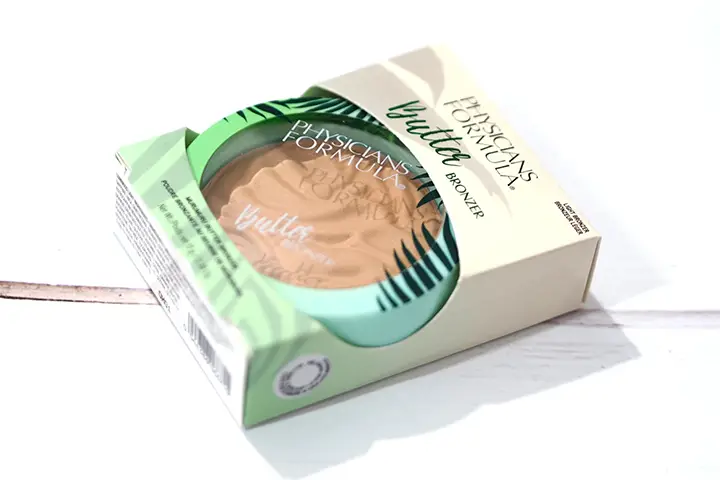 Confer the radiant goddess glow of the tropics, pick your color and watch your look. It transforms the refined pearls and soft focus pigments smoothly and it also brightens your skin tone with a subtle shimmer finish.
It is easy to achieve the warm island glow of the topics with this skin friendly makeup made specially to be high impact and long lasting.
Physicians Formula, Murumuru Butter, Bronzer
How it Works:
It is made with a blend of murumuru butter and tucuma butter.
This product is packed with essential fatty acids and pro-vitamins that helps to soften, condition and moisture the skin.
The physician's formula makeup is specially formulated with the concern of customer health and comfort in mind.
That's why this product is made with high quality hypoallergenic and natural ingredients.
Pros:
This is a perfect product to protect your skin by moisturizing deeply.
Feels so smooth when you are applying.
Give a radiant goddess glow to your skin.
This bronzer glides on smoothly for seamless all day.
You can use a makeup brush or even just your fingers.
Perfect for sensitive skin.
Cons:
It's too dark.
They often rub off on clothes and leave stains.
Rating: 4.6 out of 5
This bronzer is made without the use of common allergens and not only prevents irritation of the skin, but also includes healthy ingredients that your face will love.
Frequently Asked Questions (FAQ's)
Q. Does it have a shimmer?
Ans: It has an illumination factor, but I wouldn't call it a shimmer. It's a beautiful product at a beautiful price. Make sure you get the right color tone. The light is light….the bronze is for everyone who isn't fair skinned.
Q. Is this powder or semisolid to use my bronzer brush?
Ans: It is a powder compact. Your bronzer brush will work fine. I love this stuff!
Q. Which shade is best for a cool winter skin tone?
Ans: I would get sun kissed. I am light to medium and it's perfect.
Alternate products: