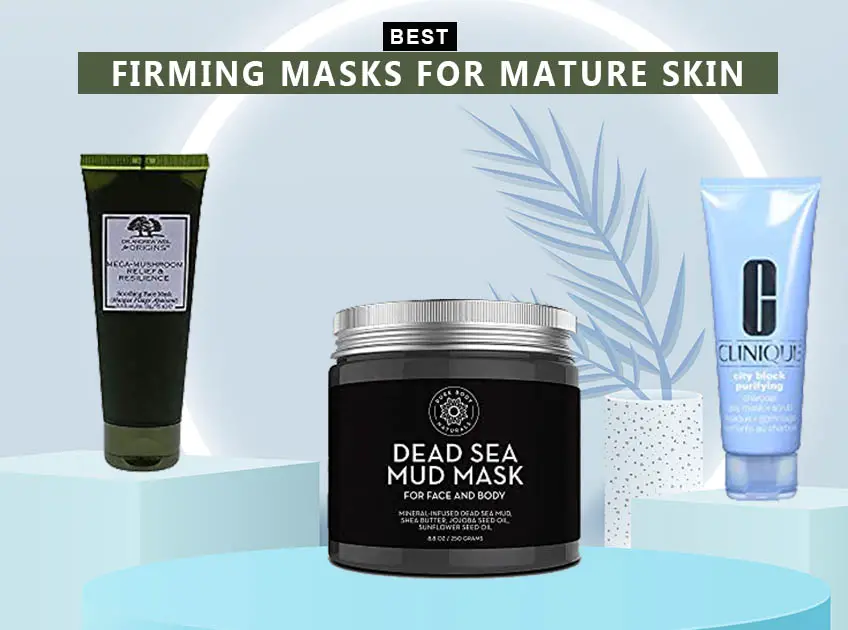 As you cross 30 years, the skin starts aging. However, giving special attention and proper care to the skin at this age can help prevent the signs of early aging. With the right products, you can delay skin aging and enjoy a youthful glow until you are 60.
When we talk about anti-aging skincare, you can find multiple products in the market. From creams and lotions to face washes and serums, everything is available. But making the right selection is essential to get the best results.
Firming Masks
Today, we are talking about face masks that can help firm older skin and prevent aging signs. We have listed the 7 best firming mask for mature skin that helps make it tight, healthy, and plump.
These face masks also address different skin concerns and provide complete protection. Keep scrolling to find the best face mask and enjoy youthful skin for longer.
[ Read: 5 Best Homemade Face Masks to Remove Dark Spots ]
7 Best Firming Masks For Mature Skin
1. Best for Sensitive Skin: Pure Body Naturals Dead Sea Mud Mask
It is a highly effective mud mask made with dead sea mud that works best for acne-prone or sensitive skin
It is also known for its skin healing and detoxifying properties
Reduce symptoms of psoriasis, such as skin inflammation and redness
It removes dead skin cells and helps clear the pores
Soothes the sensitive skin and makes it tight and firm
It contains shea butter, jojoba seed oil, and sunflower seed oil to keep skin soft and supple
What We Don't Like: It may feel slightly heavy on the skin.
[ Read: 10 Best Facial Tanner For Acne Prone Skin ]
2. Best for Neck: Lipofix Intense Lifting & Hydration Neck Treatment
Infused with collagen, hyaluronic acid, and botanical extracts to keep skin healthy and supple
It is designed especially for the sensitive skin of the neck to keep it wrinkle-free
It helps lift the skin and tighten it to create firmness
Comes with 5-7 masks, suitable for multiple uses
What We Don't Like: It may make the skin slightly greasy.
3. Best for Older Skin: LA MER The Lifting and Firming Mask
It is an effective skin-firming and lighting mask, best for older skin with more fine lines and wrinkles
The exclusive 'Miracle Broth' in the mask contains a powerful blend of sea kelp and other potent ingredients
Addresses skin issues like wrinkles, dullness, and loss of elasticity
Refreshes the skin and is suitable for all skin types
Free of parabens and phthalates
What We Don't Like: It may make skin drier after washing, so keep a moisturizer handy.
[ Read: 7 Best Eye Primer For Mature Skin To Reduce Fine Lines ]
4. Best for Problematic Skin: Clinique City Block Purifying Charcoal Clay Mask & Scrub
It is an unscented mask and scrub that helps exfoliate the skin and remove the dead skin cells
Infused with bamboo charcoal and kaolin clay- best for making the skin tight and firm
Exfoliates the skin gently and works on blackheads, clogged pores, and acne
Refines skin's texture and leaves it clearer and smoother
What We Don't Like: It will make skin dry.
[ Read: 10 Best Face Mask For Blackheads ]
5. Best for Radiant Skin: Supermood Youth Glo Babyface
The mask is made with sea buckthorn juice and spearmint that helps cool and clarifies the skin
Boosts collagen production and gives radiant and glowing skin
Other powerful ingredients in the mask are vitamin C, natural retinol, and moth bean
The blend of all these ingredients helps restore the youthful glow and make skin firm and tight, thus best for mature skin
What We Don't Like: A patch test is recommended for sensitive skin.
[ Read: Essential Oils Vitamin C Facial Cleansing Wipes Review ]
6. Best for Rosacea: ORIGINS Dr. Andrew Weil For Origins Mega-Mushroom Relief & Resilience Soothing Face Mask
The active ingredient in the mask is reishi mushroom, known to reduce the appearance of redness
It is good for sensitive skin and does not cause skin irritation or inflammation
Also, it helps calm and soothes skin, thus suitable for Rosacea
It is a nutrient-rich mask, making skin soft and supple instantly
What We Don't Like: It may feel slightly oily.
[ Read: 7 Best Face Masks For Rosacea ]
7. Best for Aging Skin: Florapy Beauty Assorted Sheet Mask Set
Infused with the goodness of sage and calendula that provides complete protection to the aging skin
It also contains flowers and essential oils to make skin soft and supple
Hydrates the skin, makes it supple, and prevent wrinkle formation
Suitable for sensitive skin due to its anti-inflammatory properties
What We Don't Like: Less quantity.
[ Read: 5 Easy Homemade Anti-Aging Face Masks for Treating Wrinkles ]
Conclusion
These are some of the most effective face masks for mature skin. Using them regularly will definitely make a difference, reducing fine lines and wrinkles, making the skin tight and firm, and bringing a youthful glow.
Try them out and see yourself!
You Might Also Like: