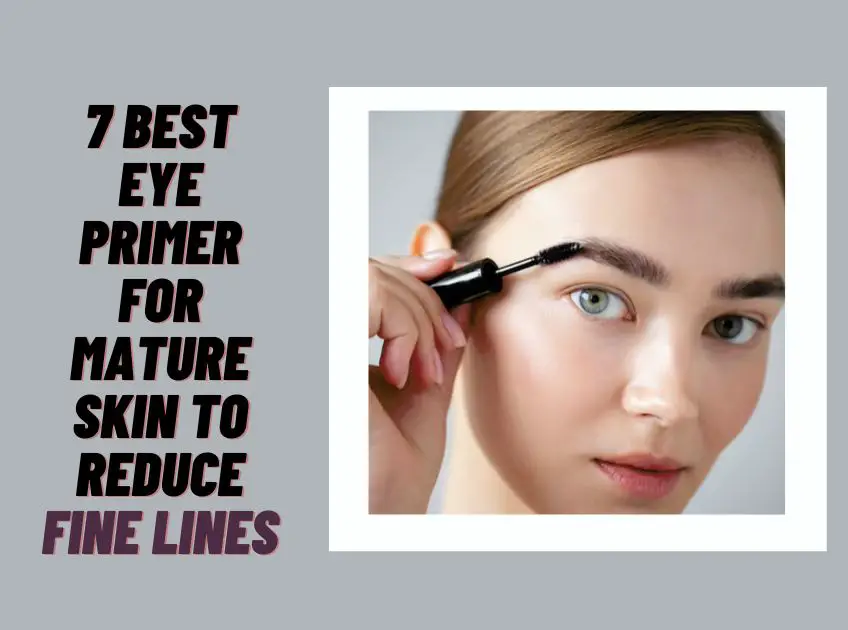 Aging skin loses estrogen, one of the components that helps keep the skin soft and supple. Due to a lack of estrogen, the skin stays dry and dehydrated, losing its natural glow. All this leads to the appearance of aging signs like fine lines and wrinkles.
If you are crossing 40 and have started experiencing aging signs, it's time to shift from your normal makeup products to those made for mature skin. The infusion of anti-aging ingredients helps fight free radicals to maintain a youthful glow.
Since primer gives a flawless finish to the skin for applying further makeup, using the one made for mature skin will prevent creasing. If you have a hard time finding the best eye primer for mature skin, check out the list below.
Since the skin around the eyes is thin and delicate, special care and attention are needed. Scroll ahead and find the best eye primer for women over 40.
7 Best Eye Primers For Mature Skin
1. Highly Effective: Elizabeth Mott Thank Me Later Eyeshadow Primer
The silky formula makes it soft and gliding on the skin, uplifting skin health
It helps control excess sebum, keeps oil at bay, and makes skin soft and smooth
The lightweight formula stays comfortable on the eyes all through the day
It suits all skin types and works wonders on mature skin
What We Don't Like: If you have dry skin, perform a patch test to ensure it is not drying the skin further.
[ Read: How to Get Healthy Skin Naturally at Home ]
2. Flawless Finish: NYX Professional Angel Veil Skin Perfecting Primer
It is a silky, silicon-based primer that gives a satin-smooth, uniform canvas to the face and around the eyes
Infusion of skin-loving ingredients makes it suitable for maturing skin
It is easy to apply and offers flawless, fresh skin all through the day
If you have pores, it is highly effective in concealing them and making them disappear
What We Don't Like: It is not suitable for oily skin.
[ Read: NYX Professional Makeup Pore Filler Blurring Primer ]
3. Effective Anti-aging Formula: Urban Decay Anti-Aging Eyeshadow Primer Potion
It contains dermaxyl that helps even the skin's texture
Works great for mature skin as it helps reduce the signs like fine lines and wrinkles
It also consists of kalpariane that helps make skin firmer and plumper and offers better hydration for dehydrated skin
Adds elasticity and suppleness to the skin
The presence of optical blurring pigments reduces the appearance of red and puffy eyes
What We Don't Like: A patch test is recommended.
[ Read: 10 Essential Oils to Reduce Puffiness Under Your Eyes ]
4. Long-lasting results: BareMinerals Prime Time Eyelid Primer
It offers 24 hours coverage and blends easily on the skin
It is a lightweight primer, suitable for eye and mature skin and all-day wear
The crease-free solution and anti-aging formula make it even better for people with maturing skin
It is free of paraben, gluten, and synthetic fragrance
What We Don't Like: It may feel slightly sticky initially.
[ Read: 7 Best Eyeshadows For Oily Eyelids ]
5. Ultra Hydrating Effects: Smashbox Photo Finish Hydrating Under Eye Primer
It contains soothing ingredients like caffeine and peptides that offers a photo-finish effect
It reduces under-eye bags and the inflammation caused by aging
Also helps in softening the skin's texture and makes it appear soft and smooth
The oil-free hydrating formula combats puffy eyes and makes mature eyes look younger and youthful
What We Don't Like: It is pricey.
[ Read: How to Get Rid of Bags Under Eyes Naturally ]
6. Smooth Formulation: True + Luscious Angel Eyes Eyeshadow Primer/Base
It offers 12 hours of smudge-free results and suits all skin types
Available in three different shades to match different skin tones
The lightweight texture stays comfortable on the skin all day long
It effectively prevents creases and fine lines and makes skin appear soft and smooth
The presence is skin-loving ingredients make it suitable for maturing skin
What We Don't Like: It may need a patch test on sensitive skin.
[ Read: 7 Best Primers For Glowing Skin ]
7. Best Oil-Free: Monica Ann Beauty Dual Action Eyeshadow Primer
It is packed with skin-nourishing ingredients that protect the thin and delicate skin around the eyes
Infused with hyaluronic acid and Vitamin C to plump the skin and reduce aging signs like fine lines and wrinkles
It helps fight pigmentation and enrich the skin's suppleness
The waterproof formula makes it oil-free and crease-proof all through the day
What We Don't Like: It can feel sticky.
[ Read: Vitamin C Serum with Hyaluronic Acid for Face, Eye Review ]
Conclusion
These are the most effective eye primers for mature skin that can reduce the effect of fine lines and wrinkles and help maintain a youthful glow.
You Might Also Like: