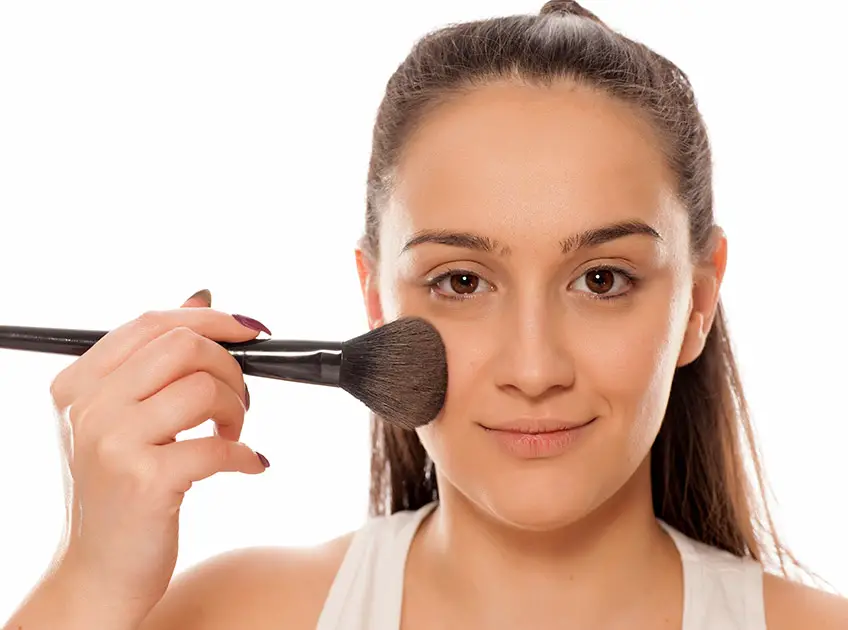 If makeup is applied right it does wonders for your looks. At the same time, there are common mistakes committed that can end up making you look older or be harsh on your skin. Here we look at common makeup mistakes and how to avoid the same.
6 Best Makeup Mistakes
1. Choosing the Right Foundation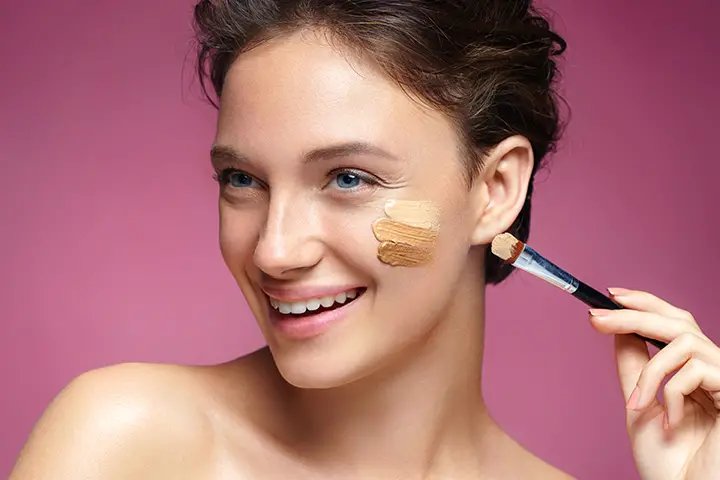 This is the basic step to good makeup and you need to get the color or shade right. There are many who would skip this option when putting on a quick makeup.
It is the magic tool in your makeup kit that can make your face look younger instantly.
Since the foundation is required to hide imperfections as well as add a uniform look to your skin, ensure that you choose the shade right. In order to do so, opt for a shade that is one step darker than your complexion.
Also, unless your skin is oily, you can avoid buying matte foundation products. Do not exceed applying foundation more than twice in a day.
Ensure that you remove the former application completely before you apply it the second time.
[ Read: How To Apply Foundation  ]
2. Do not Overuse Blush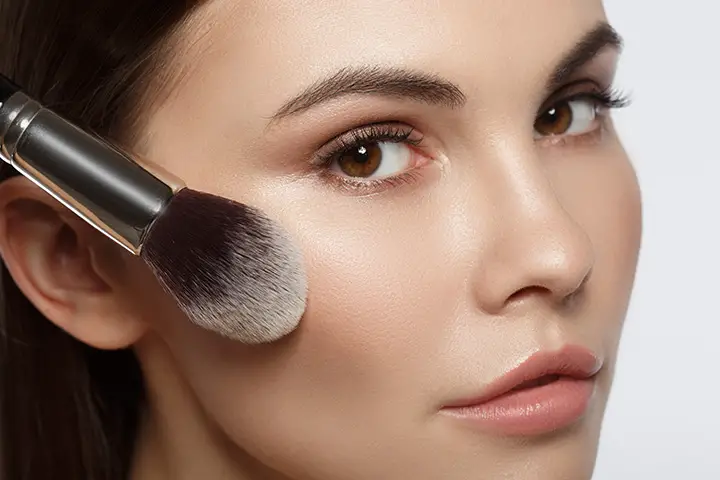 It is best to avoid applying dark shades unless you wish to flaunt a dark, dramatic makeup for the evening. Natural shades such as soft coral, pink or peach usually blend in well and that is the kind of finish you want when applying blush.
[ Read: How To Apply Blush Correctly ]
3. Choose the Right Lipstick Shade
This is one of the essentials of everyday makeup which can define your entire look; it is best to keep the look natural and light unless you need to flaunt dark, dramatic lips.
Shades Required
Different shades of lip color such as rosy, nude tones as well as bright red and pink shades.
It is best to choose a lip shade as per your attire, time of day and the kind of look you wish to flaunt. Also, ensure that the lips are moisturized and soft.
Use masks or exfoliants as well as a natural lip balm to keep lips soft and moisturized at all times. Opt for a long-lasting lip color that would last several hours in a day.
If applying more than once, remove the previous application completely before wearing the next shade.
[ Read: How to Apply Lipstick Like a Pro ]
4. Right Application of a Black Eyeliner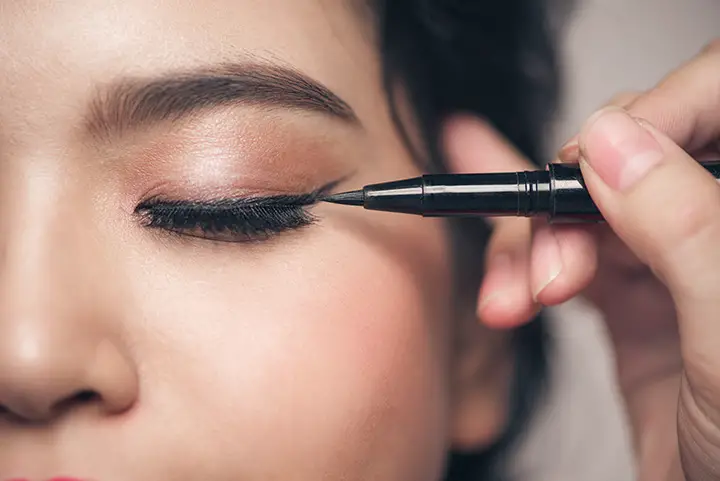 This is one of the common makeup mistakes. While many feel that applying eyeliner outlining the lower eyelid is best to accentuate the eyes, it can end up creating a more tired look.
Instead of working it by the lower eyelid's outline, one could try drawing above the eye; it helps to open up the eyes; if one extends the line outwards it helps to create the look of a cat's eye.
If black looks too intense, one could opt for brown, navy or grey shades.
[ Read: How to Apply Liquid Eyeliner ]
5. Applying the Lip Liner Right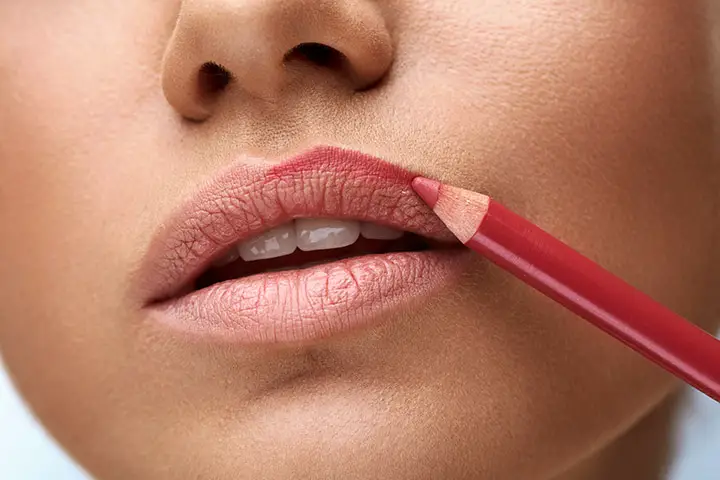 This is another common mistake, since it was a trend before to outline the lips with a liner, especially with a shade that is darker than the lipstick you are wearing. Opt for a lip liner that matches the shade of the lipstick you wear.
It is best that you apply the liner lightly, tracing natural lip curves. Ensure that the lipstick blends in nicely with the lip liner.
6. Avoid Bright Eye Shadow Shades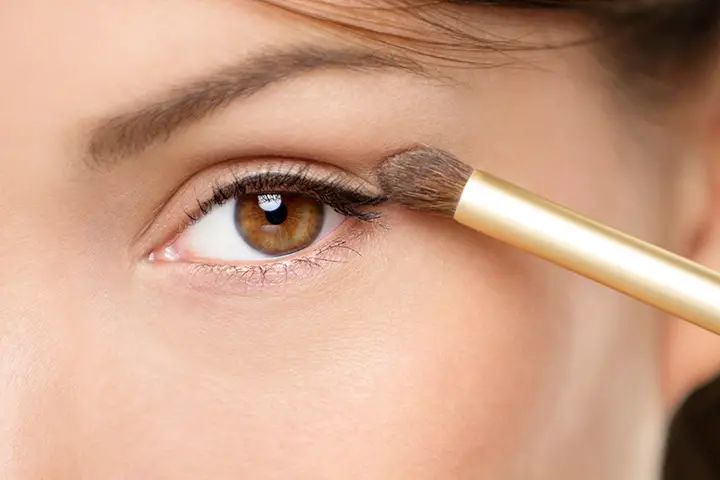 You  will have to go for natural shades like pink, peach for everyday makeup. Use bright shades like green, lilac, and blues for the evening and party makeup.
Apply the light tones with a brush, keeping it concentrated around the eyelids and fading it out towards the corners. Even if you wish to pair your outfit with a darker eye shadow, lightly apply the same with a brush.
Skip eyeshadow for everyday makeup or opt for nude shades only. It is ideal to use darker or bright colors for party or evening makeup.
The above makeup mistakes, when prevented, will help you create a more cheerful and natural look, especially for everyday makeup.
You Might Also Like: