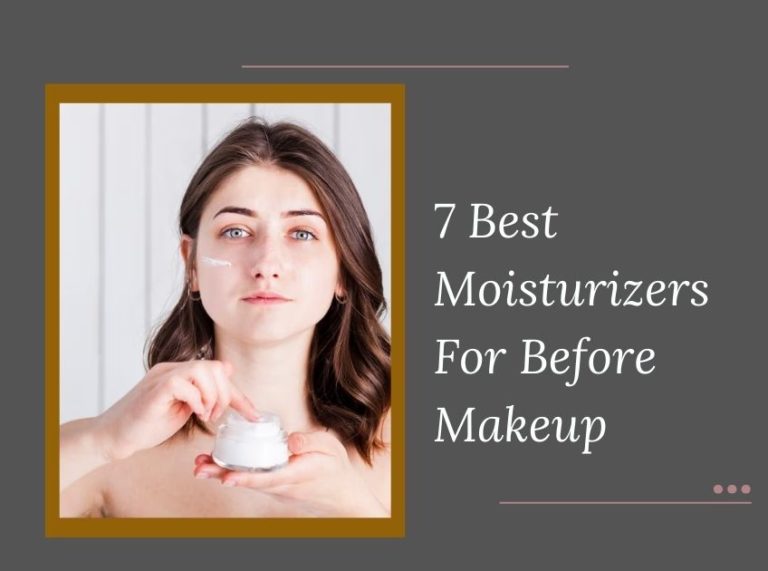 Applying moisturizer is an essential step of any makeup routine. Since you apply multiple products on the face like foundation, primer, concealer, highlighter, and whatnot, ensuring that skin's health is not compromised is essential.
Makeup can dry and dehydrate skin, extracting all the moisture locked inside. Therefore, applying a layer of moisturizer before wearing any other makeup product is essential. It helps keep the skin hydrated and well moisturized.
Moisturizers
Using the best moisturizer before makeup helps keep skin nourished. Therefore, here we listed some of the most effective moisturizers you can apply before makeup to ensure your skin's health. These products will also boost your skin's natural glow and radiance.
Giving your skin a healthy appearance is essential irrespective of what makeup you are wearing. So, scroll ahead and find out the seven best moisturizers before makeup.
7 Best Moisturizers For Before Makeup
1. Drugstore Moisturizer: Neutrogena Hydro Boost Water Gel
It has a water gel formula that gets absorbed quickly into the skin.
It helps keep the skin hydrated for long hours
Formulated with purified hyaluronic acid that locks in the moisture to prevent further drying
Gives silky smooth and supple skin
It is free of oil and dye and is non-comedogenic as well.
Works well on all skin types
What We Don't Like: It has parabens; therefore not suitable for sensitive skin.
2. Natural Ingredients: LilyAna Naturals Rose & Pomegranate Face Cream
It is suitable for all skin complexions
It helps manage skin conditions like eczema, Rosacea, and dermatitis
Easy to absorb formula
Reduces the appearance of wrinkles and fine lines
Brightens and lightens the skin tone
Free of parabens
What We Don't Like: It contains phenoxyethanol.
[ Read: 10 Best Tinted Moisturizer For Rosacea ]
3. Mattifying Effect: La Roche-Posay Effaclar Mat Anti-Brilliance Mattifying Moisturizer
It absorbs excess moisture from the skin and makes it soft and supple
Reduces the appearance of enlarged pores
Packed with micro-exfoliating LHA
Tightens skin pores and makes them disappear
It offers a matte finish and gives a long-lasting result
It is dermatologist-tested
What We Don't Like: It is expensive.
4. Antioxidant Rich: InstaNatural Vitamin C Moisturizer
It contains a rich blend of aloe vera, vitamin C, niacinamide, hyaluronic acid, and sunflower oil
A gentle massage helps increase blood circulation
It helps reduce the appearance of fine lines and wrinkles
Also, it helps to achieve smoother and brighter skin for flawless makeup application
Lightweight texture boosts collagen and brightens skin
What We Don't Like: According to users, the smell of the cream is unpleasing.
[ Read: 7 Best Moisturizers For Brightening Skin ]
5. Long Lasting Result: Etude House Moistfull Collagen Cream
It hydrates the skin deeply and brightens the skin tone
Offers a gloss that lasts up to 12 hours after application
Formulated with 63.4% super collagen water
Features watery gel formula that absorbed quickly into the skin
Shows results within five days of regular use
It is free of minerals and is suitable for extremely dry skin
What We Don't Like: It is strongly scented.
6. Ultra Hydrating: Embryolisse Lait-Crème Concentré Cream
It offers an ultra-hydrating effect on the skin
It can be used as a makeup primer, beauty mask, and a day and night cream
Features a milky and creamy formula
It gets easily absorbed into the skin
Keeps skin nourished for long hours
It suits all skin types and is free of parabens
What We Don't Like: It contains mineral oils; therefore, a patch test is recommended.
[ Read: 5 Easy Homemade Moisturizers for All Skin Types ]
7. Natural Radiance: First Aid Beauty Hello FAB Coconut Skin Smoothie Priming Moisturizer
Enriched with coconut water, quinoa protein, and a blend of minerals
It gives healthy-looking skin and amplifies its natural radiance
It is dermatologist-tested
Free of parabens or mineral oils; therefore suitable for sensitive skin
What We Don't Like: It may make the skin slightly heavy.
Conclusion
All the moisturizers we have listed are based on their quality, performance as well as ingredients. At the same time, we have also considered users' reviews to ensure you get nothing but the best and upkeep the skin's health.
All these moisturizers are rich in oils and different types of butter and deliver essential Vitamins and minerals to the skin. So, get any of them and enjoy a healthy glow.
You Might Also Like: