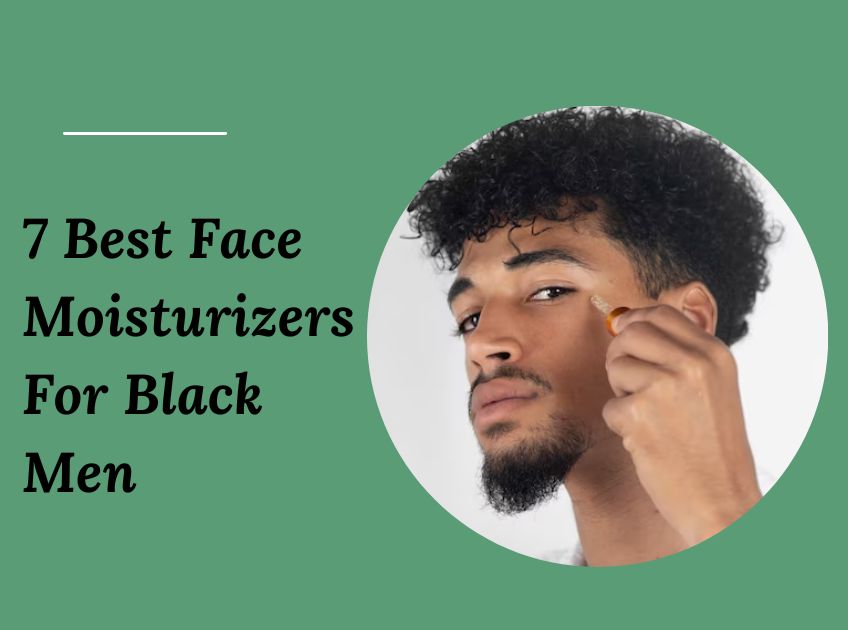 Black skin needs special attention as it is prone to dryness. When exposed to harsh environmental conditions, black skin loses its natural moisture faster than any other skin type. As a result, the skin looks dry, dull, and dehydrated.
Therefore, black men need special moisturizers that can prevent thus dehydration and keep skin deeply nourished and moisturized. Luckily, many brands work specifically for black skin and make effective and the best face moisturizers for black men.
Face Moisturizers
If you cannot decide on the best moisturizer, we have curated a list of the best face moisturizers for black skin. Irrespective of the weather, using any of these will keep your skin plump and supple.
Check them out!
7 Best Face Moisturizers For Black Men
1. Hypoallergenic: CeraVe Daily Moisturizing Lotion
The active ingredients are Ceramides and Hyaluronic Acid
It suits all skin types- a normal- dry, oily combination, as well as sensitive
Keeps skin hydrated for over 24 hours and locks in the moisture
It is hypoallergenic and non-comedogenic due to its gentle formula
The National Eczema Association approves it, thus, works best for dry skin
What We Don't Like: It has a pump dispenser that often comes broken during shipping.
[ Read: CeraVe AM Facial Moisturizing Lotion SPF 30 Review ]
2. Clinically Proven: Aveeno Positively Radiant Daily Moisturizer
The active ingredient of this face moisturizer is soy (Total Soy Complex), which is processed soybean that
provides deep nourishment to dry skin.
It contains SPF, thus protecting the skin from harmful UV rays
It helps even out the uneven skin texture and retains the skin's integrity.
It also contains natural light diffusers that reflect light to smoothen the skin imperfections
What We Don't Like: The strong fragrance of this moisturizer is not liked by everyone. Also, it contains mica.
[ Read: Home Remedies for Dry Skin on Face ]
3. Organic Ingredients: Baebody Retinol Moisturizer Cream
The active ingredients are retinol, shea butter, vitamins B5 and E, jojoba oil, and green tea
It is an excellent moisturizer that offers anti-aging benefits to the skin
It suits all skin types due to the presence of safe and organic ingredients
It helps improve the skin texture and makes the skin tone even
Free of paraben and phthalates
What We Don't Like: Some users complain that the dispenser malfunctioned after a few uses.
[ Read: 7 Best Moisturizers For Brightening Skin ]
4. Ultra Moisturization: L'Oreal Paris Skincare Hydra Genius
The active ingredients are hyaluronic acid and aloe vera
It is a lightweight water-based lotion that moisturizes skin and provides deep nourishment to it
It is lightweight and suitable for all skin types
The skin stays moisturized and hydrated for over 72 hours
It absorbs quickly due to its gel-like consistency
What We Don't Like: The fragrance may feel overpowering to some users.
[ Read: Brickell Men's Clarifying Gel Face Wash Review ]
5. Ultra Nourishing: Clinique Dramatically Different Moisturizing Gel
The active ingredients are hyaluronic acid, sunflower seed cake, and cucumber extracts
Works best for all skin types, especially oily and dry skin
Strengthens the skin barrier and protects it from drying
A dermatologist develops it; thus completely safe
Free from parabens and phthalates
What We Don't Like: It may feel slightly greasy on the skin.
[ Read: 7 Best Men's Face Washes For Oily Skin ]
6. Best For Dry Skin: SheaMoisture African Black Soap Balancing Moisturizer
The active ingredients are shea butter, African black soap, tamarind oil extract
It is meant for dry skin but gives effective results to combination and oily skin too
It is lightweight and extremely nourishing and hydrating
Free from parabens, phthalate, mineral oil, and sulfate
What We Don't Like: The fragrance may seem unpleasing.
7. Anti-Aging Benefits: Olay Regenerist Micro-Sculpting Cream
The active ingredients are Hyaluronic Acid, Peptides, and Vitamin B3
It helps nourish and hydrate the skin with its ultra-hydrating power
It improves skin cell turnover and removes dead skin cells
It improves skin texture and reduces the appearance of wrinkles and fine lines
It is fragrance-free
What We Don't Like: It contains paraben that may harm sensitive skin; therefore patch test is recommended.
[ Read: Vitamin C Serum with Hyaluronic Acid for Face, Eye Review ]
Conclusion
A healthy skincare regime can work wonders in bringing charm and glow to the skin. Since black skin is prone to dryness more than any other complexion, using these face moisturizers will help tremendously. Buy any of the products we have mentioned according to your skin type, and say goodbye to dull and dry skin forever.
You Might Also Like: