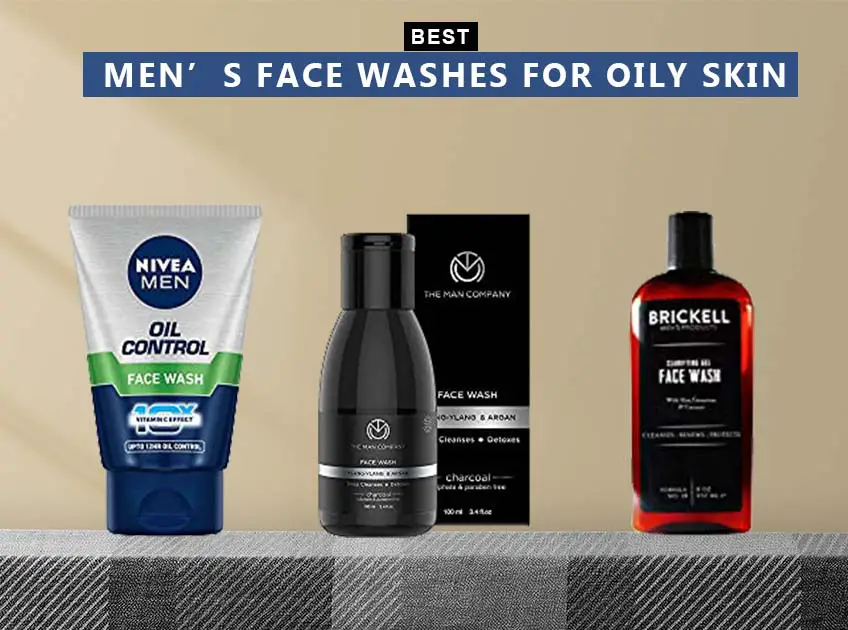 It could be tempting to grab a conventional bar of soap when washing your face. After all, soap is just soap. Not exactly. When used on your face, normal soap can be drying, even though it's good for your body.
When it comes to skincare, many guys make this error. They don't distinguish between a bar of soap and a face wash. However, the face is a delicate part of the body and needs a whole distinct skin care regimen.
Men's Face Washes
Using a bar of soap on oily skin can be extremely risky because it dries up your pores and causes the soap residue to build up excess oil. So, when it comes to your skin, go out and buy a face wash that will revitalise it without harming your facial tissue.
And if you need help, here is a curated list of the best face wash for men who need to combat oily skin.
7 Best Men's Face Washes For Oily Skin
1. Organic Face Wash: Brickell Men's Purifying Face Wash
If you are looking for a face wash that is organic and does not cause irritation to the skin, the Brickell is a perfect choice.
For the noursihmnet, the face wash is infused with coconut-based cleaners that will help you wash away excess oil and aloe to rejuvenate the cells.
Organic ingredients are the key factors in helping you provide nourishment, moisture, and oil-free clear skin.
What We Don't Like: It can cause dryness to certain skin types.
2. Charcoal Activated: The Man Company Activated Charcoal Face Wash for Men
When you have oily skin, the skin not only becomes clogged with pores but also is prone to acne and pimples.
This is where the charcoal-activated face wash comes in handy by helping remove the excess oil build-up from deep skin and cleaning the pores.
It is also infused with argan oil which provides moisture and hydration to your skin that is much needed after the oil build-up has been removed.
What We Don't Like: The smell is overwhelming.
[ Read: 7 Best Face Washes For Acne And Pimples ]
3. Budget-Friendly: Ustraa Face Wash for Oily Skin
One of the best oil control face washes in the market is Ustraa's face wash for oily skin with lime extract and organic salicylic acid.
The lime extract removes the excess build-up of oil on the skin with salicylic acid acting as a natural antioxidant for your skin.
Its all-natural ingredients provide antioxidants that help repair your skin and give it a healthy glow.
It is free of toxic chemicals like sulphates and parabens.
What We Don't Like: The smell is overwhelming.
4. The Reliable: Nivea Men Oil-Control Face Wash
Nivea is one of the most reliable global brands in terms of men's beauty and skin care.
The men's oil-control face wash fares no further if you are looking for a budget-friendly, reliable, and trusted brand.
It is equipped with Vitamin C, Vitamin E, and Whitanat to help remove the oil from the pores of the skin whilst creating a protective layer for shiny and glowing skin.
It makes sure that oil production is kept under control and protects your face from tanning.
It has been dermatologist-approved for skin compatibility.
What We Don't Like: It does not fairly work on all skin types.
[ Read: How to Get Rid of Oily Skin on Face at Home ]
5. Gluten-Free: Clinique for Men Oil Control Face Wash
If you have faced inflammation from using face wash then you must try Clinique for Men as it contains salicylic acid that has anti-inflammatory and anti-bacterial properties.
It also contains aloe vera gel which can help you in getting rid of bacteria and unclog pores within the skin.
Its oil-control composition efficiently washes skin types ranging from normal to oily and takes away extra shine.
What We Don't Like: It has sodium laureth sulfate which is can cause irritation.
6. Anti-grease: Garnier Men Oil-Clear Face Wash
After Nivea, another trusted brand in the market for men's beauty and skin care products is Garnier.
If your skin feels greasy due to all the excess oil build-up from clogged pores, Garnier's Cryo-menthol will help in removing the excess oil.
The face wash exfoliates all the clogged pores with the help of clay d-tox formula that rejuvenate your skin.
It contains menthol and oil-absorbing clay, among other natural ingredients.
What We Don't Like: It can cause an allergic reaction in some people.
[ Read: 10 Best Exfoliator for Oily Skin ]
7. For the combination skin: Face Wash by Cetaphil
Cetaphil's face wash is the perfect choice for you if you have a combined skin type to combat oiliness and sensitivity.
It has been clinically verified to deep clean your skin by eliminating dirt, extra oils, pollutants, and pollution microparticles.
The important thing about this face wash is it maintains the skin's pH balance which is important if you have sensitive skin.
It is claimed to defend against the five symptoms of sensitive skin, which are dryness, itchiness, roughness, tightness, and a weakened skin barrier.
What We Don't Like: It has the potential to cause a rash or skin burn in some people.
Conclusion:
When you have oily skin, there are many things to take into consideration, such as clogged pores, acne prone, and sticky, to name a few. So, when you purchase your face wash, read the ingredients, and consider what will help you combat oily skin and all the other problems associated with it. If you have an ongoing skin issue, better consult a dermatologist first.
You Might Also Like: