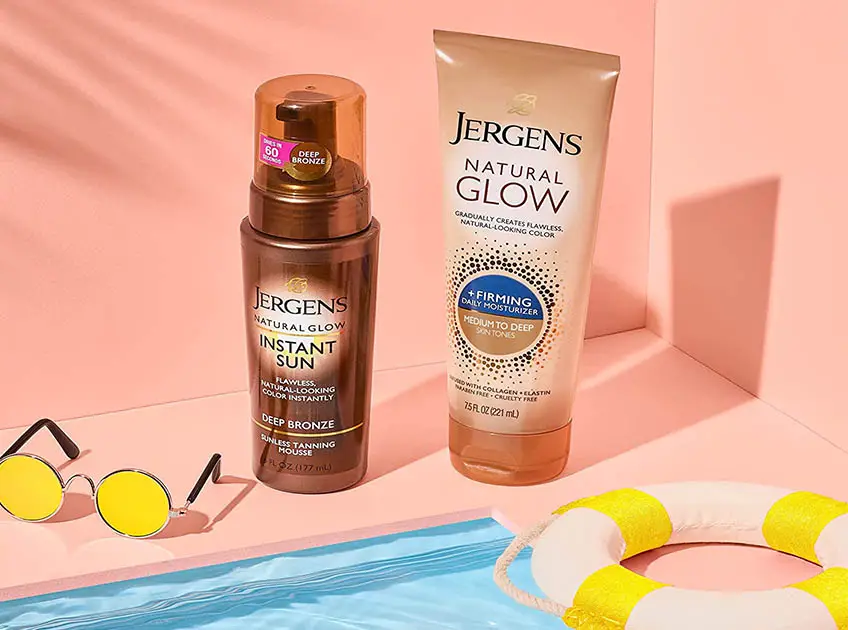 The market is flooded with brands that offer self-tanning products. With so many options, it becomes quite difficult to know which one will suit the skin type and fulfill the skin needs.
In this article, we will learn about the products that range from Jergens Natural Glow and how safe and effective they are.
Jergens Natural Glow includes lotions and mousses that offer tan on different levels. It effectively brings the desired skin tone without basking under the sun. The natural-looking bronze radiance from Jergens Natural Glow can give a neck-to-neck fight to suntan.
Coming to the intent of this article, is Jergens Natural Glow safe; let's dive a little deeper to know the answer and the secrets behind the popularity of Jergens Natural Glow.
Is Jergens Natural Glow A Safe Self-Tanner?
The major and active ingredient of Jergens Natural Glow is dihydroxyacetone (DHA). This compound reacts with amino acids present on the uppermost layer of the skin. As a result of the reaction, the skin cells darken and develop a sunless tan.
Even though DHA is safe, it tends to dehydrate the skin. Many people observe dry skin after applying a self-tanner. Jergens Natural Glow understands this issue and infuses skin-hydrating ingredients to ensure skin stays hydrated, soft, and supple.
The long list of ingredients in Jergens Natural Glow may seem intimidating but fret not, as all of them are skin-friendly and super-safe. While DHA will bring the desired shade, hydrating ingredients keep the skin healthy.
Jergens Natural Glow has not left any stone unturned to bring the best to its consumers. You can find that its range of products is suitable for specific skin types and skin tones. So, choosing the one your skin needs the most becomes easy.
In a nutshell, it won't be an exaggeration to say that Jergens Natural Glow products are safe whether you choose a lotion, tanning wipes, or mousse. There is nothing that can harm the skin in any way.
Advantages Of Using Jergens Natural Glow
1. Wide Range Of Self-tanner
Jergens Natural Glow offers a wide range of self-tanning products. You can choose from mousse, lotions, and tanning wipes- whatever suits your preferences.
2. Variety of Shades
Their self-tanners are available in different shades. So, whether you want to develop a slight sun-kissed glow or a deeper, darker tan, it is easy to pick as per the choice.
If you are a beginner, go for lighter shades to understand how self-tanners work. Gradually, you can move to self-tanners offering deeper and darker tans.
3. Safe Ingredients
Another thing that makes Jergens Natural Glow highly appealing is the presence of skin-loving ingredients. From DHA to skin-moisturizing components, every ingredient in Jergens Natural Glow is safe for the skin's health.
It will help you get the gorgeous golden bronze skin tone without compromising the skin's health. So, you can opt for Jergens Natural Glow without second thoughts.
4. Safe For Body And Face
Jergens Natural Glow range includes self-tanners designed especially for the face and the face alone. Since the face's skin is more delicate than the rest of the body, you cannot apply any self-tanner there.
Jergens Natural Glow faces tanners have milder ingredients that protect the face's skin. Moreover, they contain SPF to help protect your skin from any sun damage when you are outdoors while still providing a natural, gradual tan.
You can also find Jergens Natural Glow Face Moisturizer that can be used daily to nourish the skin while gradually building the tan. Since it is oil-free, the chances of clogging the pores and causing the breakout to reduce.
Note: You should not use any product of Jergens Natural Glow (or self-tanner of any brand) on your face except those made especially for it. They may feel heavy on the skin, clog the pores and cause irritation.
5. Safe For Sensitive Skin
Every product of Jergens Natural Glow is not safe for sensitive skin as the active ingredient in them is DHA, which can cause skin irritation. However, you can find certain products that are meant for sensitive skin.
Such products are free of harsh chemicals that can cause irritation and dryness to sensitive skin. Also, they are paraben-free, sulfate-free, and don't contain alcohol or artificial fragrances.
6. Non-comedogenic Products
Non-comedogenic are those products that do not clog pores and cause breakouts. They are important for people who have acne-prone skin.
Since self-tanners are known to cause breakouts, you can opt for Jergens Natural Glow oil-free moisturizer, which is oil-free and non-comedogenic, made especially for acne-prone skin.
You can also find other non-comedogenic self-tanners in the Jergens Natural Glow range, so look through their options to find the one that suits your needs best.
With these benefits, Jergens Natural Glow self-tanners are best suited to fulfill all tanning needs. However, one concern with Jergens Natural Glow range is some products contain fragrances to hide the tell-tale self-tanner scent.
As DHA reacts to the skin, the typical odor spreads, which is not very pleasing. The Jergens Natural Glow range has varying DHA levels and fragrance strengths, but these all seem to mask the smell quite well.
While it could concern some, others are fine with it.
Final Words
With its wide range of self-tanners, Jergens Natural Glow has become the industry's prime. The products are safe and can be used to develop the desired tan without spending hours under the sun.
You Might Also Like: