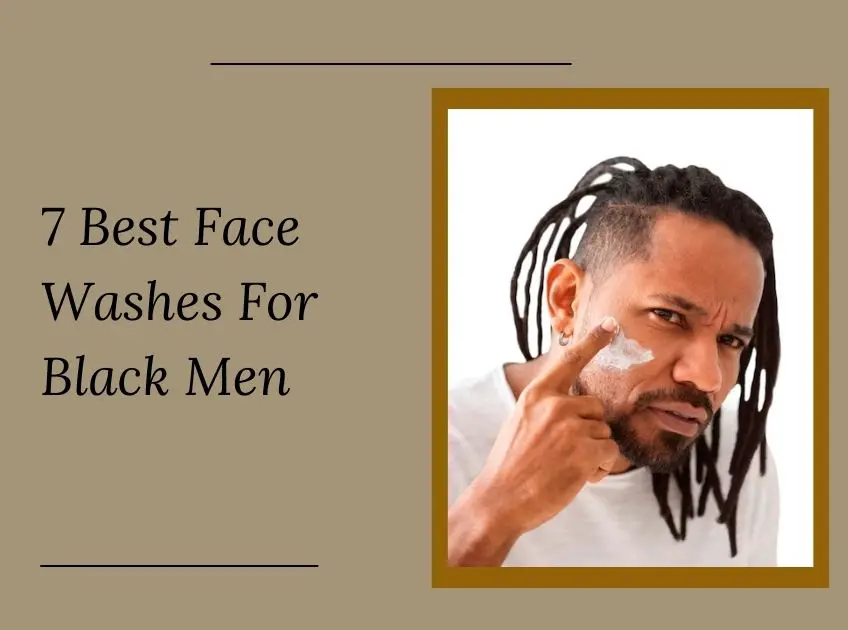 Black skin complexion indicates more melanin content. Such skin is prone to ashiness, bumps, and a build-up of dead skin. Therefore, the best face wash for black men will be the one that works on all these issues and make skin soft, supple, and glowing.
Face Washes
Since darker skin has specific requirements, we have carefully selected the best face wash for black men. All these face washes are made for men and are highly effective in correcting skin concerns, promising radiant and glowing skin.
Keep reading and find your best pick.
7 Best Face Washes For Black Men
1. Balances hyperpigmentation: Rugged & Dapper Daily Power Scrub Face Wash
It consists of skin-loving ingredients like Vitamin C, aloe vera, Burdock Root, Jojoba Beads, Borage Oil, Willow
Bark/Salicylic Acid, Hibiscus, Oregano, Rosehip Seed, and Tea Tree Oil
It also features antibacterial and antioxidant properties due to the presence of olive oil
It provides deep cleansing, removing all the dirt and grime, and leaving fresh and lively skin
Free from phthalates, parabens, and synthetics
Gives long-lasting results and can be used as a toner, cleanser, and exfoliator
What We Don't Like: It comes with a hefty price tag, and the fragrance is overpowering.
2. Complete Cleansing: L'OREAL PARIS Skincare Facial Cleanser
It absorbs all the pollutants and bad bacteria from the face, leaving it refreshingly clean and lively
Infused with charcoal powder that removes excess oil and impurities and unclogs pores to promote healthy skin
It addresses multiple skin concerns like dull skin, clogged pores, and overproduction of natural oils
Offers anti-aging benefits, deeply cleanse the skin
What We Don't Like: The unpleasant smell makes it unappealing.
[ Read: 10 Best Face Washes For Large Pores ]
3. Effective and Affordable: Nivea Men Deep Cleansing Beard & Face Wash
It is a high-quality face wash that removes dirt, grime, and other impurities from the face in a jiffy
Works best for the face with a beard and mustaches
Contains a powerful blend of Vanilla and Bourbon that offers a pleasant smell
Also consists of charcoal that offers multiple benefits to the skin and cleanses impurities perfectly
What We Don't Like: Every ingredient of this face wash is not natural and organic. Also, some users find the smell of the product overpowering and unpleasing.
[ Read: How to Clean Your Face at Home ]
4. Best for Acne-prone skin: Vanicream Gentle Facial Cleanser
It is a gentle facial cleanser that actively removes dirt and impurities from the skin, leaving it fresh and clean
It is free from artificial fragrance, paraben formaldehyde, dye, and comedogenic properties
It is dermatologist tested and comes at a budget-friendly price
Suitable for all skin types, including dry and sensitive skin
The national Eczema Association approves it
What We Don't Like: If you want your face wash to be aromatic, this is not your product.
[ Read: 7 Best Face Washes For Acne And Pimples ]
5. Best for All Skin: Sebamed Clear Face Cleansing Foam
It works well for all skin types, including dry, sensitive, and oily skin
It contains Montaline and Panthenol as active ingredients that help in deep cleansing and reduces skin irritation
With pH 5.5, the face wash strengthens the skin's natural barrier
It is dermatologist tested and approved
What We Don't Like: It is not a travel-friendly product.
[ Read: 7 Best Men's Face Washes For Oily Skin ]
6. Best Overall: Shea Moisture Facial Wash & Scrub
Presence of shea butter provides intense hydration and nourishment to the skin
It can be used as a cleanser and exfoliator that helps tackle multiple skin issues.
It works well for all skin types, including men with sensitive skin
It repairs skin damage and cures breakouts visibly
Comes at an affordable price
What We Don't Like: It may feel slightly greasy.
[ Read: CeraVe Hydrating Facial Cleanser Review ]
7. Plant Based: Bevel Face Wash
Conclusion
It is considered safe for black skin care as most of the ingredients are natural and plant-based
The infusion of aloe, coconut, and witch hazel helps preserve the skin's moisture, repair skin damage, and even skin complexion
The smell is refreshing and pleasing
It addresses multiple issues and cleanses, moisturizes, and repairs skin damage
What We Don't Like: The skin may feel dry after using this face wash, so you need to use a moisturizer.
Now that you know that black skin is different and needs special care and attention, shifting from your normal face wash to those made specifically for darker skin will help. Buy any of the face washes mentioned, and get ready with healthy skin.
You Might Also Like: