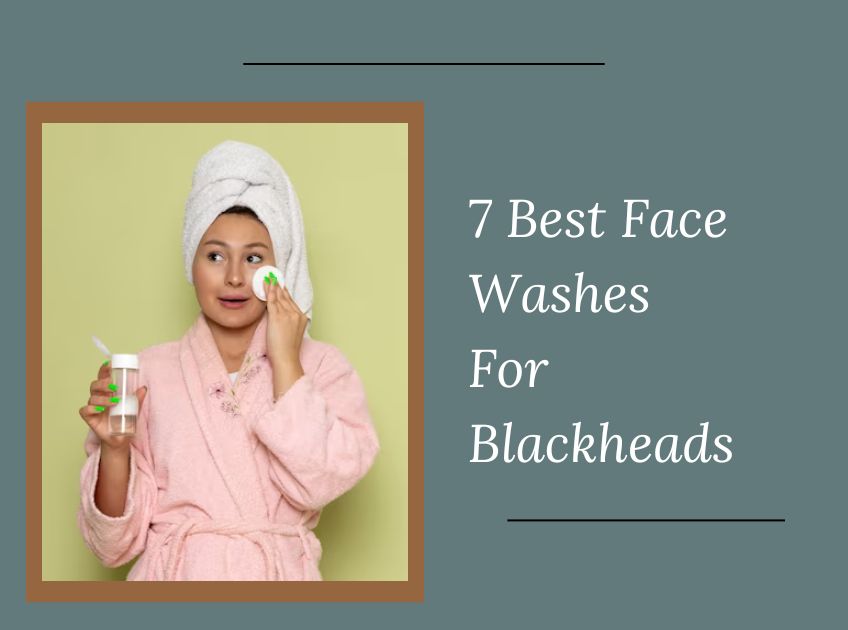 Blackheads result from buildup over time. Anything heavy or oily, like excess of skin's natural oil, sebum, makeup residue, etc., can clog the pores, resulting in blackheads. Fortunately, many skincare products can help manage blackheads.
Using the right face wash alone can help curb the issue. The best face wash for blackheads should have non-comedogenic properties. It means it should prevent pore clogging and remove the entire buildup, residue, and sebum.
Face Washes
Blackheads can be stubborn, and removing them can take a toll. Thankfully, there are products to control and manage them. Here, we have listed the best face wash for blackheads, hand-picked based on their quality and performance.
Keep reading to know more about them and find the one best suits your skin needs.
7 Best Face Washes For Blackheads
1. Dermatologist-tested: St. Ives Acne Control Daily Face Cleanser
The key ingredients are tea tree oil and 2 percent salicylic acid
It is an oil-free face cleanser with exfoliating benefits that helps remove blackheads effectively
Works well for acne-prone skin and minimizes oil in the skin
Also infused with tea tree oil, has anti-inflammatory and antibacterial properties
Helps decrease inflammation and minimize extra oil on the skin
What We Don't Like: it contains dyes and may cause a tingling sensation on certain skin types.
[ Read: 7 Best Carrier Oils For Acne Prone Skin And Scars ]
2. Oil-free and Lightweight: Bioré Charcoal Acne Daily Cleanser
The key ingredients are charcoal and 1 percent salicylic acid.
It is suitable for oily, sensitive, combination, and acne-prone skin
It absorbs oil from the skin, unclogs the pores, and removes blackheads
The presence of salicylic and glycolic acids, along with charcoal, helps get deep into the pores and promotes essential exfoliation.
The anti-inflammatory properties of charcoal decrease the inflammation associated with acne
What We Don't Like: The concentration of salicylic acid is only 1%. Also, it contains fragrance.
[ Read: How To Get Rid of Open Pores Naturally at Home ]
3. Non-comedogenic: Cetaphil Daily Facial Cleanser
Glycerine is the key ingredient of this facial cleanser
It is non-irritating and free of paraben and sulfate
Suits all skin types, including normal, oily, and combination
It helps minimize oiliness and prevents clogged pores and breakouts without drying out the skin
What We Don't Like: It contains artificial fragrances that may seem overpowering to some.
[ Read: CeraVe Hydrating Facial Cleanser Review ]
4. Non-Foaming: Humane Acne Face Wash, 10% Benzoyl Peroxide
The key ingredient is 10 percent benzoyl peroxide
It is non-foaming and SLS-free, suitable for oily skin affected by inflammatory Rosacea
It delivers oxygen to the pores so bacteria can't thrive and minimize the occurrence of blackheads and whiteheads
Free from parabens, sulfates, fragrances, or dyes
It is suitable for the face as well as the body
What We Don't Like: It comes with a hefty price tag.
[ Read: 7 Best Face Washes For Acne And Pimples ]
5. Best for Sensitive Skin: Simple Micellar Cleansing Water
The key ingredients are micellar water and Vitamin C, which works well for dry and sensitive skin
It is dye-free and fragrance-free, suitable for problematic skin
The presence of skin-friendly ingredients makes it a gentle face wash that removes makeup, dirt, and oil
It is free from ingredients that could potentially aggravate sensitive skin and cause irritation
What We Don't Like: It doesn't have active ingredients that target acne.
[ Read: How to Get Rid of Blackheads on Nose Naturally at Home ]
6. Multi-Purpose: PanOxyl Acne Foaming Wash, 10% Benzoyl Peroxide
The key ingredient is 10% benzoyl peroxide which helps reduce redness and skin inflammation
It has foam texture and maximum strength to help combat different skin issues effectively, such as blackheads
The antibacterial properties of face wash kill bacteria
It unclogs pores and brings glowing radiance to the skin
Reduces the irritation caused by cystic pimples
What We Don't Like: The concentration of face wash is strong, which may cause dryness and irritation to the skin.
[ Read: 7 Best Primers For Glowing Skin ]
7. Non-comedogenic: La Roche-Posay Effaclar Medicated Gel Cleanser
The key ingredients of this gel cleanser are 2 percent salicylic acid, lipo-hydroxy acid
It suits oily skin and acne-prone skin effectively, reducing the signs of acne and pimples
Since it is tested for allergens and came out hypoallergenic, it is suitable for sensitive skin too
It is free from parabens and other harsh ingredients
What We Don't Like: It comes with a hefty price tag, and according to some users, it causes skin drying and peeling.
Conclusion
So these are some of the most effective and best face washes for blackheads. Now that you know them, it's time to start using them for fresh, glowing, acne-free, and blackhead-free skin.
You Might Also Like: