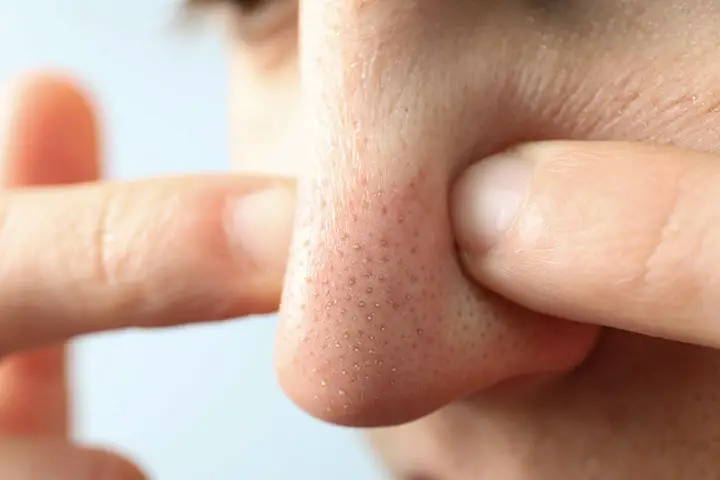 The most commonly found acnes are blackheads, these are most exposed in oily skin persons. These blackheads are formed when clogged pores combined with dead skin cells and excess oil sebum. Instead of pinching and plucking here are some techniques to get rid of blackheads for oily skin.
1. Green Tea Face Mask
Green tea has rich components like epigallocatechin gallate, polyphenyl which has the ability to remove acne for oily skin. It also has anti inflammatory, antioxidants and antimicrobial properties
Process:
Make a cup of green tea and set bag for an hour
Now open the bag and release the leaves
Take the leaves in a bowl and add honey and mix well if require add little water and make a thick consistent
Now apply the paste on your skin and leave for 10 min
Wash with warm water
2. Turmeric Face Mask
Turmeric powder is very effective in acne treatment, it has been used since years. But this process will stain the skin for 24, it is temporary stains but affects more for blackheads.
Process:
Add 1 tablespoon of honey, 1 tablespoon turmeric and add few drops of warm 1 water
Make a thick paste and apply on the skin for 10 to 15 min
Wash it with warm water.
[ Read: How to Use Hydrogen Peroxide to Remove Blackheads ]
3. Egg White and Lemon Face Mask
Egg white when combined with lemons tightens the pores. The citrus helps to absorb oil. Lemons also have antibacterial abilities. When combined makes the perfect mask for blackheads.
Process:
Add 1 egg white with 1 spoon of freshly squeezed lemon juice
Mix them and make a thick pate and apply the mask on your face
And let the mask dry and remove the mask with warm water.
4. Cinnamon Lemon Juice
Cinnamon has antifungal, antibacterial and antioxidant properties that makes the perfect acne removal for skin, the citrus also have helps to absorb oil and removes acne to make the skin glow.
Process:
Take half tablespoon of cinnamon powder along with freshly squeezed lemon juice in a bowl
Mix both of them and make a thick paste
Apply the mask on your face and set it for dry
After 20 min remove the mask with warm water
[ Read: How to Use Baking Soda for Blackheads ]
5. Coconut oil, Jojoba oil and Sugar Scrub
Coconut has anti-inflammatory properties, which bolster your skin's protective layer. Whereas jojoba oil regulates sebum production and moisturizes the skin. It is useful to get glowing skin instantly.
Process:
Add 2 tablespoon of coconut oil and 2 spoon of jojoba oil
Add ½ cup of sugar and mix them to make a thick paste
Now apply on your face and scrub for at least 5 min in circular motion
Wash your face with warm water
6. Baking Soda Face Mask
Baking soda is a normal kitchen item that helps to remove blackheads. It also helps to neutralize the PH imbalance and removes the dirt on the skin.
Process:
Add 2 tablespoon of baking soda and 2 tablespoon of water and make a paste
Apply the paste and massage for few minutes and let it dry
Wash with warm water.
[ Read: How to Get Rid of Blackheads on Nose Naturally ]
7. Brown Sugar, Honey and Lemon Scrub
Brown sugar, lemon and honey has the ability to exfoliate blackheads, sugar acts as scrub that makes the skin glow.
Process:
Add one tablespoon of brown sugar and two tablespoon of lemon and a tablespoon of raw honey in a bowl
Mix all of them and make a thick paste
Apply these mixture on your face and massage on circular motion for 5 minutes
And wash with warm water
8. Tomato and Sugar Scrub
Tomatoes contain salicylic acid which is a perfect home remedy for acne and blackheads. The acids that are present in tomatoes also aid to absorb excess oil on the skin. and unclog the pores.
Process:
Add 1 spoon full of sugar to 1 tomato pulp,
Mix well and make a thick consistency and apply to your face
Scrub your face in circular motion for 5 min and leave it for some time
Now wash it with warm water.
Acne and blackheads are very common but there is a solution for every aspect, here we have listed some of the effective Face masks and scrubs that remove blackheads for oily skin. If these procedures don't work on you or are facing the same problem then it's time to consult your dermatologist and take a prescribed medicine.
Best Blackhead Treatments
You Might Also Like: