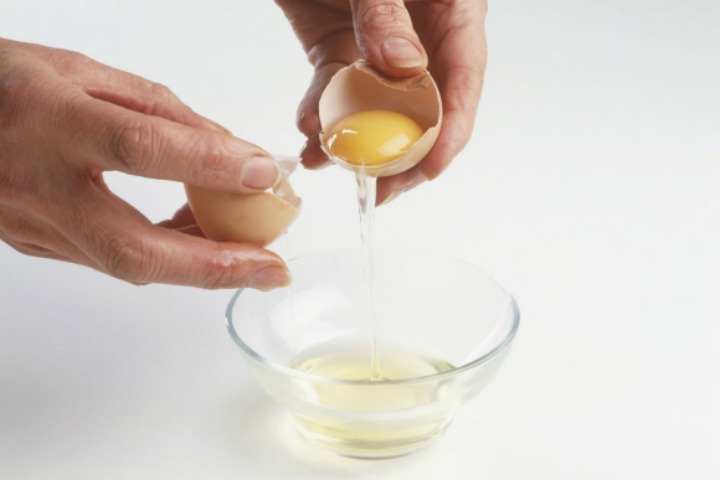 Maintaining healthy skin is one of the key factors to feel and look beautiful. A number of factors contribute to everyone's individual perspective of being beautiful. In today's day and time maintaining skin and hair has become a time consuming task. The environmental factors like weather, pollution, exposure to harmful chemicals etc lead to ill health of the skin. In order to maintain this, the world is now progressing towards simple yet home-bases techniques and remedies to maintain beauty and health. This has gained immense popularity as this provides the convenience of taking care of you depending on your time and availability. A number of products have been used but the role of egg and its components has been long known. In this article we define how something as simple as egg whites has a varying range of benefits to maintain your skin, hair and health.
How Egg White is Good for Your Skin?
Egg white contains good amounts of proteins that help purify, rinse as well as tighten your skin along with lessening the formation of pores. A great benefit of egg whites is that it can be applied as skin mask and it acts flawlessly providing smooth and soft skin. It also benefits to prevent ageing on skin effectively. Egg whites are powerful tonic that protect your skin from sunburns, blisters and allergic reactions. Egg whites provide lustrous skin as well as it polishes your hair and works as conditioner on your hair. Using egg whites works as natural conditioner to increase the volume of hair and give good growth to hair. Egg whites often provide benefits when you mix egg with lemon juice and olive oil that helps to reduce hair fall and releases from tangles hair.
Uses of Eggs in Your Daily Schedule
There are numerous ways of using egg whites in your daily schedule for skin and hair. You can apply egg whites as face mask and scrub for skincare and it works as a shampoo and conditioner for hair care. Using egg whites tone up both your hair and skin. It is said that egg whites provides results within a few days of use.
Beauty Benefits of Egg White:
1. Egg for Skin Toning: Beat an egg until it is foamy and then apply on your face and around the neck. Leave it in for few minutes and rinse with lukewarm water. Doing this way frequently will help to tone and firm your skin.
2. Firming Pores: Take an egg white and separate the egg yolks. Whip up egg white to get thick frothy egg whites. Apply on your face to cleanse your skin and leave it for 20 minutes following rinsing with lukewarm water. This helps to open pores of your skin and cure acnes easily.
3. Eliminate Puffiness Under Eyes: Working overnight, improper diet, anxiety and stress causes baggy under your eyes and your eyes look very exhausted and aged. To avoid this use a thin layer of egg white on the affected area of eyes let it stay for at least 10 minutes that will help to remove puffiness immediately from your eyes. You can use egg whites for different face packs to improve your beauty and how to use egg whites as face packs?
4. Egg White and Oatmeal Pack: If you have oily skin this face pack will work effectively. Add egg white with oatmeal then apply this mixture on face and neck. That helps to get rid of oily skin.
5. Egg Yolk and Olive Oil Face Pack: If you have dry skin this face pack will give you complete relaxation from dry skin. All you need to do is to mix egg yolk with lemon juice and olive oil. The combination can be applied on your face and neck. This face pack is the best to provide proper soothing relief from dry skin.
[ Read: Olive Oil Face Pack ]
6. Egg and Honey Face Pack: This pack works effectively to remove tan from skin. Combine egg white and honey together and use on your face. Leave it on for 10 minutes and clean with water. It works greatly to tone your skin and also improves your complexion naturally.
7. Egg and Yogurt Face Pack: Add egg yolk with yogurt and pour few drops of honey. Apply on your face and leave it for few minutes until it becomes dry. Rinse with lukewarm water. This face pack is effective and provides you glowing skin.
8. Egg and Rosewater Face Pack: Mix one egg with one teaspoon of honey and also pour few drops of olive oil and rosewater too. Apply this blend as a face mask and leave for twenty minutes this helps to obtain smooth and fair complexion and also get rid of blemishes.
9. Egg and Lemon Pack: You need to blend the juice of one lemon and egg together then apply on your hair. Leave it in for 30 minutes and rinse your hair with shampoo. This pack increases volume in your hair.
10. Egg and Yogurt for Hair: To get smooth and silky hair- add one egg and yogurt together. Mix one teaspoon of olive oil or almond oil. Apply on your hair leave it for 45 minutes. You get completely soft and shiny hair immediately.
[ Read: Homemade Egg Hair Mask Recipes ]
11. Egg White Pack: This pack will help to get rid of oily hair within one use. Beat egg white and apply onto your hair then wait for 30 minutes and rinse hair with shampoo. Doing this will provide you smooth and shiny hair and instantly releases oily from hair.
12. Egg and Skimmed Milk Pack: Mix one egg with skimmed milk. Apply on your scalp by rubbing it gently.  Leave it for 30 minutes and finally rinse your hair with shampoo this will give you complete soft and silky hair and get rid of dry hair instantly.
The protein components present in egg whites make it very effective, affordable and an easy to use home remedy for a number of skin and hair health issues. Egg whites can not only be used as masks and face packs but also have proven benefits when taken in your every day diet.
You Might Also Like:
Image:- 1