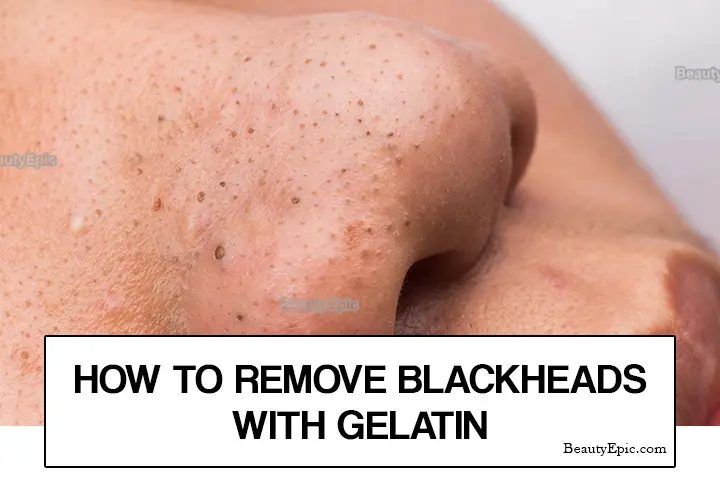 Blackheads are a condition that develops when skin hair follicles get clogged with dead skin cells and excess oil. The body normally produces oil through the hair follicles purposely to protect and moisturize our skin and it releases it on the skin surface. The buildup of this oil leads to a collection of dead skin cells and dirt.
A clog referred to as a comedone is formed if it is not washed off as soon as possible. This clog will appear darker if it has an opening right on its surface; this is what we refer to as a blackhead. There are many remedies out there that will help get rid of this condition. Among the effective one is the use of gelatin. This is a proved blackhead removal remedy you need to consider at large.
[ Read:  How to Use Apple Cider Vinegar for Blackheads ]
Milk and Gelatin for Blackheads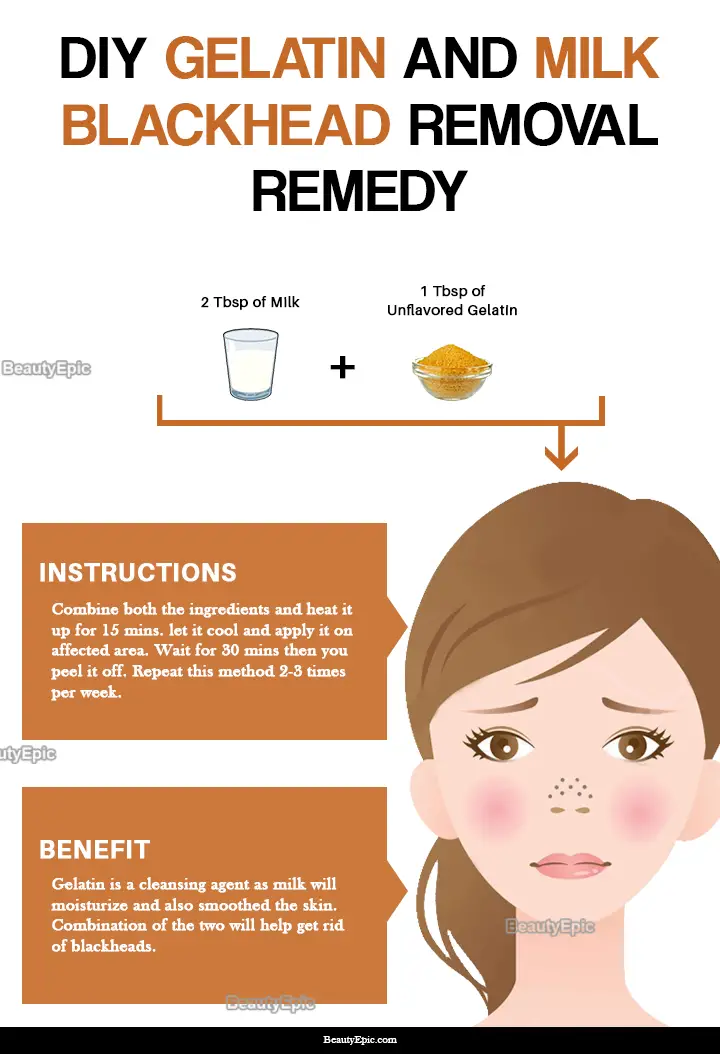 Ingredients:
To prepare this remedy, you will require
2 tablespoons of milk and
A tablespoon of unflavored gelatin.
How to do:
Start by mixing your ingredients and let them heat up for about 15 minutes.
Allow it to cool thereafter and apply it right on the affected regions. Let it stay for about 30 minutes then you peel it off.
How it Removes Blackheads:
Gelatin is a cleansing agent as milk will moisturize and also smoothed the skin. Combination of the two will help get rid of blackheads.
When to Apply: To achieve, results, you need to apply your remedy for about two to three times per week.
[ Read: How to Use Baking Soda for Blackheads ]
Baking Soda and Gelatin for Blackheads
Things You'll Need:
To have your remedy, you require 2 tablespoons of baking soda,
A clean bowl, and
Gelatin.
How to do it:
Start by forming a mixture of your ingredients.
You should mix the ingredients well to come up with a smooth blend.
Apply it on the affected region; let it settle for like 20 minutes then you wash it off.
Repetitions: You need to be patient with this remedy, apply for about two to three weeks to achieve results.
[ Read: How To Use Hydrogen Peroxide To Remove Blackheads ]
Water and Gelatin for Blackheads
Things you'll Need:
To form this remedy, you require some gelatin powder and
Some water.
How to Prepare it:
You should simply mix your ingredients until they blend.
The gelatin powder needs to completely dissolve in water.
When to Apply: You should apply your remedy at least twice a day for about two weeks to achieve results.
[ Read: How to Remove Blackheads with Coconut Oil ]
While out there, you will be advised on many other different ways of treating such a condition but then without a proper guide, be assured that you will not settle at the right remedy for you. These are some of the effective blackheads removal remedies you should consider at large out there. It upon the user to identify the one that will work best, the one with fewer side effects after use. It is better if you consider the help of a specialist to have a guide on knowing the best method to treat your condition. Learn more about the methods of removing blackheads for you today.
You Might Also Like: