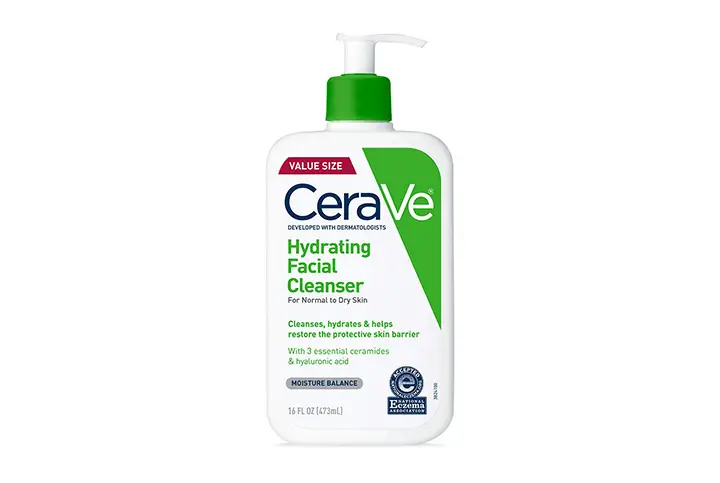 Cleansers help to remove oil, dirt and daily build up on your face. Cerave hydrating facial cleanser is one of the best hydrating cleansers which help to clean your face without stripping the moisture of your skin.
Cerave cleanser consistency is like lotion that is very smooth and cleansers effectively.
This facial cleanser removes the impurities without disrupting the skin's natural protective barrier.
It works great with sensitive and dry skin also. This is the best skin care product that eliminates dead skin cells and other pollutants from the skin and avoids skin problems like acne, pimples etc.
CeraVe Hydrating Facial Cleanser
How it Works:
The gentle cleansing lotion is with hyaluronic acid, ceramides and glycerin to cleanse your skin without spoiling the skin's moisture.
Hyaluronic acid helps to maintain healthier and more supple skin.
Ceramides lock moisture into your skin and help to prevent dryness and irritation.
This product is certified by the national Eczema Association.
Non – foaming and creamy consistency of this facial cleanser removes makeup, oil and impurities from the skin and makes skin smooth to touch.
Pros:
Contains 3 essential ceramides to help to restore skin's natural barrier.
Dermatologist recommended brand.
Lock moisture and take out impurities.
Paraben free, fragrance and soap free.
Suitable to use on the face, body and even hands.
Cons:
Some people's skin may react badly.
Rating: 4.7 out of 5.
The best cleanser which hydrates and helps to restore the protective skin barrier. This non foaming creamy consistency cleanser removes all types of dirt, oil and makeup without leaving skin feeling tight or dry.
Frequently Asked Questions (FAQ's)
Q. Is it tested on animals?
Ans: CeraVe has several products with different ingredients. Hydrating Face Wash is vegan and contains no animal derived ingredients or by-products.
Q. Is it suitable for dry skin?
Ans: CeraVe Hydrating Cleanser is ideal for normal to dry skin.
Q. Does it help with acne scars?
Ans: Our Hydrating Cleanser is suitable for normal to dry skin and helps the skin retain moisture. We recommend trying for acne marks with our Resurfacing Retinol Serum that reduces the appearance of post-acne marks and pores.
Alternate Products:
You Might Also Like: