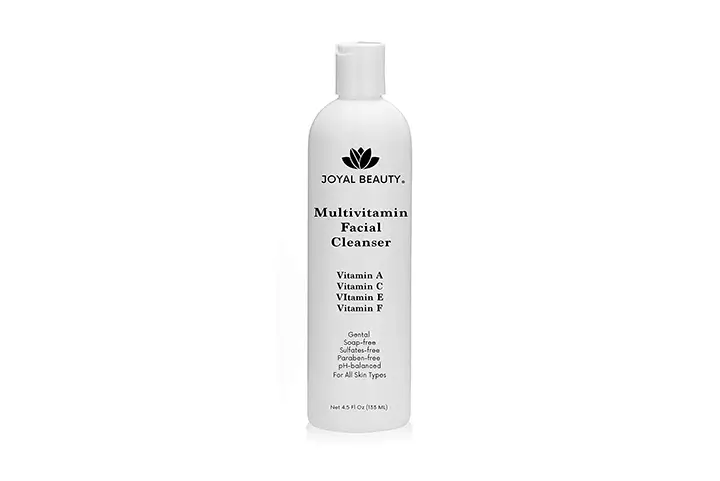 Give a healthy wash to your face using Joyal Beauty Store's Multivitamin facial cleanser. It works gently on the skin and makes it radiant. This cleanser absorbs dirt, oil and removes them during rinsing.
The soap free cleanser smoothly removes daily build up, makeup and impurities. It gives a noticeable clean and fresh look. It works gently on the skin and makes it healthy.
Best Face Wash-Multi Vitamin Facial Cleanser
How it Works:
This facial cleanser bursting with vitamin A,C,E and vitamin F.
The cleansing formula of this product wash your face gently and smoothly cleanses the pores and keeps the skin comfortable and protected from pollutants.
Vitamin A helps to protect the skin from damage caused by the sun and it also works like an antioxidant that protects against signs of age.
Vitamin C helps to fight the appearance of wrinkles and fine lines and vitamin E protects skin's moisture barrier during cleansing.
Vitamin F helps to reduce inflammation and evening primrose oil helps to protect skin from moisture loss during cleansing.
Pros:
Makes your skin feel clean and fresh.
Deeply moisturizes.
Soap free and fragrance free.
Best for all skin types.
Travel friendly.
Cons:
Too much usage may cause dryness.
Rating: 3.8 out of 5.
Shatter with vitamin A, C,E and vitamin F, all these help to cleanse your skin without affecting your skin barrier. Joyal beauty multivitamin face wash makes your skin pollutants free by deeply moisturizing your skin.
Frequently Asked Questions (FAQ's)
Q. What are the vitamins present in this product?
Ans: Vitamin A,C,E and F.
Q. Can it be used to carry when we travel?
Ans: Yes you can carry it is portable.
Alternate Products:
You Might Also Like: