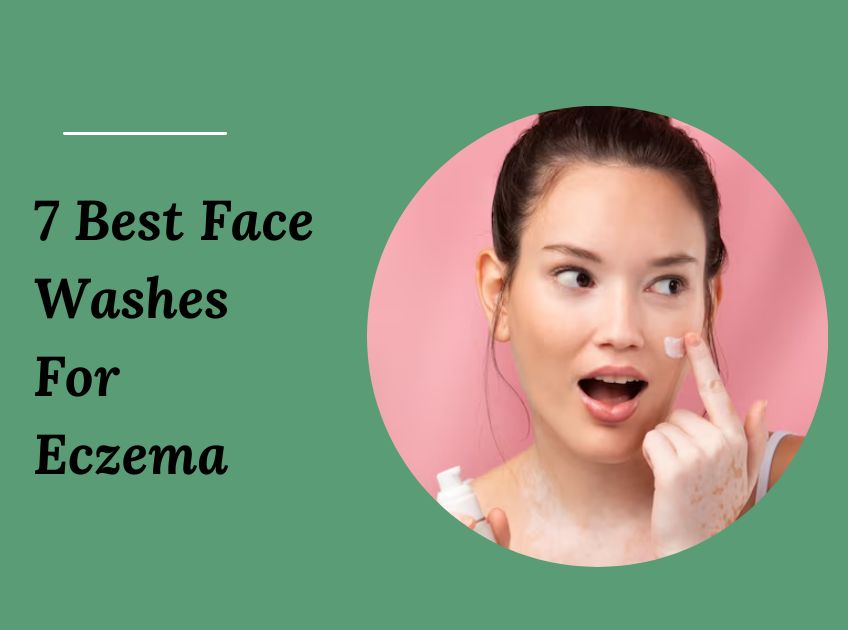 While dry and flaky skin alone is difficult to manage, eczema takes a toll to a whole different level. Eczema is a chronic skin condition that leads to flaky and inflamed skin that experiences redness and acute itchiness.
Even though many treatment lines can manage eczema, using the right face wash can also curb the concern to a great extent. The best face wash for eczema contains skin-hydrating and soothing ingredients that instantly relieve dryness and flakiness.
Face Washes
We have curated a list of the seven best face wash for eczema that proves to be highly beneficial. All these products are selected based on their quality and performance. Read ahead and check them out.
[ Read: Home Remedies for Dry Skin on Face ]
7 Best Face Washes For Eczema
1. Non-comedogenic: Cetaphil Daily Facial Cleanser
Glycerine is the key ingredient of this facial cleanser
It is non-irritating and free of paraben and sulfate
Suits all skin types, including normal, oily, and combination
It helps prevent dryness by deeply hydrating the skin and
Also prevents breakouts without drying out the skin
What We Don't Like: It contains artificial fragrances that may seem overpowering to some.
[ Read: Top 10 Natural Remedies for Eczema Relief ]
2. Dermatologist Recommended: Neutrogena Oil-Free Acne Wash
The key ingredient is 2% salicylic acid, which doesn't over-dry the skin and helps maintain its glow
It is a lightweight and oil-free face wash offering multiple skin benefits
It is s budget-friendly option that helps exfoliate the skin and reduce breakouts, blackheads, and whiteheads, while managing signs of eczema
It helps keep excess oil and dead skin cells under control with each wash
What We Don't Like: It contains dyes and artificial fragrances; therefore, a patch test is recommended, especially for sensitive skin.
[ Read: Top 10 Best Face Cleansers For Acne ]
3. Ultra Hydrating: Era Organics Cleanse + Restore Sensitive Skin Face + Body cleanser
It balances the pH level of the skin, cleansing it thoroughly and making skin deeply hydrated
Contains aloe vera that deeply hydrates and soothes irritation
Also consists of manuka honey that boosts collagen production, improves cell regeneration, and locks in hydration
Vitamin E is a powerful skin healer that strengthens the skin barrier and protects it from free radical damage
The presence of Cehami extract gives you instant itch relief
What We Don't Like: The scent is not unpleasant, and it also comes with a hefty price tag.
[ Read: Aloe Vera for Eczema: How to Use ]
4. Plant-Based Ingredients: TruKid Truly Natural Easy Eczema Soothing Face & Body Wash
It is a perfect 2-in-1 cleanser that contains gentle ingredients and helps soothe itchy and red skin
Helps reduce the signs and symptoms of extreme dryness and eczema
The all-natural and non-toxic formula makes it suitable for all skin types, including sensitive skin
Contains ingredients like coconut and aloe vera that protect the moisture barrier and deeply hydrate the skin
Also contains lavender and chamomile, calms inflammations, and gives a rejuvenating feeling
What We Don't Like: It may cause breakouts.
[ Read: Coconut Oil for Eczema: How To Treat ]
5. Best for All Skin: Sebamed Clear Face Cleansing Foam
It works well for all skin types, including dry, sensitive, and oily skin
It contains Montaline and Panthenol as active ingredients that help in deep cleansing and reduces skin irritation caused due to eczema
With pH 5.5, the face wash strengthens the skin's natural barrier
It is dermatologist tested and approved
What We Don't Like: It is not a travel-friendly product.
[ Read: How to Use Apple Cider Vinegar for Skin Rash ]
6. Multi-Purpose: PanOxyl Acne Foaming Wash, 10% Benzoyl Peroxide
The key ingredient is 10% benzoyl peroxide which helps reduce redness and skin inflammation
It has foam texture and maximum strength to help combat different skin issues effectively
The antibacterial properties of face wash kill bacteria
It unclogs pores and brings glowing radiance to the skin
Reduces the irritation caused by cystic pimples
What We Don't Like: The concentration of face wash is strong, which may cause dryness and irritation to the skin.
[ Read: 7 Best Face Washes For Acne And Pimples ]
7. Best Overall: Shea Moisture Facial Wash & Scrub
The presence of shea butter provides intense hydration and nourishment to the skin
It can be used as a cleanser and exfoliator that helps tackle multiple skin issues.
It works well for all skin types, including men with sensitive skin
It repairs skin damage and cures breakouts visibly
Comes at an affordable price
What We Don't Like: It may feel slightly greasy.
[ Read: How to Use Shea Butter for Acne ]
Conclusion
So, now that you know how effective these face washes can be due to their gentle ingredients, it's high time to use any of them and give a boost of hydration to your eczema-prone skin, rejuvenating it all over again.
You Might Also Like: