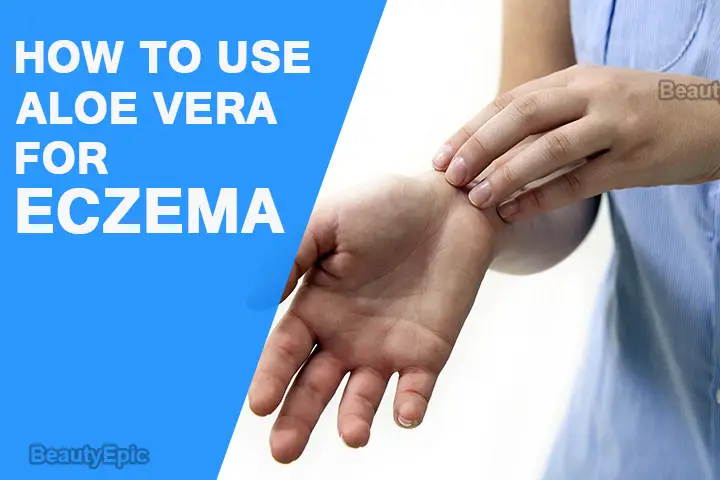 Eczema is the term used for the situation when the skin becomes red, itchy and inflamed. In terms of Greek, it also means boil over. Aloe Vera is a cactus-like plant with many herbal qualities. This plant is regarded as a plant with many benefits since centuries. Aloe vera contains more than 75 nutrients, minerals and many herbal chemicals that prove to be a healing benefit for internal as well as external problems. It is a great asset for problems such as sunburn, rashes. People living in dry areas are more prone to eczema. Dryness, itching are some of the prone symptoms of eczema. Let us read to know how to use aloe vera for eczema treatment.
Does Aloe Vera Work for Eczema?
Now before trying out any new solution especially related to skin issues, each one of us wants to be clear about the pros and cons, and how it actually works. Well, Aloe Vera, as everyone knows is a very beneficial product when it comes to skincare. The market is full of products – creams, face washes, masks, serums, and several other items that have aloe vera in it. Therefore, below are the ways how Aloe Vera works for Eczema:
Aloe vera hydrates the skin. The gel which is present in the aloe vera acts as a moisturizer in the burning or itching area which further provides relief itself.
Aloe vera also in reducing infection. The problem of eczema proves to be full of disgust. This is often noticeable as small children often scratch the areas where they should apply ointment to the itchy area.
Aloe vera also calms the itch. As already mentioned the gel of the aloe vera helps in calming the itch.
How to use Aloe Vera for Eczema
Before one begins with the treatment, you must know the exact and accurate procedure to be followed while its application. You surely do not want to take any wrong step in pouring more or less of an ingredient for which you have to pay a higher amount. Therefore, the process to apply Aloe Vera is as follows:
1. Aloe Vera Gel for Eczema
You'll need:
How to apply:
We should apply a light part of the aloe vera gel at the affected area.
Then we should try to cleanse the area by mixing aloe vera gel in a cotton section.
When we apply the cotton, we are providing it great moisture rather than our fingers.
Going through this process 3 to 5 times a day helps in feeling comfortable.
2. Tea Tree oil and Aloe Vera for Eczema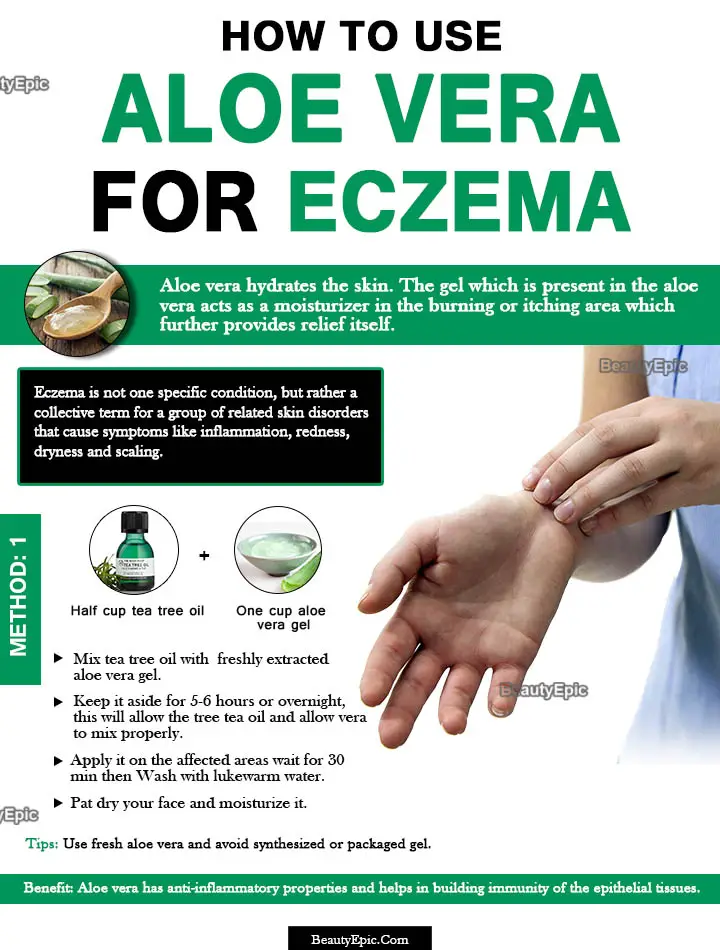 About 9 – 30 % people suffer from Eczema. Eczema is a condition where one suffers from dryness, flaking, and itching of the skin. Many factors like climatic, stress, hormonal imbalance, allergens trigger it. In this condition, skin loses its ability to maintain moisture by producing oils. So, cracks develop in between the skin cells and they are easily occupied by bacteria.
As of now, there is no completely effective cure for this disease but there are substances which can provide relief to a good level. Aloe vera and tea tree oil are some of those substances.
Ingredients:
Half cup tea tree oil
One cup aloe vera gel
Procedure:
Mix half a cup tea tree oil with 1 cup freshly extracted aloe vera gel.
Keep it aside for 5-6 hours or overnight, this will allow the tree tea oil and aloe vera to mix properly
Apply it on the affected areas with hands or you can also use a brush
Leave it for half an hour till your skin can absorb its moisture
Wash your face with lukewarm water
Pat dry your face and moisturize it
How it works:
Aloe vera acts as a humectant, hence helps in holding moisture in the skin.
Also, it has anti-inflammatory properties and helps in building immunity of the epithelial tissues.
While tea tree has many valuable properties such as antiseptic, antimicrobial, anti-inflammatory, anti-oxidant etc.
Repetitions: Repeat it once your twice every week.
Preparation Time: 5-6 hours or overnight.
Best time to Apply: Early morning.
Tips: Use fresh aloe vera and avoid synthesized or packaged gel.
[ Read: How to Use Tea Tree oil for Eczema ]
3. Aloe Vera and Coconut oil for Eczema
Tired of those eczema scars and those skin irritations. You need to try something different. Ever thought of dealing it naturally? Think now. You can use aloe vera and some coconut oil to fight this dreaded condition. Here is how!
Ingredients:
1/3 cup of aloe vera
½ cup of coconut oil
Few drops of any essential oil
Procedure:
Pour out aloe vera in a bowl properly
Now add some coconut oil and few drops of any oil of your preference, preferable use lavender essential oil, that will not just hydrate your skin but also leave an aromatic smell
Now mix the contents well using a hand or electric whisker for at least 10 minutes or until the mixture is properly mixed
After the mixture is completely whipped, refrigerate the mixture by placing it in a glass bowl for about half an hour.
Take out your mixture and apply firmly to the affected areas.
Leave it on the skin for 15-20 minutes.
Wash it with warm water
How it works:
Coconut is known to have antibacterial and antifungal properties.
Aloe vera, on the other hand, is anti-inflammatory in nature and is very effective in developing immunity against skin infections.
It is a humectant which attracts water and helps in maintaining skin moisture.
Repetitions: Apply it to at least three times a week.
Preparation Time: 45 min to 1 hour.
Best time to Apply: Before going to bed.
Tips: Your choice of oil should be such that should mix well with the mixture.
[ Read: How to Use Coconut oil for Eczema ]
4. Aloe Vera and Turmeric for Eczema
Eczema affects the lives of many. People feel tired of this condition and the problem it causes in the daily life. To deal with it using natural resources would be really helpful and pocket-friendly. All you need is some aloe vera and turmeric in your kitchen.
Ingredients:
One tablespoon turmeric
One tablespoon aloe vera
Procedure:
Add a pinch of turmeric to one tablespoon of aloe vera in a bowl
Mix it well using a stirrer. Remember the mixture should be proper
Apply it to the affected skin areas
Leave the mixture on the skin for 20 minutes
Now wash off with cold water.
How it works:
Turmeric reduces skin infection and inflammation. It is known to help in skin regeneration very quickly and it is this potential quality which makes it effective in eczema.
It also slows down the growth of protein responsible for inflammation.
Aloe vera, on the other hand, supplies moisture to the dry and degenerated skin and also gives it immunity against further bacterial growth.
Repetitions: Repeat it daily.
Preparation Time: 10 minutes.
Best time to Apply: Before bathing.
Tips:
If you are allergic to lily plant family, you should not use aloe vera.
Always do a patch test before applying to the whole area.
Avoid commercial aloe vera gel as it has preservatives.
[ Read: How to Use Apple Cider Vinegar for Eczema ]
5. Aloe Vera and Olive oil for Eczema
Eczema is known to be affecting many people throughout the globe. It has a number of factors contributing to its growth. Some of them include hormonal imbalance, stress, climatic conditions etc. olive oil and aloe vera can help patients with eczema get rid of itching and inflammation.
Ingredients:
One tablespoon olive oil
One tablespoon aloe vera gel
Procedure:
Take a scoop of aloe vera gel by extracting it from an aloe vera leaf. Cut the leaf into equal parts and then using a knife cut off the leaves. Now all you have is the aloe vera gel
Now add few drops of olive oil and 1 tablespoon of aloe vera gel.
Use the mixture on eczema affected regions.
Leave it on the area for about 5 to 10 minutes
Wipe it off and then wash your face with cold water
Pat dry the skin
How it works: Oil relaxes the skin by penetrating deep below the skin and gives relief from itching and inflammation. It soothes and nourishes the skin. Aloe vera delivers moisture to the epithelial layer.
Repetitions: Apply it 2 or 3 times a day.
Preparation Time: Hardly takes 10 minutes to prepare.
Best time to Apply: Before a shower, before going to bed.
Tips:
Use freshly extracted aloe vera. Avoid commercial form as it contains preservatives and chemicals which might not do well with the other ingredients you have added.
See to it that you are not allergic to aloe vera.
Do not rub your face, gently wash your face using cool water.
6. Aloe Vera and Honey for Eczema
Eczema is a common skin problem. Till date, there is no definite cure for it. There are a number of factors causing it. To be able to deal with it using nature's help is pretty easy. Honey along with aloe vera are substances which can provide much-needed relief from itching in eczema.
Ingredients:
½ cup aloe vera extract
2 tablespoon honey
Procedure:
Start by mixing the ½ cup aloe vera taken out from the leaves and some honey in a bowl.
Mix it thoroughly for 5 minutes until it mixes properly
Apply it to the affected regions.
Wash it off with cold water.
How it works:
honey is a natural healer. It is known to soothe our taste buds as well as our skin.
Application of honey on eczema affected skin provides relief from irritation and itching of the skin.
Aloe vera provides a good base fluid and it keeps up the moisture level in the skin.
Repetitions: 2 to 3 times a week.
Preparation Time: 10 – 15 minutes.
Best time to Apply: Before taking a bath.
Tips:
Use organic honey to get better results.
Use naturally extracted aloe vera rather than a commercial form of it.
Do not use the green discharge from the leaves.
Check beforehand if you have any allergy from honey or aloe vera.
Therefore, a patch test is always recommended.
Aloe Vera as a healing magic has been in use since ages and has an impact that is beyond imagination. So far as the diseases are concerned, aloe vera is a cure for many, eczema is just one of them. Eczema is a kind of itching that, in some cases, leaves a long lasting effect. The basic issue with eczema is dryness, which requires an extreme level of hydration in order to get rid of.
It is where aloe vera plays the critical part by nurturing skin elements with moisturizing effects of aloe vera. It's healing properties unclogs the skin pores and penetrate the moisture to kill the free radicals in order to soothe the skin. Once moisture reaches to the affected areas, the enzymes do their job automatically and gradually eliminate eczema.
Try one of the remedies shared by us and let us know your experience. Your insightful experience may help others too.
You Might Also Like:
Image:- 1