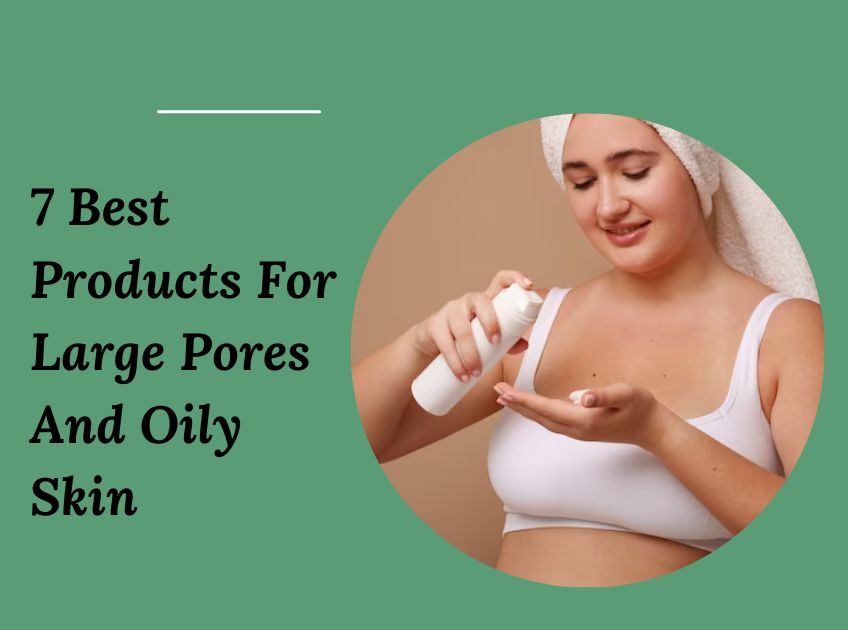 Pore-minimising products provide optimal care by cleansing the dirt, sweat and makeup trapped in them. They also exfoliate the buildup and dead skin cells, resulting in clear and rejuvenated skin. Oily skin leads to the formation of pimples, hence needs special products. Read on to check some of the best products we have shortlisted for oily skin with larger pores.
7 Best Products For Large Pores And Oily Skin
1. Bioderma Pore Refiner Cream for improving skin texture
Why Do We Like It?
Reduces sebum production and deeply cleanses the pores.
It is a non-oily product that improves skin texture.
Silica powder and anti-reflection particles in the product reduce shine and impart a matte look to the skin.
Salicylic acid in it helps in skin exfoliation.
Non-comedogenic product and free from parabens.
Lightweight.
What Do We Dont Like About It?
Expensive compared to the product size.
[ Read: 10 Best Exfoliator for Oily Skin ]
2. Teami Detox Face Masks for detoxifying the skin and keeping it hydrated
Why Do We Like It?
Makes the face naturally glow.
Organic matcha green tea in the product combats free radicals and soothes skin inflammation.
Lemongrass in it keeps the skin moisturised.
Skin is detoxified by bentonite and kaolin clay.
Ensures skin hydration because of aloe vera.
Doesn't contain any preservatives or artificial colours.
Cruelty-free.
Vegan-friendly.
Cons
What Do We Dont Like About It?
Those with sensitive skin might experience irritation on using the product.
3. RoC Retinol for reducing skin pores and preventing signs of ageing
Why Do We Like It?
Retinol in the product reduces signs of ageing like wrinkles.
Reduces skin pores by cleansing them and removing blackheads and whiteheads.
Penetrates deeply into the skin to lift, smoothen and tighten it.
Oil-free and lightweight product.
It is non-comedogenic.
What Do We Dont Like About It?
The price is on the higher end.
It contains parabens.
[ Read: How to Shrink Skin Pores Naturally at Home ]
4. Aztec Secret – Indian Healing Clay smooth and fresh feeling on the skin
Why Do We Like It?
Removes dirt and sebum, thus cleansing the pores. This reduces the appearance of larger pores.
Makes the skin appear smooth and fresh.
It has healing properties on the skin.
Made of all-natural ingredients.
Free from artificial fragrance, and chemicals.
What Do We Dont Like About It?
Not fit for sensitive skin as it might cause redness and dryness.
5. SKINFOOD Egg Pore Cleansing Foam for unclogging the pores and reducing blackheads
Why Do We Like It?
It can be used on oily or combination-type skin.
The product has a great fragrance.
Removes dead skin cells and imparts a feeling of freshness.
Egg white in the product stimulates collagen cell production and boosts skin resilience and elasticity.
Vitamin B3, vitamin B2, selenium, calcium, amino acids, egg albumin protein, magnesium, potassium, and
phosphorus in the product nourishes and keeps the skin healthy.
It foams well.
What Do We Dont Like About It?
Contains alcohol and might cause an allergic reaction on the skin.
[ Read: Does Egg White Unclog Pores ]
6. Eau Thermale Avene RetrinAL 0.1 Intensive Cream for bright and rejuvenated skin
Why Do We Like It?
Anti-oxidants in the product protect the skin from harmful free radicals.
Non-greasy and non-irritating product.
Reduces sebum production and prevents acne.
Exfoliates dead skin cells and has an anti-ageing effect on the skin.
It improves the skin texture,
Rehydrates the dull skin.
Non-comedogenic
Non-irritating
What Do We Dont Like About It?
Its price is on the higher end.
7. MEDITIME Cleanser for tightening and minimising the pores
Why Do We Like It?
Enlarged pores are refined because of bentonite clay, kaolin clay, and red bean powder.
Reduces skin sebum without making it dry.
It comes with saccharide gum and lotus extract which absorbs the waste products of the skin, leading to a better skin texture.
Makes the skin more radiant.
Free from parabens, artificial colours, ethanol, benzophenone and mineral oil.
What Do We Dont Like About It?
Its fragrance might not be appealing to all.
[ Read: 7 Best Moisturizers For Textured Skin ]
Choosing The Best Skin Products For Oily Skin With Large Pores:
Always check for exfoliating and hydrating ingredients. if there are fruit acids and jojoba beads, the dead skin cell buildup can be reduced.
The product should be lightweight and hydrating with ingredients like glycerin and hyaluronic acid.
Avoid products with artificial colours, parabens, mineral oils, and preservatives as these could worsen the oiliness and cause irritation in the skin.
Conclusion:
Besides using any of the products mentioned above, you can inculcate some simple habits to reduce the appearance of pores at home. This includes washing your face with water a few times a day, changing pillow covers regularly, maintaining skin microbiome by using products that have pH 5.5 and simply rubbing ice on clear skin for reducing the appearance of pores, which can lead to amazing results.
You Might Also Like: