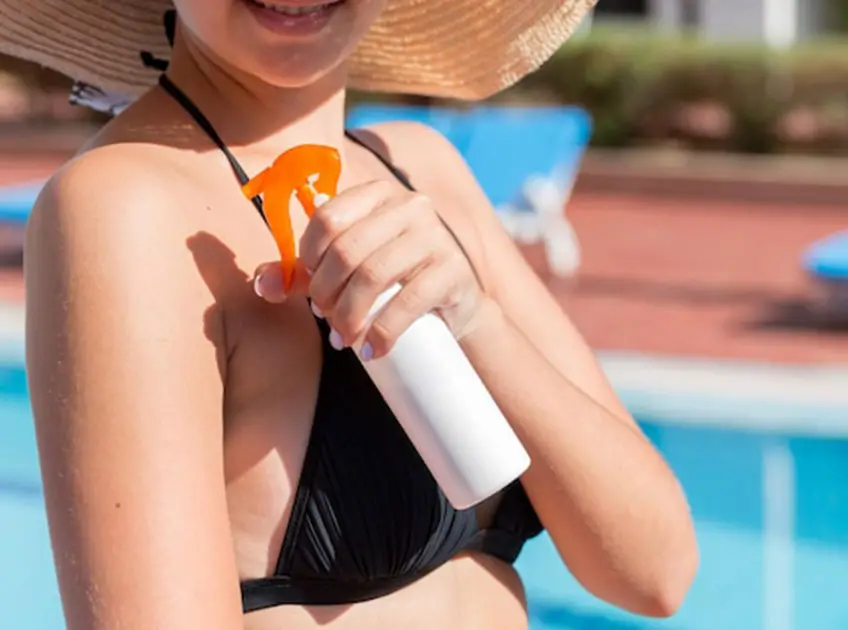 A spray tan is a good alternative to suntan. It helps to escape scorching sunrays and develop a tan inside the comfort of home. At the same time, it aids in developing a beautiful golden bronze glow without exposing skin to harmful UV rays.
Since spray tan has many benefits, you should try to make the most out of it by following certain steps and wearing the most suitable clothes.
If you wonder what to wear to a spray tan, this article will help you provide all the information. Besides, we will also tell you what to wear after a spray tan to maintain your beloved bronze.
What To Wear To A Spray Tan?
Let's break down this question into what to wear during and after a spray tan to make the most of your product.
Clothes To Wear During Spray Tan
Be comfortable- When it comes to clothes, comfort should be the utmost priority. As you are off to a spray tan appointment, wear comfortable and breathable clothes. While some people prefer getting spray tan nude, some don't. In either case, comfort should be your precedence.
Getting Nude- People who prefer getting their whole body tanned and are okay going in the nude may wear a comfortable thong. It will cover the parts that need protection from spray tan and expose the rest of the body.
Fewer Clothes- Since wearing clothes to a spray tan may develop tan lines; therefore, wearing as few clothes as possible will help to prevent getting dreaded unevenness.
[ Read: What To Wear In A Tanning Bed ]
Clothes To Wear After Spray Tan
Once you have got a spray tan, you may think about what to wear after your spray tan and how it may affect the tanning solution as it develops. Here are the things you should keep in mind after getting the spray tan-
Avoid tight clothes and shoes
Do not wear jewelry
Such clothes and even jewelry can rub off the freshly sprayed solution. It will lead to the development of faded, uneven, and patchy tan- something you would least desire.
Besides clothes, you must take care of your skin by preparing it in advance and hydrating it later to ensure a lasting tan. Some instructions you need to follow for the perfect tan are-
Exfoliate your skin with an exfoliating mitt at least a day before getting the spray tan.
Shower at least 3-4 hours before getting the spray tan and rinse with cold water to close the pores.
Do not apply any skincare product like moisturizer and makeup.
If you often go to a masseur, do it before getting a spray tan.
Shave and wax at least a day before spray tan.
[ Read: Can You Wear Makeup After Spray Tan? ]
4 Essentials For What To Wear To A Spray Tan Session
Now that you are heading for your spray tan appointment, keep these points in handy to make sure you wear the right clothing to your spray tan session:
1. Choose Your Footwear Wisely
Prefer shoes that are not tight-fitted or close-toe. The freshly applied formula on the skin may wear off due to constant pressure and rubbing on your feet. It can develop streaks and uneven tan.
Pick footwear that is loose and open-toed. You can go for sandals like slip-on or flip-flops, preferably without heels. At the same time, do not wear socks or tights on freshly tanned feet.
2. Say No to Jewelry
Leave your jewelry safe at home. They are not needed when you are going for your spray tan appointment. Remove rings, earrings, chains, necklaces, bracelets, cuffs, or any other type of jewelry on your body.
Jewelry may rub the solution off and cause uneven and streaky tan.
3. Loose Clothes Are Just Right
Even if you are heading to the salon in your tights, pack loose clothes like flowy dresses and skirts or loose-fitting jumpsuits without elastic to wear after completing the spray tan session.
It will ensure that you stay comfortable and your clothes do not rub on the skin. At the same time, avoid wearing a bra or underwear, which tends to cling to the skin and may cause discoloration.
4. Wear Dark Clothes
This tip is solely to protect your cloth from getting dark. Since your skin has freshly applied spray tan, light-colored clothes will rub against the skin and get stained. So, choose clothes that are already dark, like brown, grey, or black, to prevent staining.
If you are wearing underwear, choose a thong that is a dark color or which you don't mind throwing away if it gets stained.
[ Read: 5 Best Spray Tanning Tents ]
Final Words
Now that you know what to wear to a spray tan and what tips help to develop tan better and last longer, make sure you follow them strictly to get the desired skin tone.
Let your skin develop a gorgeous golden glow with the spray tan!
You Might Also Like: