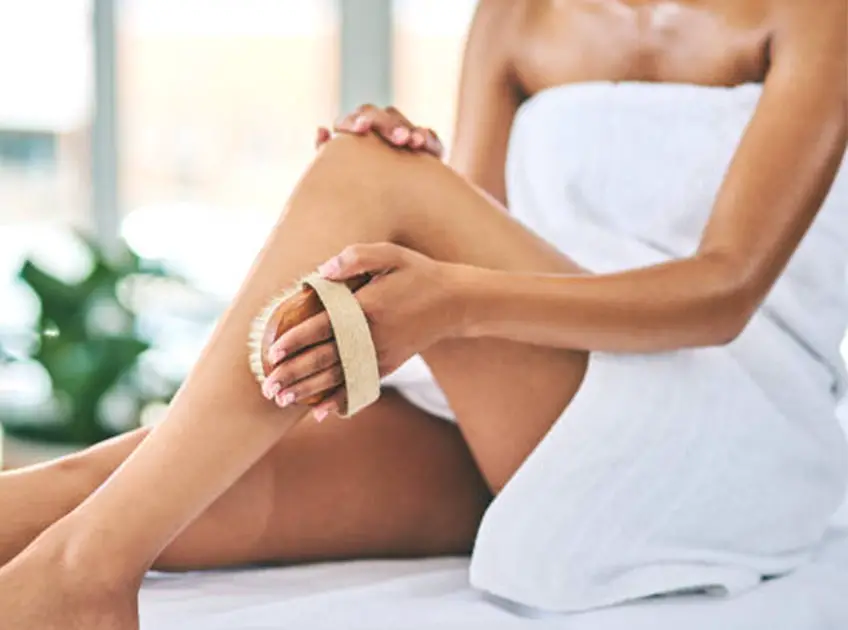 Developing the gorgeous bronze tan is the dream of many; however, it takes time and effort to develop and maintain it. From preparing the skin to following the aftercare instructions, it takes a lot to get the desired glow. 
One of the essentialities before going for a spray tan is exfoliating the skin. It offers many benefits, and people who have done it swear by it. However, knowing the right ways to exfoliate the skin is equally important. 
So, here we will learn how to exfoliate before a spray tan, why it matters, and which exfoliators will work the best.
How To Exfoliate Before A Spray Tan?
To develop the desired tan, you need to give the best shot to the spray tan. It can be achieved by exfoliating the skin fully and properly.
Exfoliation removes the dead skin cells and reveals soft, smooth, fresh, and pristine skin underneath. As fresh skin reveals, it absorbs spray tan evenly and deeply, ensuring the development of a better tan. Also, we will have a more even tan for longer.
The fresher your skin is, the better your spray tan will look and last. 
Now, the question is how to exfoliate before spraying a tan. Here, we share the best exfoliation method you can follow a night before your tan. 
Exfoliating A Night Before Tanning
Step 1

: Take a shower or warm bath for 10 to 20 minutes. You can do all the shaving during this time to make your skin ready for tanning. 

Step 2:

 Now that your bathroom is steamy due to warm water, take an exfoliator, preferably all-natural, oil-free, and an exfoliator mitt. You can also use pre-tan exfoliators that are made to use before getting a spray tan. 

Step 3: With the help of an exfoliator mitt, apply the exfoliator gently on your skin in a circular motion. In the absence of a mitt, you can use a sponge, body scrub, or washcloth. 
Step 4

: Exfoliate for 5-10 minutes and rinse off in the shower. 

Step 5: Moisturize your skin immediately after coming out of the shower to lock in the extra hydration. 
Your skin is now all set to tan tomorrow.
When You Are Short Of Time
If you can't do this a night before, shower at least 4-6 hours before your spray tan session and exfoliate the skin simultaneously using buff gloves. This time, do not use moisturizer; let the skin stay revealed and clean. 
Note: Avoid exfoliators with oil at least 4 hours before your appointment.
What Are The Best Natural Exfoliants To Use Before A Spray Tan?
All-natural exfoliants work wonders and are perfect for the skin before exposing it to the spray tan. Homemade body scrub or natural exfoliants are gentle on the skin and have no side effects. Also, they are suitable for sensitive skin, too as they lack skin-irritation ingredients and chemicals. 
Here are some DIY natural exfoliants that you can use before your spray tan-
Oatmeal exfoliant- People with sensitive skin should go for oatmeal scrubs as they are gentle on the skin and absorb all the excess oil from the body. So, with oatmeal scrub, you are cleansing and exfoliating at the same time. 
Sugar scrub- Take some sugar and mix it with virgin olive oil and scrub gently over the skin. It removes all the dead skin cells, leaving skin soft and smooth. 
Coffee scrub-

Coffee has anti-aging and anti-inflammatory properties. It makes a good natural scrub that you can use to exfoliate before spray tan. 

Dry brushing- Dry brushing is also one of the ways to increase blood flow and brush off dead skin cells. Make sure the brush is soft and has gentle bristles. 
What Exfoliants Should Be Avoided Before A Spray Tan?
Although natural exfoliants are the best, you can also go for a pre-tan exfoliator; however, ensure that they are good for your skin. Here is what needs to be avoided-
Avoid exfoliants with microbeads as they are rough on the skin and environment. 

Do not use exfoliants that consist of parabens and sulfates. It can cause irritation, redness, and itching to the skin. 

Apart from avoiding these types of exfoliants, you must be gentle on your skin. Do not scrub roughly and aggressively. It is the first rule of exfoliation. 
Spray Tan Care Tips
Now that you know how to exfoliate before a spray tan, keep these tips in mind to get the best result. 
Exfoliate at least 4 hours before your appointment.

Shower and shave at least 4 hours before your appointment.

Don't moisturize right before your appointment.

Don't wear any other beauty products, including makeup, when you come for your tan

Complete all other beauty services first, like nails, waxing, facials, and massages
Final Words
Exfoliating skin is the first step to developing a stunning bronze tan. The more you care for your skin and prepare it before a spray tan, the better the result. Beautiful skin is the result of exceptional skincare. So indulge in healthy exfoliating practice and prefer using all-natural exfoliators to get the best result. 
You Might Also Like: