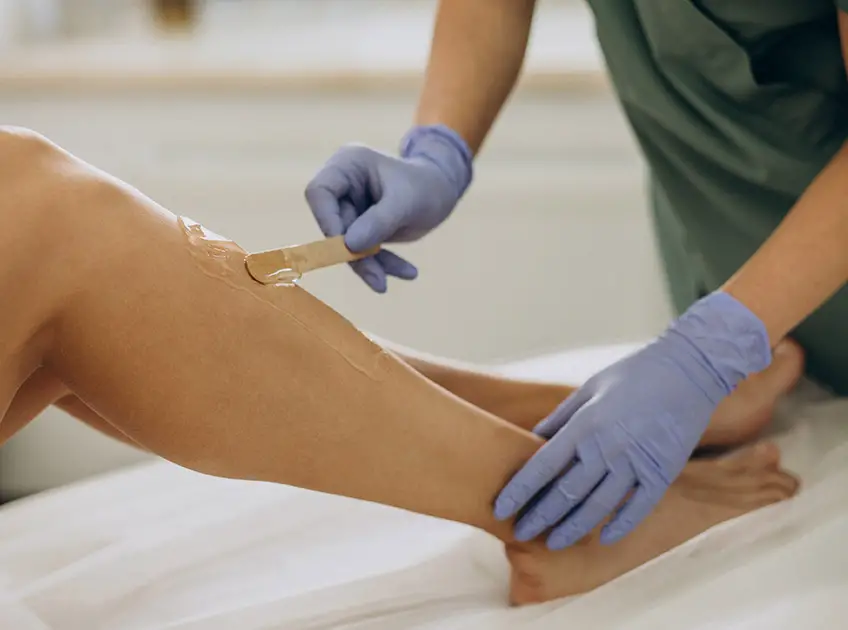 When you apply self-tanner, extra efforts are needed to make the tan last longer. Certain activities accelerate the process of fading tan, and waxing is one of them.
Waxing, shaving, and every other activity that exfoliates the skin should be avoided after a spray tan. Experts advise undertaking all these activities before getting the spray tan. It will not only prepare the skin but also ensure the result of the spray tan will last longer.
Let's take an insight into self-tanning and what makes waxing bad after spray tan.
Waxing After Spray Tan
Often people wonder if waxing after a spray tan can affect the result. The answer is YES. Waxing should be avoided after the spray tan as it can adversely affect the result and fade the tan faster.
Why Should You Not Wax After Spray Tan?
To understand why waxing should be avoided after spray tan, it is essential to know how self-tanning works.
The active ingredient in self-tanners is dihydroxyacetone (DHA). As you apply or spray a self-tanner on the skin, the DHA interacts with the amino acids present in the uppermost layer of the skin. As a result, the skin cells darken, giving an appearance of fake suntan.
On the contrary, when you actually bask under the sun to develop a tan, the UV rays penetrate and reach the second layer of the skin. Here, melanin (the compound responsible for skin color) starts acting in defense and increases to protect skin from sun damage.
As melanin content increases, the skin cells darken, resulting in tan. It is a natural tan that doesn't get affected by waxing or shaving directly. Yet, both these skin exfoliating activities should be avoided whether you have a natural suntan or a fake spray tan.
What Happens If You Wax After A Spray Tan?
DHA is the major ingredient of all types of self-tanners. This compound can be derived synthetically, naturally, or organically. Either way, the fake tan stays only on the outermost layer of the skin.
It is well known that our body sheds dead skin cells naturally. A layer of dead skin cells accumulates on the skin with sweat, sebum, and other body oils.
While a normal wash may remove these dead skin cells to some extent, exfoliation helps get rid of dead skin cells completely, revealing the fresh skin underneath.
Waxing is considered a hair removal and skin exfoliating activity. When you undergo waxing, you remove not only the unwanted body hair but also the layer of dead skin cells.
As the dead skin cells come out, the tan residing in them also comes out. It eventually fades the tan, making it lighter than before.
It is one of the reasons why exfoliating skin after a spray tan is strictly prohibited.
On the contrary, preparing the skin before getting the spray tan is advised by exfoliating it properly and revealing the fresh skin. It absorbs the spray tan much better than the un-exfoliated skin.
Exfoliated skin develops and maintains tan for longer.
How Long Should I Wait To Wax After A Spray Tan?
It is another question that tan enthusiasts often ask- if you can't wax immediately after the spray tan, how long should you wait?
Depending upon how long you want the tan to stay and how good the tan has developed, waiting for at least 5-8 days is advised.
If your tan has already faded or hasn't come as your desired, you can wax it before getting another spray tan session.
Here, you should know that the tan will not only fade but also look streaky and blotchy once you wax. However, you can fix such an issue using a blotchy spray tan.
If Not Waxing, Can I Go For Shaving?
If you are in the habit of shaving your arms and legs every time before heading out, stop it!
Just like waxing, shaving also exfoliates the skin and thus contributes to fading your tan. You will lose your beautiful sun-kissed glow that has developed with a spray tan. Also, the chances of getting a streaky and blotchy tan will increase.
So, wait 5 to 7 days after using a spray tan to shave or wax.
If you don't want your legs, arms, or other body parts to look hairy, shave for at least 24 hours before getting the spray tan. It will make the skin clean, clear, hairless, and suitable for absorbing more tanning solutions, thus developing darker and even tan.
Final Words
Some keynotes that will be useful regarding waxing and spray tan are:
Avoid waxing, shaving, or any other type of exfoliation after getting the spray tan. You will only fade your tan and develop a streaky and blotchy tan if you go for exfoliating activities.
Wax or shave at least 24 hours before getting the spray tan to achieve the best result.
Keep the skin properly hydrated and deeply moisturized as it will help to develop an even darker tan.
So, avoid wax after spray tan completely if you want to look like the golden bronze goddess this summer.
Image Credit: freepik
You Might Also Like: