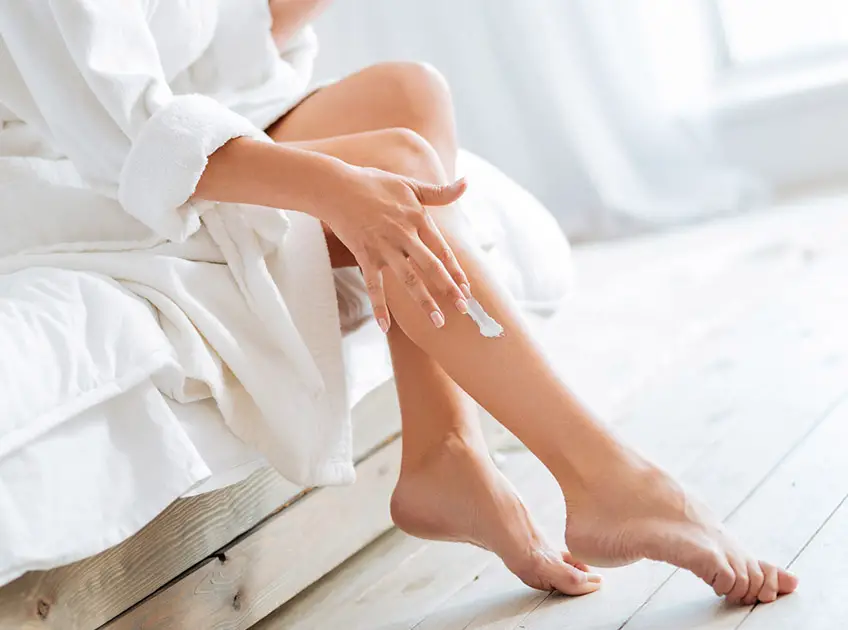 The result of spray tan is not always cakes and roses. Mishaps happen, and sometimes you may end up getting patchy, uneven, and streaks of tan on the body.
It is pretty terrifying waking up to such a tan instead of a soft-focus-golden bronze glow. It is not uncommon to experience orange-tinged palms, knees, or feet even after careful misting or fully mitted application. Generally, it develops on dry skin, but how do you get rid of it?
If you are searching for how to remove spray tan, you are on the right page. Here, we have provided some of the best ways to get rid of fake tan, which looks creepy.
How To Remove Spray Tan?
Use Tan Remover
While you can find multiple spray tanners, the market is also flooded with products that can help remove them. The best and most effective way to remove spray tan is using a tan remover.
These removers consist of cotton extract, bicarbonate soda, and urea. They exfoliate the skin and remove all the traces of self-tan, making the skin look clean. Some tan removers also contain aloe vera and other skin hydrating ingredients to moisturize and nourish the skin.
Once you have used a high-quality tan remover that has balanced your skin pH and nourished it, you can go for another spray tan session.
Try Baby Oil
If you don't have tan remover or time to buy a new one, use one common product easily found in every home- baby oil. Slather any baby oil and rub it gently all over the body. Let it stay for not more than 10 minutes and wash off.
Make sure you wash off the baby oil within 10 minutes, or else it can have reverse effects and lock in the old tan. Take a hot shower after 10 minutes and remove the oil. Later, exfoliate the skin and lift off the old patchy, uneven tan.
Applying oil makes the skin surface plump and susceptible to exfoliation. It helps to remove all the dirt, grime, and dead skin cells easily.
Hydrate The Skin
In order to avoid patchiness or harsh discoloration, moisturize the skin daily. As the skin stays hydrated, the cells rejuvenate, and melanin content returns to normal.
All this helps the patchy tan to fade away on its own gradually and naturally. It ensures you don't have to work extra to get back to the normal skin tone.
Exfoliate The Lingering Tan
Exfoliation is a great way to eliminate dead skin cells and keep them fresh and clean. Exfoliate your tan regularly to let the dead skin cells come off, and with them, the tan as well.
Start exfoliating when the tan is fresh for the best result. Use any gentle exfoliator that polishes the skin and keeps the tan even. You can use such exfoliators in the problem areas like around the neck and underarms.
Use a Mitt
Using an exfoliating mitt is the right way to remove spray tan. It stays gentle on the skin, does not harass or put it under stress like many other scrubbers, and helps get rid of unwanted tan.
Also, it works well in difficult areas like elbows, knees, and ankles.
Enjoy Some Time In The Pool
People who love swimming can enter a pool, preferably a chlorinated one that helps remove tan. Chlorine breaks down the tan lingering on your skin, giving you a clean look.
However, avoid a chlorinated pool at all costs if you want to preserve your tan.
Use DIY Recipe
Mix a few drops of lemon juice with a tablespoon of baking soda. You can also add a few drops of coconut or olive oil to this mixture. Blend all these ingredients well and apply them all over the problematic areas.
While oil is known to soften the skin, lemon juice and baking soda are good bleaching agents, making the skin clean and clear. It is a good alternative to tan removers.
Keep massaging gently and wipe off with a washcloth.
Sweat It Out
One of the natural ways to remove spray tan is to increase your sweating session. Work out, go for a long run, or indulge in any physical exercise that makes you sweat.
Sweating is a kind of intoxication. Also, it helps to shed dead skin cells and is a great way to get rid of patchy tanned skin. If you are not into working out a lot, try a steam bath or sauna as they also develop sweat and have the same effect.
Final words
Spray tan is a great alternative to suntan but when any mishap occurs, getting rid of it as soon as possible is helpful. You don't want a patchy tan or uneven tan to lock, so try different methods to remove them and look prettier on your normal skin.
You Might Also Like: