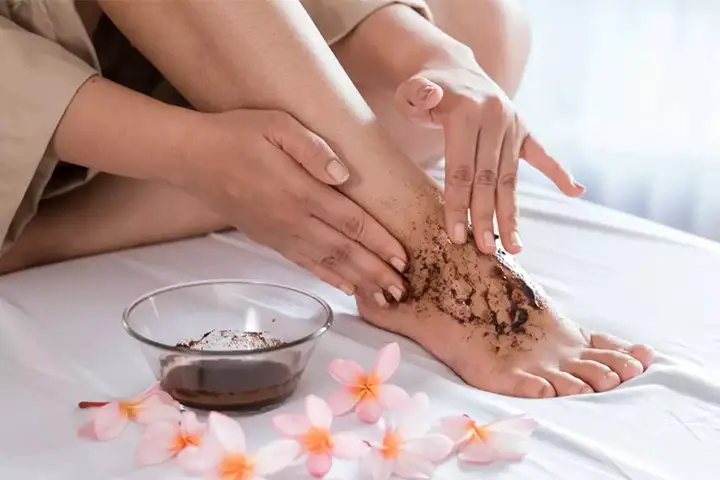 Our feet experience maximum wear and tear and hence need to be taken care of like skin on other parts of the body. When neglected consistently, hard skin builds up, and cracks appear which leads to the build-up of dirt and other issues in the long run. Lack of sufficient moisturization, walking barefoot, or other such activities may cause dead skin build-up. Simple home remedies can help in getting rid of these. Read on to know more.
Homemade Foot Scrub to Remove Dead Skin
1. Coconut oil and Salt Foot Scrub
This is best for dry or cracked heels because of coconut's moisturizing characteristics. It will keep your feet soft and smooth. Salt will act as a natural exfoliant and help in removing the dead skin cells.
Process:
Take a cup of salt and 1/4th cup of coconut oil with a few drops of essential oil.

The mixture can be stored in a container and used for massaging the feet for 20 minutes.

Then it can be washed off.
[ Recommended: Listerine Foot Soak – Benefits and How to Do ]
2. Coffee Foot Scrub
This is excellent for smoothening the skin cells. It enhances the blood flow too.
Process:
Take 2 tablespoons each of coffee ground and sugar with 1 tablespoon of coconut oil.

The ingredients should be mixed to create a thick paste and, massaged on the feet for 10-15 min for shedding off the dead skin.
3. Olive oil and Brown Sugar Foot Scrub
Process:
Take a tablespoon of brown sugar, olive oil, and baking soda and mix them.

Some drops of essential oil can also be added.

Apply it and leave it for a few minutes.

Then wash it off. This has to be followed by a moisturizer application.
4. Honey, Salt and Sugar Foot Scrub
The moisturizing and antimicrobial characteristics of honey help in keeping it smooth and soft. It exfoliates and removes the dead skin.
Process:
Take a cup each of salt, olive oil(or coconut oil), and sugar with 2 tablespoons of honey.

Add some drops of essential oil and massage gently on your feet.

Wash it off after leaving for a few minutes.
[ Recommended: Epsom Salt Foot Soak – Benefits & How To Do ]
5. Sugar, Coconut oil, and Milk Foot Scrub
The lactic acid in the milk helps in breaking the dead skin cells. This scrub cleanses the feet and makes them smooth.
Process:
You need 2 cups each of milk and water with 3 tablespoons of sugar and a tablespoon of coconut oil for this procedure.

Soak feet in the milk and water mixture for 15 minutes and use the oil and sugar for scrubbing Wash the feet and massage with coconut oil.
6. Sea Salt and Peppermint Foot Scrub
Process:
This mixture has an amazing scent. Take a cup of kosher salt, 1/3 cup olive oil, and a tablespoon of peppermint castile soap with 6 drops of pure essential oil.

Pour 3 parts of hot water in a basin and mix in 1/4th cup Epsom salt.

Combine all ingredients in a bowl except the saltwater.

For 10-15 min, immerse the feet in the saltwater and then massage the mixture for a few minutes before rinsing.
7. Baking Soda Foot Scrub
Baking soda's abrasive nature makes it a good exfoliant.
Process:
All you need is a cup of baking soda with 3-6 tablespoons of any oil such as olive, almond, jojoba, or others.

Combine them in a bowl till the desired consistency is reached and a paste is formed.

The mixture can be used immediately or else stored in a cool and dry area in an airtight container.
8. Honey Shea Butter Foot Scrub with Oats
Process:
Take 1/3rd cup oat flour with 1/3 rd cup shea butter and 3-5 tablespoon of raw honey.

Shea butter should be combined with oat floor and then honey has to be added to blend them evenly.

This can be used immediately for scrubbing or storing in a cool, dry area in an airtight container.
All the natural ways of shedding off dead skin cells from feet are easy but need to be practiced consistently to experience better results.
Recommended Topics: