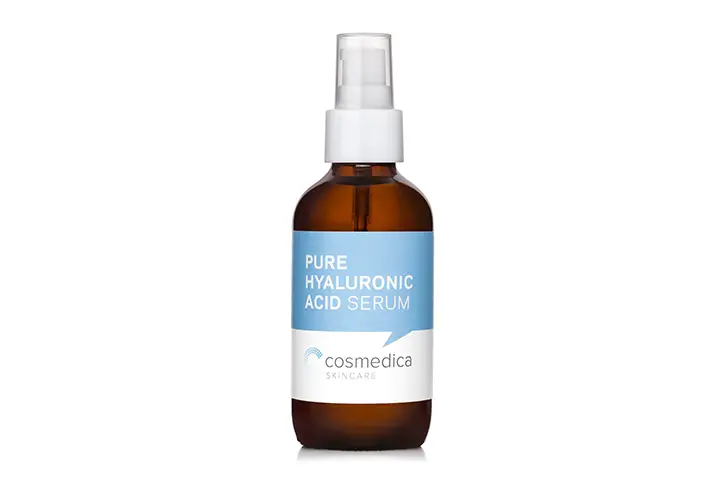 No one likes to look aged. But with the stress and the pollution making skin dull and acne prone. Say goodbye to all your aging signs by using the cosmetic hyaluronic serum.
This facial moisturizer has the quality to reduce the aging signs and keep your complexion young and radiant.
It helps to make your skin soft and to diminish the sun spots, age spots and gives you an even skin tone. This serum helps to retain the skin moisture and hydrate to make it plump and soft.
Cosmedica Skincare Hyaluronic Acid Serum
How it Works:
The main ingredients of this product are hyaluronic acid, which helps to make our skin look smooth and plump.
It also hydrates your skin and reduces the appearance of wrinkles and soothes inflammation.
This pure hyaluronic acid serum is natural and organic which improves skin texture and brightens with intense moisture and balance.
This product has the properties that help to lighten the look of fine lines and aging signs, wrinkles
This skin care product has the ingredients which help to lighten the skin pores, prevent age spots and pigmentation issues.
Pros:
Absorbs quickly.
Non greasy.
Lightweight.
Travel friendly packaging.
Plumps up skin.
Cons:
Rating: 4.3 out of 5.
Cosmedica hyaluronic acid serum helps to hydrate your skin by reducing the signs of age. Makes your skin smooth and
revents dry skin. Get a young complexion by using this serum within a week.
Frequently Asked Questions (FAQ's)
Q. Is it necessary to keep this product in the refrigerator?
Ans: You do not need to keep it in any particular temperature.
Q. Does this product affect the original skin tone?
Ans: It will not lighten your original skin tone. Make sure you use a good quality moisturizer on top of the serum.
Q. Does it cause black heads for oily heads?
Ans: No it does not. Goes right into the skin, and it is not oily at all.
Alternate Products:
You Might Also Like: