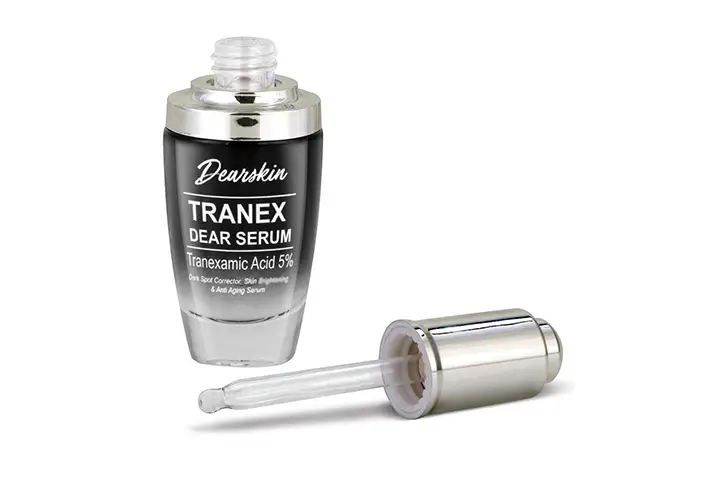 Put an end to all your skin problems by acquiring Dearskin store's Tranexamic acid serum. It helps to lighten the dark spots and combat fine lines and wrinkles. It improves skin tone, texture and makes you look young.
The best anti-aging serum and dark spot corrector. The ingredients of this product will give you amazing results. Give a new look to your skin by using this serum twice a day.
Dearskin Tranexamic Acid Serum 5% Kojic Acid 5% Vitamin C
How it Works:
Get visible results with this serum, it contains tranex dear serum, which is clinically tested, non irritating and hypoallergenic formula.
This clinically tested serum gives great results if used morning and night as part of your daily routine.
It is a blend of organic and natural ingredients Jojoba oil, Licorice extract, vitamin C,vitamin E and the Tranexamic acid, kojic acid, glycolic acid, niacinamide; all these combines and makes your skin amazing by avoiding aging signs like wrinkles, fine lines and lighten the dark spots.
Pros:
Makes your skin look young and firm.
Reduce the appearance of dark spots.
Dermatologist tested.
Perfectly combined ingredients.
Non irritating, hypoallergenic formula.
Cons:
May not be suitable for all skin types.
Rating: 4.4 out of 5.
Tranexamic acid serum gives visible results after 4 weeks of daily use, complete results after 12 weeks.
Frequently Asked Questions (FAQ's)
Q. Can this be used along with other products vitamin C,retinol?
Ans: Yes. Use this AM and PM along with Good Molecules Toner, Timeless Vitamin C, The Ordinary Arbutin, Inkey List Tranxemic, and Retinol (Tretinoin).
Q. Is this sticky?
Ans: No, it is not sticky. It is hydrating which for my skin type is perfect.
Q. Can this be used for AM and PM?
Ans: Use it in the morning and in the evening.
Alternate Products:
You Might Also Like: