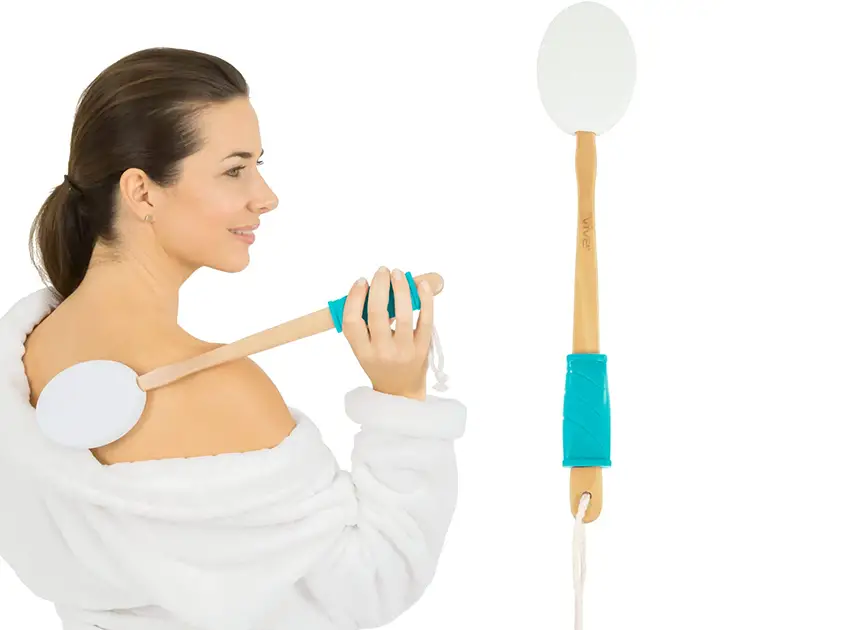 Applying self-tanner is a piece of cake. All you need is to take some lotion, cream, or mousse in your hands or an applicator mitt and slather it evenly on the body. It seems so easy that you don't need the help of others.
However, when you have to apply it on your back, things become a little messy. It is difficult for some people to wrap their hands around the body and forget about applying the self-tanner there.
Moreover, it is not possible to see your entire back, so applying self-tanner evenly becomes more difficult all by yourself. You may end up applying self-tanner more in some portions, less in others, and nothing in hard-to-reach areas.
If you are all by yourself and there is no one to help that can apply self-tanner at the back, fret not. We have some highly effective and useful self-tan back applicators that can cover those hard-to-reach areas, giving you an even, complete tan.
What Is A Self-tan Back Applicator?
A tanning back applicator is a tool that helps you apply a self-tanner to your back evenly without taking help from others.
Using a self-tan back applicator makes things pretty easy. However, they come in different forms, so you need to figure out which will work best for you.
You may find a self-tan back applicator with long handles with pads or sponges where you need to put the self-tanner. Another comes in the form of a length of a special material that has handles on either end.
The best self-tan back applicator is the one that ensures smooth, even, and easy application of the self-tanning lotion. Also, it's a plus point if the applicator is washable and reusable.
Let's check out some of the best self-tan back applicators that are useful and ensure giving an even tan result. We have hand-picked the best products that you can buy for applying self-tanner on your back.
5 Best Self-tan Back Applicator
1. Skinerals Padded Self-Tanning Back Wand
When it comes to tanning, one brand that you can't ignore is Skinerals. Apart from offering some of the best self-tanners, tanning lotions, and tan extenders, it also offers the best self-tan extender.
This back wand comes with an extended handle to ensure the self-tanner reaches hard-to-reach areas of the back. The applicator surface is soft and thus stays smooth on the skin's surface. At the same time, it restores and rejuvenates the skin.
What We Like
Long handle to reach the difficult areas of the back
Ensures even and stress-free self-tan application
Prevents hands from getting orange
It can be used on the rest of the body
Stays safe and gentle on the skin
2. Slick Solutions Self-Tan Applicator
This super soft, velvety self-tan applicator comes with a soft band, making it easy to use all over the back. It ensures an even application of tanning solution so that your back looks as pretty as the rest of the body.
The best part is it is stretchy, so you can stretch and move it all around the back for an even application. It melds, contorts, and fits your body shape. It has two rope handles for easy handling.
The use of microfiber cloth makes this self-tan applicator durable. It never breaks mid-application. When used and stored properly, it can stay with you for years.
Once you are done with the back, just fold the cloth and use it as a tanning mitt to apply the tanning lotion to the rest of your body.
What We Like
Easy to use
Serve multiple purposes
Stretchable and durable
Convenient to carry anywhere
[ Read: Best Self Tanner Mitt ]
3. Vive Back Lotion Applicator
It is one of the easy-to-use self-tan back applicators that works amazingly and gives an even finishing. You can use this product with lotions, creams, gels, mousse, and any other form of tanning solution.
The handle is 17 inches long, making it easy to reach difficult areas. The surface of the applicator pad is 3.5 inches, ensuring good coverage. It is made from durable lotus wood that ensures no slip or cracks.
What We Like
Long handle for easy reach
Wide coverage area
Ergonomically designed
Resistant to mold and mildew
4. ModelCo Self-Tan Back Applicator
This self-tan back applicator comes in handy when you have limited access to the back. The best part is it is reusable and stays with you for years.
The velvety smooth material in the applicator ensures even application all through the back to develop flawless self-tan.
It can be used with tanning lotions, creams, gels, mousse, and self-tanning mist. The simple back and for movement offers good coverage.
The handles are securely fastened so that the chances of slipping subside. As you use this self-tan back applicator, you save your hand from getting an orange tan.
What We Like
Reusable
Made with velvety smooth material
Apply solution evenly on the back
Ensures good coverage
5. Body Reach Unbreakable Lotion Applicator
Reaching the impossible areas of the back, it is one of the best self-tan back applicators. It extends your range of motion and gives you access to self-tan your entire body without anybody's help.
It is made with a lightweight, bendable and durable material that you can use easily for a longer time. The handle is 14 inches long, giving good reach.
The sponge is double-sided and made of soft and hypoallergic nylon material, ensuring smooth and even application.
What We Like
Comes with an additional four sponges
Sponges are removable, washable and non-absorbent
Can be used to apply any other lotions or creams
You Might Also Like: