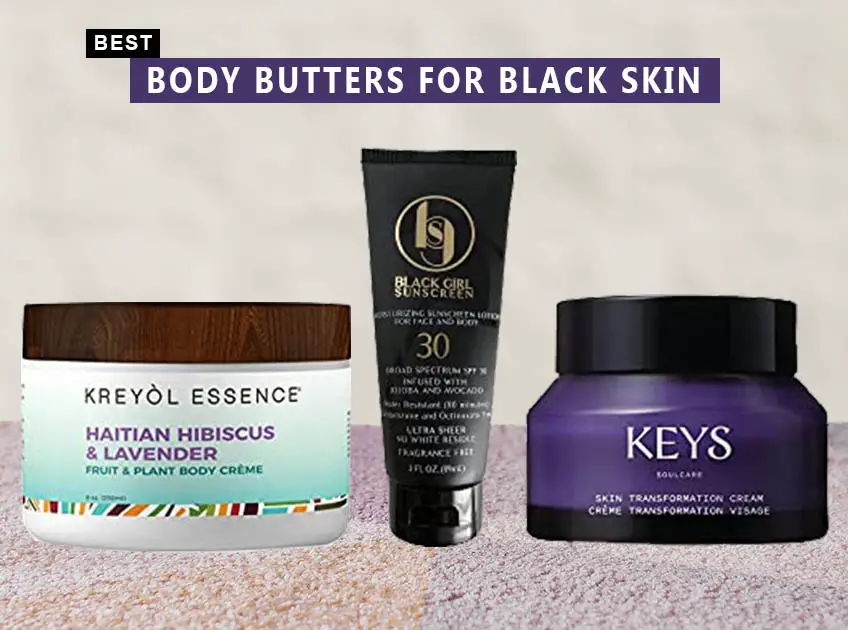 The difference in melanin content makes a significant difference in complexion. People with high melanin content are darker in complexion, and the skin is more prone to dryness due to fewer ceramides than other ethnicities. At the same time, a dark complexion produces more sebum.
All these make black skin requirements different from other skin. Since low ceramide level means the skin is likely to suffer more water loss and stay dehydrated most of the time. If not cared for properly, such skin gets chapped, flaky, and itchy due to dryness. Furthermore, harsh soaps or body washes make the skin drier.
If you have black skin and often wonder why your skin stays dry all the time despite using a moisturizer, blame it on your melanin. Also, if you are using any normal moisturizer or cream, it won't suffice your skin needs.
Body Butters
It is when body butter comes to the rescue. Since body butter is loaded with skin moisturizing and nourishing properties and are relatively high in ceramides and emollients, they are the best for black skin.
Here we have listed the top 7 best body butter for black skin infused with shea butter, ceramides, glycerin, and other healthy emollients that keep skin issues at bay.
[ Read: Home Remedies for Itchy Skin ]
7 Best Body Butter for Black Skin
1. Enjoy The Goodness of Butters: Ulta Keys Soulcare Skin Transformation Cream
It contains shea and cocoa butter to lock in moisture
Infused with antioxidants and fatty acids to soothe, calm, and nourish the skin
Replenish the skin's natural barrier to lock in moisture and ensure lasting hydration
It also consists of Bakuchiol that exfoliates and resurfaces the skin for improved tone, texture, and radiance
What We Don't Like: The cream doesn't smell very good.
[ Read: 10 Best Homemade Skin Toners For Glowing Skin ]
2. Best Whipped Body Butter: Buttah Skin by Dorion Renaud Buttah Body Trio for Melanin-Rich Skin
Highly effective for both women and men with melanin-rich skin
Made with virgin, organic unrefined shea butter from Africa
Smooth, soothe and nourish skin and also protect it from the weather, stress, and harshness
Suitable for daily use and is also great for itchy and sore patches
What We Don't Like: Some people may find the smell of this cream very unpleasing.
[ Read: Shea Butter for Acne ]
3. The goodness of fruits and plant extracts: KREYÒL ESSENCE Fruit & Plant Body Crème
Penetrates the deeper layers of skin, promising to leave it hydrated all day long
Infused with skincare essentials like Haitian black castor oil, guava, baobab, and aloe leaf juice
Best-smelling natural body creams
Free of petroleum, mineral oil, and parabens
What We Don't Like: Even though the smell is great, it may feel unpleasing to some.
4. Luxurious Body Butter: LIHA Beauty Idan Oil 30ml
Offers organic skincare ingredients blended with the rich botanical life of West Africa and English aromatherapy
Formulated with natural ingredients that synch together to protect and rejuvenate dry skin and hair
Smells great due to natural, cold-pressed coconut oil and fragrant tuberose flower
Non-sticky and fast-absorbing formula perfect for all over the body, including hands and feet
What We Don't Like: According to a reviewer, the smell of this body butter is sickly and overpowering.
[ Read: Home Remedies for Dry Skin on Face ]
5. Best Body Butter for Dry Skin: SheaMoisture Body Moisturizer For Dry Skin
Multi-purpose product that can soften and restore both the hair and skin
It can be used on the face, hands, body, and feet without clogging pores or leaving a greasy residue
Infused with 100% Virgin Coconut Oil is a moisturizer natural skin care that leaves behind radiant skin
It can also be used as a moisturizing makeup remover or a moisturizer for glowing skin
What We Don't Like: If you live in cold areas, this product will harden as it is 100% pure coconut oil, which tends to get hard in a cold climate.
6. Sun Protectant Body Butter: Black Girl Sunscreen SPF 30
Made especially for melanated skin, but it is also good for all skin types
Leaves zero white traces and nourish and protects the skin to the fullest
Effective as an all-round face and body moisturizer for any day
Suitable for Dry to normal skin types; however, not suitable for people with oily skin
What We Don't Like: Since this product may cause skin sensitivity; therefore a patch test is recommended.
[ Read: How to Get Rid of Oily Skin on Face ]
7. Typical African Cream for Dry Skin: afrikaimports Whipped African Shea Butter Creamy
Contains a rich amount of irremovable fatty acid, making it far superior to cocoa butter and other natural vegetable butter
Provides all essential vitamins to make the skin look and feel smoother, softer, and healthier
Possess therapeutic properties that protect the skin from environmental stress
It has a yellowish texture and gives out a nutty fragrance
What We Don't Like: While some may like the nutty fragrance, some reviewers find it overpowering and not very pleasing.
[ Read: How to Get Clear Skin Naturally at Home ]
Conclusion
Body butter is a good choice for black skin. Pick any of the products mentioned above and keep your skin soft and supple.
You Might Also Like: