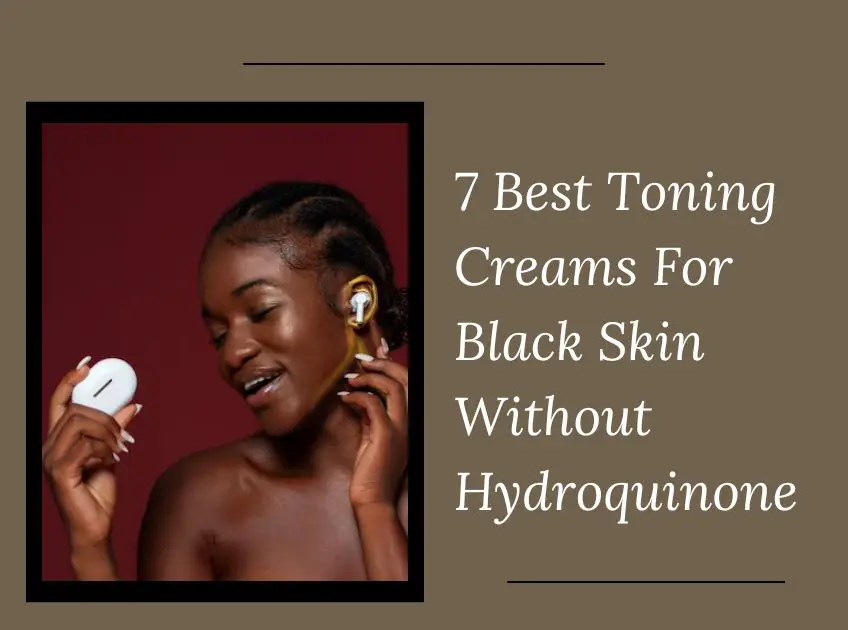 Finding the best toning cream for black skin without hydroquinone is not a cakewalk. It is because most of the creams are infused with this ingredient. Basically, hydroquinone is a skin-bleaching agent and is often used for treating skin issues like dark spots, hyperpigmentation, and melasma.
Generally, 2% of hydroquinone is considered safe and tolerable. However, it may still cause stinging and burning sensation, itching, redness, swelling, crusting, and uneven skin coloration in certain skin types. When used on black skin, this ingredient may cause skin discoloration; therefore, it is better to avoid it unless prescribed.
Toning Creams
Black skin has high melanin content and lacks ceramides. Due to these two major reasons, dark skin often remains dry and dull. All these also lead the skin complexion to become uneven. If you are dealing with all this, fret not, as there are skin-toning creams for black skin that address multiple hair concerns and improve dark skin's texture.
Check out the best toning cream for black skin without hydroquinone.
7 Best Toning Creams For Black Skin Without Hydroquinone
1. Best Gentle Formula: Advanced Clinicals Dark Spot Therapeutic Cream
Enriched with vitamin C, licorice, and jojoba oil
It helps to fade dark spots, marks, redness, and sun damage
It is therapeutic that keeps the skin toned and moisturized
Also, it prevents the early signs of aging, like fine lines
It stays gentle on the skin and can be used on the body and face
What We Don't Like: It takes time to show results.
[ Read: 7 Best Fade Creams For Black Skin ]
2. Best Natural Formula: Mabox Vitamin C Moisturizer
It helps fade dark spots, sun spots, signs of aging, and pigmentation
Enriched with vitamin C
Fights free radicals and protects skin from harmful environmental aggressors
Contains hyaluronic acid, niacinamide, aloe vera, and jojoba oil
Hydrates skin and keep it well-nourished
Boosts collagen production
Imparts a youthful glow to the skin
Free of parabens, silicones, artificial colors, and fragrances
What We Don't Like: It may feel slightly heavy on the skin.
3. Best Fragrance-Free Formula: Intraceuticals Opulence Moisture Brightening Cream
Protects skin from environmental aggressors
Minimizes signs of premature aging, such as dark spots, dry and flaky skin, and uneven skin tone
It contains peptides, and powerful antioxidants like vitamins A, C, and E
It offers skin healing properties and makes skin more resilient
Also infused with yellow dock root extract and cocoa butter
It delivers antioxidants to the skin and brightens it
Free of artificial fragrance
What We Don't Like: It contains phenoxyethanol
[ Read: 7 Best Moisturizers For Black Skin ]
4. Best Lightweight Formula: Medik8 C-Tetra Cream
Offer skin a daily dose of vitamins C and E
Prevents skin damage caused by harmful free radicals
Protects skin against environmental aggressors like pollution and UV exposure
Also, it helps prevent premature aging, spots, and dullness
It gives an even skin tone
The refreshing citrus fragrance makes it more appealing
What We Don't Like: A patch test is recommended on sensitive skin.
5. Best Affordable Option: Revitol Skin Brightener Cream
Fades age spots and improves dull skin and uneven skin tone
It contains a natural skin brightener, arbutin
Also infused with shea butter and allantoin that hydrates skin and makes it supple
The presence of evening primrose oil soothes the skin and reduces redness and irritation
It is an effective plant-based formula that rejuvenates the skin without irritating it
What We Don't Like: It takes time to give noticeable results.
[ Read: 7 Best Body Washes for Black Skin ]
6. Best Mild Fragrance: Mesoestetic Energy C Intensive Cream
Fight the first signs of aging and tone the skin
It contains a high concentration of vitamin C
It helps fight off photoaging and other damage caused by UV rays
It contains hydrolyzed marine collagen and essential amino acids
Boosts collagen production and keeps skin healthy and firm
Stimulates the fibroblasts to up the collagen levels and boosts the moisture level of the skin
What We Don't Like: It is greasy. Also, it contains silicone and PEG.
7. Best For Dull Skin: SK-II Cellumination Deep Surge EX
It is a lightweight skin-brightening moisturizer
The key ingredients are Aura Bright Cocktail EX and PITERA
Also, a powerful blend of over 50 micro-nutrients and vitamins keeps the skin healthy and glowing
Addresses some common skin issues like large pores, dark spots, and dullness
Free of SLS and phthalates
What We Don't Like: It contains parabens and artificial fragrances; therefore, not suitable for sensitive skin.
Conclusion
So, these are the best toning creams for black skin without hydroquinone. Start using them and say goodbye to dry and dullness and hello to beautiful, soft, and supple skin.
You Might Also Like: