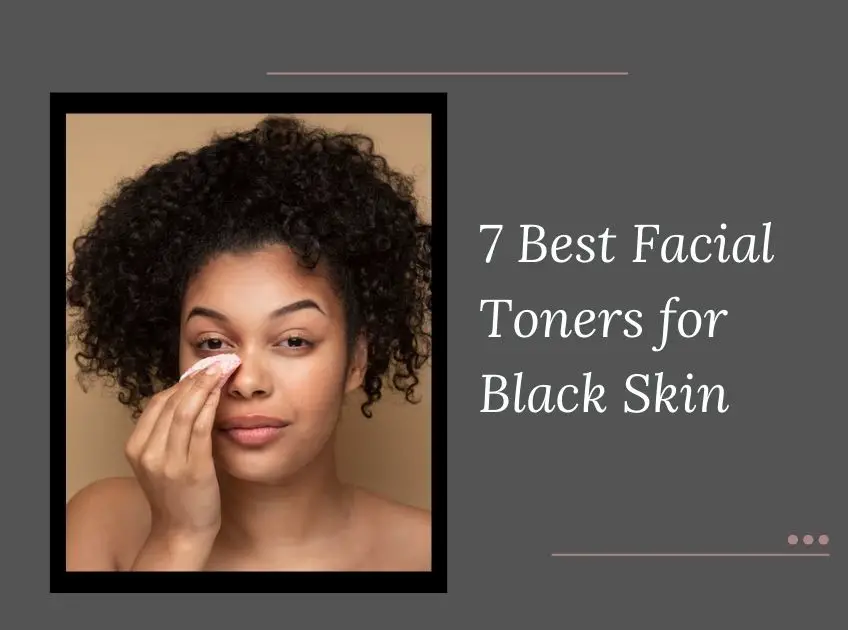 Toning skin should be one essential step in everyone's skincare regime. Those who follow CTM- Cleansing, Toning, and Moisturizing know how it creates a difference and transforms the skin. There are plenty of toners in the market meeting different skin needs.
Here, we are talking about the best toner for black skin that should work to upkeep black skin's health and make it soft and supple. Black skin has high melanin content that contributes to its dark color. The higher the melanin content, the darker the skin. Besides making the skin darker, melanin also makes it drier.
At the same time, black skin is low in ceramide level, which again contributes to skin dryness. Therefore, using a toner that has ultra-hydrating properties and can help serums and creams penetrate easily is the best.
Here, we have carefully selected the seven best toners for black skin that help balance skin pH and remove the leftover residue after cleansing. At the same time, they help keep the skin hydrated for longer hours so that it doesn't turn dry and dull.
Check them out!
7 Best Toner for Hyperpigmentation in Black Skin
1. Dual Purpose: Fenty Skin Fat Water Pore Refining Toner Serum
It works as a toner and serum and helps clear the complexion
Reduces dark spots and large pores
Deeply hydrates the skin and do not let it appear oily
Regular use helps tone the skin and even the skin tone
Ensures smoother, softer, and more radiant
What We Don't Like: It is expensive; however, you are getting the benefits of two (toner and serum) in one.
[ Read: 7 Best Products For Large Pores And Oily Skin ]
2. K-Beauty Product: [KLAIRS] Supple Preparation Unscented Toner
The key ingredients are Centella Asiatica, licorice root, and panthenol
It suits all skin types, and since it is free of alcohol, best for sensitive skin
Free of alcohol, parabens, artificial fragrances, and aromatic essential oils
Balances the skin's pH
It helps serums and moisturizers penetrate easily into the skin
It helps heal acne and reduce skin discoloration
Aids recovering from breakouts and leaves the skin soft and supple
What We Don't Like: It may feel slightly sticky on oily skin.
3. Balance Skin pH: Murad Hydration Hydrating Toner
Fixes the skin's pH
Infused with sodium PCA that banishes dryness
It also contains cucumber and chamomile
It helps soothe and soften the skin
Free of mineral oil, parabens, animal derivatives, gluten, or animal ingredients
The active ingredient is witch hazel, a natural astringent that tightens pores
Works best on dry and flaky skin
What We Don't Like: It contains dyes and an artificial fragrance; therefore, a patch test is recommended for all.
4. Brightens Skin: Bolden Skin Brightening Toner
Best for glowing skin and helps combat hyperpigmentation in Black skin
The formula is mildly exfoliated with glycolic acid
Fades dark spots and smooths fine lines
Do not let the skin dry
Infused with licorice root and algae that even out skin tone and brighten the complexion
It also contains witch hazel and niacinamide that help shrink pores and calm inflammation
The presence of hyaluronic acid helps draw in moisture to plump the skin
Gives younger looking skin
What We Don't Like: Due to glycolic acid, it increases photosensitivity; therefore, wearing sunscreen is necessary.
[ Read: 10 Best Homemade Skin Toners For Glowing Skin ]
5. Effective Formula: THAYERS Alcohol-Free Original Witch Hazel Facial Toner
The active ingredient is witch hazel, which controls oil production
It helps calm irritation and redness, plus it clears up acne
Suitable for oily and combination skin
Infused with aloe vera and glycerine, thus helps dry skin
Minimizes pores and makes the skin feel refreshing
Available in different versions- cucumber, coconut water, or lavender
What We Don't Like: A patch test is recommended.
6. Dermatologist-tested: COSRX AHA/BHA Clarifying Treatment Toner
It is an exfoliating toner that helps clear up pimples and blackheads
Infused with alpha-hydroxy (AHA) and beta-hydroxy (BHA) acids
Excellent for unclogging pores by dissolving excess oil due to BHA
Smooths fine lines and reduces wrinkles due to AHA
Blended with apple fruit water and allantoin to soothe and refresh the skin
Free of parabens and phthalates
Clears acne and leaves skin supple and poreless
What We Don't Like: A patch test is recommended if you have sensitive skin.
[ Read: 7 Best Toners For Dry Skin ]
7. Effective and High-rated: Paula's Choice Skin Balancing Pore-Reducing Toner
Made to tighten pores and minimize blackheads while reducing oil production
Clarifies and refines the skin while restoring the skin's moisture barrier
Infused with ceramides and hyaluronic acid to hydrate skin, therefore best for black skin
Also infused with burdock root, chamomile, and niacinamide to even tone and calm the skin
Free of artificial fragrances or parabens, ideal for combination and oily skin too
What We Don't Like: It comes with a hefty price tag.
Conclusion
So, these are the best toners for Black Skin that address multiple skin concerns, ensuring soft, supple, and plump skin all the time. They are suitable for black skin that requires a dose of hydration and brings skin to life.
You Might Also Like: