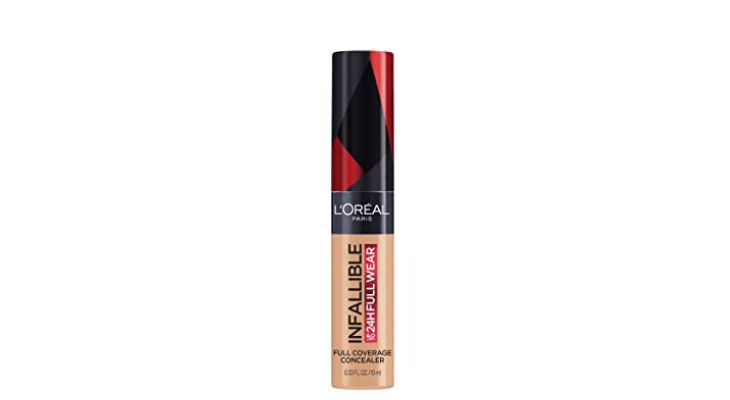 Concealer can conceal or hide all the imperfections of the face, giving a natural-looking complexion without marks, blemishes, spots, and other flaws.
Finding the right concealer is a real struggle, especially since the skin is problematic. Sometimes the formula does not work, and sometimes the shade does not match.
However, getting the one that suits the skin tone is the real joy. There are plenty of options for concealer, but if you narrow the search, some high-end products seem highly promising; one is NARS Pot Concealer.
Available in multiple shades and formulated for different skin types, it is the cult favorite of many. However, one downside of NARS Pot Concealer is the high price that does not allow people to buy it.
If you cannot have NARS Pot Concealer in your vanity bag due to its expensive price tag, fret not, as we have come up with some amazing NARS Pot Concealer alternatives that work wonders.
Before diving in and checking them, let us find out what makes NARS Pot Concealer so popular and in demand.
NARS Pot Concealer Review
With high coverage and a soft matte finish, this amazing concealer from NARS helps blur the face's imperfections and brings smoothness. It is infused with vitamins to nourish the skin and keep it healthy.
Available in 30 stunning shades, you can go for NARS Pot Concealer without any second thoughts. It can conceal, correct, blur, and smooth the complexion in a jiffy.
Also, it is suitable for under the eyes and spot conceal. The other major features of NARS Pot Concealer include the following:
Infused with vitamins, hyaluronic acid, and more skin-loving ingredients to support skin health provides the sort of high coverage that is full-proof without being cakey.
Available in varied shades
Suitable for people with medium to light skin tones and all skin types like the normal, combination, and oily
Provides good coverage and has effective results.
Helps in blurring out imperfections with a natural-looking finish.
Pros
Suitable
for all skin types and tones
Also, have anti-aging benefits
Helps in strengthening the skin barrier and promotes daily defense
Formulated without harmful ingredients such as parabens, phthalates, and sulfates
Cons
[ Read: 10 Best Concealers For Mature Skin ]
5 Best NARS Pot Concealer Alternatives
1. NYX PROFESSIONAL MAKEUP Can't Stop Won't Stop Contour Concealer
Ensuring 24 hours full coverage matte finish, the Can't Stop Won't Stop Contour Concealer from NYX Professional is a perfect alternative to NARS Pot Concealer. Its quality is good, and it performs well on all skin types.
Comes in a liquid form and provides 24 hours stay power
Lightweight formula and does not weigh your skin
Consistency and coverage are impeccable
Thin texture, gives a satin finish and creamy feel
Dries fast, giving you minimum time to work with it
Available in 24 lighter and darker shades
Consists of iron oxides and titanium dioxides that keep skin healthy
[ Read: NYX PROFESSIONAL MAKEUP Pore Filler Blurring Primer Review ]
2. e.l.f. 16HR Camo Concealer
It is a full-coverage, highly-pigmented concealer with a matte finish. Waterproof and crease-proof are this product's biggest USPs, making it a good substitute for NARS Pot Concealer.
It is a 16-hour stay-on concealer, giving a matte finish.
Provides seamless high coverage, which helps to hide dark circles or any signs of fatigue
Feels lightweight on the skin and has an easy application
It has a highly pigmented formula that does not settle into your creases.
The primary ingredients are avocado oil and kaolin clay that moisturize and protect the skin, control excess oil, and shine on the face.
3. L'Oreal Paris Makeup Infallible Full Wear Waterproof Matte Concealer
Coming in a stylish transparent bottle, the Infallible Full Wear Waterproof Matte Concealer from L'Oreal Paris is another high-rated product. It comes in 25 different shades, suitable for all skin tones. It covers imperfections professionally and gives you a flawless look.
Enhances the skin tone and makes facial features look better
Features an incredibly creamy texture that blends well with the skin
Delivers a smooth and matte finish
Moisturizing and calming ingredients help to keep skin healthy and nourished
Has staying power for 8-9 hours without fading
Does not clog the pores or settle into the lines
Waterproof, transfer-resistant, and fades resistant
[ Read: Best Waterproof Makeup for Your Wedding ]
4. Concealer by Almay
Infused with skin-loving ingredients, concealer by Almay is perfect in all senses. It consists of salicylic acid and aloe vera that keep skin healthy and refreshed. The matte finish it delivers makes you look flawless.
It is essentially an acne-targeting concealer, therefore oil-free
Treat spot blemishes, and help your skin support a healthy look
The formula is opaque, easy to blend, and deeply nourishing
Hide blemishes and acne, and can prevent further breakouts
Creamy formula with good consistency
Available in six shades for different skin tones
Active ingredients in the mix are aloe vera, salicylic acid, and probiotics
[ Read: Mighty Patch Micropoint for Blemishes Reviews ]
5. 02 COLOURPOP No Filter Matte Concealer
With the ability to conceal, cover, correct, and contour the face, the 02 COLOURPOP No Filter Matte Concealer is a similar of NARS Pot Concealer. Since it is affordable, you can get it for looking natural-looking radiant complexion.
It is a full-coverage lightweight concealer with a matte finish
Cover and blend well with the skin
Formulated to protect the delicate skin under your eyes and is suitable for susceptible skin
Features a unique soft blurring pigment technology that gives you a flawless complexion.
Easily blendable and has ease of application
You Might Also Like: