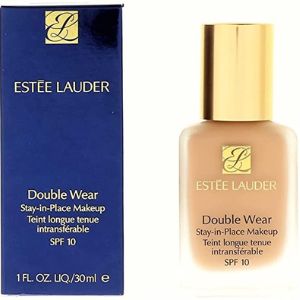 You can't ignore the fact that Estee Lauder Double Wear has become a favorite cult product among makeup enthusiasts. This product has made a renowned place in the makeup industry, and makeup artists go gaga over its quality and result. Whether we talk about the smooth matte finish, long-lasting wear, or full-coverage finish, everything about Estee Lauder Double Wear is amazing.
However, the high price of this product is what makes it a little disheartening. Being expensive, it is not possible for everyone to buy and use the Estee Lauder Double Wear foundation to get the best look. Fortunately, there are many Estee Lauder Double Wear alternatives that can help to achieve the look you desire without breaking the bank.
To help you, we have listed the best and most effective alternatives to Estee Lauder Double Wear, but before checking them, let's find out what makes Estee Lauder Double Wear foundation so popular and how they give a flawless face look.
Estee Lauder Double Wear Review
There is not just one but plenty of reasons that make Estee Lauder Double Wear one of the best-selling in the makeup industry. The no-transfer formula and smooth matte texture bring the best look after each makeup session. At the same time, it endows full coverage finish making it perfect for getting a flawless look.
Another good thing about Estee Lauder Double Wear is its availability in 33 different shades that helps get the perfect look for people with deep, light, and medium skin tones. At the same time, it is resistant to sweat, heat, and humidity. Oil-free formula controls oil throughout the day.
Whether you want medium coverage or full coverage finish, this product is all about that. Smoothening the uneven skin tone and easily buildable formula helps to get flawless-looking skin. At the same time, do not crease or settle into the pores and fine lines.
While many expensive foundations deliver unnecessary shine and patchiness to the face and give a cakey finish, Estee Lauder Double Wear, when applied properly with a makeup sponge or damp beauty blender, ensures a seamless look.
If you are looking for full-coverage foundations, Estee Lauder Double Wear is your go-to product. Once you have applied it, there is no need to reapply or retouch for the entire day. People who live in a hot and humid climate can also use Estee Lauder Double Wear without any worries as it performs well on all types of skin and all types of weather conditions.
Pros
Consists of skin-loving ingredients.
Leaves skin fresh, smooth, flawless, and even.
Brings radiance to the skin instantly that stays all through the day.
Suitable for all skin types.
Cons
The price of Estee Lauder Double Wear is high, making it unaffordable for most people.
Therefore, we have come up with some great alternatives for the Estee Lauder Double Wear foundation that will help you get the same flawless look by spending a lesser price.
5 Best Similar Estee Lauder Double Wear Products
1. Revlon ColorStay Full Cover Foundation
Offers matte full coverage without leaving the skin feeling heavy or cakey.
Suitable for oily or combination skin types with its buildable coverage.
Evens the skin tone and covers discoloration, blemishes, and freckles well.
Available in 16 shades.
2. L'Oreal Infallible Fresh Wear 24HR Foundation
Oil-free, ultra-lightweight texture, provides buildable medium to full coverage.
Blurs the appearance of pores while allowing skin to breathe.
Available in 40 different shades to achieve the desired look.
It is waterproof, sweat-resistant, and transfer-resistant for up to 24 hours of wear.
Non-comedogenic, so it won't clog pores.
Contains broad-spectrum sunscreen coverage of SPF 25.
3. Maybelline Super Stay Active Wear Foundation
The skin-true formula of this foundation is oil-free and won't clog pores.
Provides up to 30 hours of continuous wear and a matte finish.
Available in 24 different shades to complement different skin tones.
It is transfer-resistant, water-resistant, and sweat-resistant.
4. CATKIN BB Cream Air Cushion Foundation
Consists of phytosterols and golden seaweed extract that absorb sweat and sebum for long-lasting wear.
Moisturizes the inner skin and makes the outer skin look smooth for a long time.
Helps to create a breathable makeup base and caress zero skin burden.
Hides blemishes, dark spots and reds, smooth uneven skin tones, and beautiful natural and glowing look.
5. Camera Stick Foundation by True + Luscious
It is a full-coverage cream foundation that is non-comedogenic and features hydrating formula.
Consists of photo-filter pigments to hide all blemishes and imperfections.
Suitable for all types of skin- normal, dry, oily, sensitive, and acne-prone.
The hydrating formula of the product is vegan, paraben free, and cruelty-free.