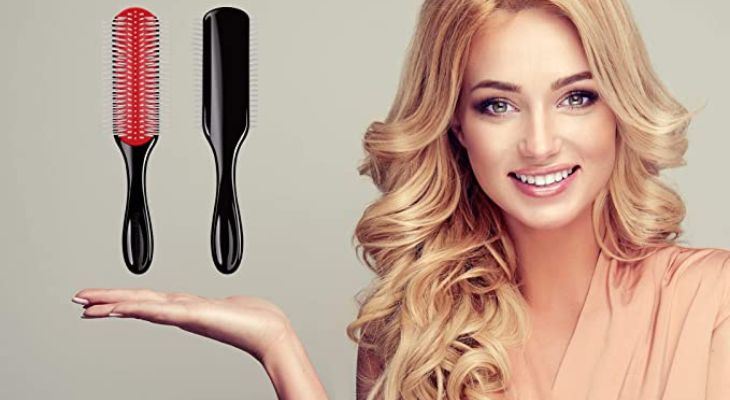 With the soft nylon pins on a natural, anti-static rubber pad, the Denman Brush is all you need for detangling hair. It softens shapes and polishes hair, making them look rich, healthy, and beautiful.
Whether you have wavy hair, curly hair, or naturally straight hair, one right brush can work wonders in bringing a more stunning look to them. The quality of the Denman brush is excellent and helps detangle the hair with no hassle.
At the same time, it also helps in styling, blow-drying, and smoothing the hair. The soft nylon bristles stay gentle on the hair and scalp.
Even though everything about Denman Brush is excellent, the price is not. Therefore, here we have enlisted the five best Denman Brush alterniatives to help you find cheaper alternatives with the same quality and result.
Before checking them out, let's find out what makes Denman Brush a cult favorite of many.
Denman Brush

Denman offers brushes that work well on hair types- wavy, curly, and straight. Each one is made to detangle the hair without causing friction and thus keep the sanity of the hair intact.
The styling edges of the brush create tension while shaping hair. The unique pin patterns deliver extra tension and grip for the best result. The nylon pins stay gentle on hair that helps to shape and define curls with wet hair.
The major features of Denman Brush include the following-
It sculpts hair perfectly and is perfect for reducing frizz, gentle detangling, straightening, and adding shine and volume.
It doesn't cause drag in the hair as it consists of 7 rows of perfectly smooth, rounded-ended pins, perfect for smoothing, shaping, and polishing the hair.
It offers optimum grip and control as it is made up of durable and high-quality material.
It is lightweight & features balanced grip handles to provide optimum comfort during use.
Apart from these multiple benefits, it also adds shine and volume to the hair by reducing harshness to the scalp during grooming and styling.
Pros
Suitable for long and short hair and is effective at separating, shaping, and defining hair.
Easy to hold the handle, making it comfortable in hand and follows the contours of the head
Different rows of perfectly smooth, round-ended pins reduce catch or drag in the hair, making it an ideal hair

straightening brush.
Cons
Takes time to clean
You need to buy a Denman brush according to hair type for the best result.
5 Denman Brush Alternatives
1. Diane 9-Row Professional Styling Brush
It is specially made with nine rows of nylon pins and is ideal for professional hairstylists.
Professional styling brush, excellent for styling and shaping, separating, and defining wet curls and blowouts. It works best on thick or curly hair textures.
Firm nylon pins are strong enough to brush smoothly through curly or textured hair without breaking and detangling and expertly style natural curls.
Designed to evenly distribute conditioner and other products through your hair – from roots to tips, helping your hair maintain a smooth shine
The ergonomic handle fits comfortably in the hand for a steady grip, ensuring perfect control.
[ Read: 5 Easy Homemade Hair Rinse Recipes for Silky, Shiny Hair ]
2. NuAngela 9 Rows Hair Brush

Features exclusive ergonomic design, non-slip handle, and removable bristle pin rows, suitable for all wet and dry hair types.
It's a very easy clean brush for curly, afro, wavy, frizzy, thick, thin, long, natural, or silky straight hair.
Perfect for styling, detangling, shaping, smoothing, blow-drying, separating, and defining curls for curly hair.
Suitable for women, men, teens, kids, and toddlers.
The detachable air cushion and nylon brush teeth make it easy to fall off the hair that is entangled on the brush without laborious cleaning.
Made with high-quality materials that are strong and durable.
3. 9-Row Cushion Nylon Bristle And Travel Brush 2 Pieces Hair Brush
It is a large styling brush with nine rows of nylon pins
Consists of a famous anti-static rubber pad that provides maximum grip and control during blow-drying for shaping hair
It styles, shapes, define curls, detangles, and smoothens the hair
The anti-static rubber pad provides maximum grip and control during blow-drying for shaping hair
Perfect for smoothing, shaping, and polishing the hair. Ideal for thicker, longer hair
[ Read: 16 Effective Home Remedies for Hair Growth, Thickness ]
4. Phillips Brush Flexx Fully Vented Cushion Hair Brush
The innovative design features a fully vented cushion that maximizes airflow, cutting air or blow drying time in half.
It features a super lightweight design that reduces fatigue while brushing.
A flexible rubber cushion and rounded pins glide through all types of hair for effortless detangling.
The fully ventilated design maximizes airflow.
[ Read: 7 Best Blow Dryers For Natural Hair ]
5. Detangler Brush Hair Brush
The bamboo detangler hairbrush helps get rid of knots and tangles without frustration or tears.
Suitable for thick, thin, curly, or straight, making hair care easy.
It makes tearful detangling sessions a thing of the past, thus suitable for kids and toddlers too.
Flexible bristles restrain from pulling at tangled hair.
Made from 100% Bamboo.
You Might Also Like: