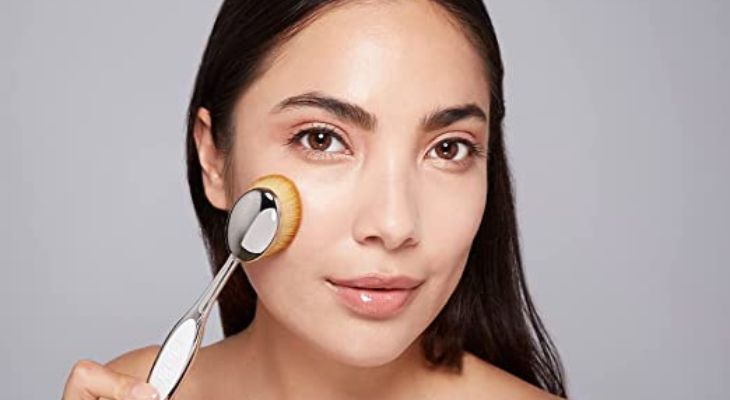 The struggle behind getting flawless blended makeup and contouring is real. If you are a makeup artist, you can't agree more on how the right brush can create wonders and make your work easy.
Oval toothbrush-shaped makeup brushes have created a storm since their launch, and nothing seems good after using them. Artis Brushes are the new fad, and makeup artists swear by their results.
Whether you are an expert or a beginner, Artis Brushes are perfect for all, ensuring making it easy and giving a flawless finish.
Even though everything about Artis Makeup Brushes is excellent, they come with a hefty price tag that compels people from buying them. It is when Artis Brush alterniatives come in handy.
You can find many makeup brushes in the typical oval toothbrush style that can help make the makeup work easy without digging a hole in your pocket. We have listed the five best Artis Brush alterniatives that are worth a try.
Before checking them, let's find out what makes Artis Brush so popular and high in demand.
About Artis Brush

Since the time Artis Oval Brush came into the hands of makeup artists, they conquered the beauty world. The major features of Artis Brushes that make them so popular and demanding include the following:
Ultra-soft, leaving a flawless streak-free finish, it works perfectly with creams, powders, and liquids.
Soft bristles that stay gentle and smooth on the skin
Comes in oval shapes and different sizes, one for a different purpose
Helps achieve the desired finish in just a few swipes
If you get the Artis Brush set, you will find Oval 1 to Oval 10 brushes performing different functions. For instance, Oval 6 and Oval 7 are made for giving contouring and highlighting effects on the face.
You get better control with these brushes that ultimately help achieve the right finish. At the same time, there is no wastage of your precious and costly makeup as the brushes take just the right amount.
Furthermore, they are sturdy and long-lasting and, when used well, stay with you for a lifetime. Everything about the Artis Brush is excellent, from the quality to the performance.
The only drawback is the high price of the Artis Brush collection. If they do not fit your beauty budget or are out of stock, fret not, as we have some of the best Artis Brush alterniatives that can give almost the same result, if not 100%.
Pros
Makes work easy
Handling them is hassle-free
Do not waste makeup
Sturdy and long-lasting
Cons
The high price is the only con of Artis Brush.
5 Artis Brush Alternatives
1. Cailyn Cosmetics O! Wow Makeup Brush

Ensuring flawless coverage with foundation, powder, cream, moisturizer, and primer, the Cailyn Cosmetics O! Wow Makeup Brush could compete with Artis Brush for its effectiveness. It can work as a substitute for Artis Brush.
Features densely packed ultra-velvety bristles
Ensures an airbrush effect with an immaculate streak-free finish
It has a dome, angular-shaped surface, beautifully crafted to blend foundation, powder, moisturizers, and primers seamlessly into the skin.
The pointed tip is designed to fit perfectly underneath the eye's hollows and helps contour facial features.
A sturdy, self-standing handle with a slip-off cap prevents bristles from germs, dirt, and dust
2. ETUDE HOUSE My Beauty Tool Secret Brush

It is another oval-shaped brush from ETUDE HOUSE that can work as an Artis Brush similar. With a unique base and coverage makeup design, this brush makes the process easier, even for beginners.
Helps easily smooth fluid foundation over the skin to attain a flawless finish
Suitable for delicate base makeup and coverage with a unique design
Consists of elastic bristles that are densely packed to provide a perfect and soft base makeup application
It is a 2-in-1 brush with edge fog to blend makeup into hard-to-reach areas, like the corner of the nose, hairline, and around the eyes and mouth, then replace the head with a refillable sponge for smooth, all-over coverage
3. Yoseng Makeup Brushes Set

It is a 10-pcs professional oval toothbrush with foundation, cream, contour powder, blush concealer, eyeliner, and a blending brush. In rose gold color it looks beautiful too.
Fashionable toothbrush shape makeup brush with elegant color design
High-quality synthetic hair can hold powder, liquid, creams, etc
Super densely packed ultra-fine fiber delivers streak-free, flawless coverage and a soft and pleasing feeling
Cover all needs of the application, such as foundations, contouring the forehead and cheekbones, concealer, eyeshadow, sculpting eyebrows, lips
High-quality and deep-cleaning fiber is used for lasting performance, fitting, and protecting sensitive skin
4. Brush Master Makeup Brush Set

Containing ten brushes in the set, this Brush Master Makeup Brush Set is multifunctional. It comes in an oval head shape and is suitable for foundation, contour powder, blush, concealer, eyeliner, and blending.
Ideal for blush, liquid foundation, BB cream, makeup base, etc., universal brush sets cover all needs of the application
Ensures giving natural-looking makeup with ease
High-quality and puffy synthetic fibers bristles as soft as real hair
Dense bristles are suitable for different types of skin, even sensitive skin
No shedding and fading; also, it is odor-free
The high-quality wood of the handle and high-quality bristles make it durable
The surface is firmly covered with a gold aluminum sheet, preventing the brush and handle from falling apart
5. BeautyCoco Oval Makeup Brush Set

It is a professional foundation, contour, concealer, and blending cosmetic brush coming in 10 pieces in rose gold color. This 10-piece foundation set is a perfect alterniative for Artis Brush and comes reasonably priced.
Helps you get deeper cheek colors and warmer eye makeup
Made of hypoallergenic synthetic fibers and are easy to clean
Brushes are soft on dry, oil, or combination skin and won't irritate your skin
Their ability to work well with powders, creams, moisturizers, primers, and even skincare fluids makes them suitable for beginners too
Super soft brushes are made of 100% hypoallergenic synthetic bristles, making them safe, sustainable, vegan-friendly products