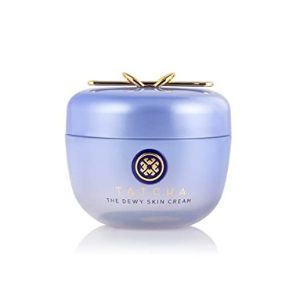 The luxurious products Tatcha launched have made makeup artists and makeup enthusiasts a big fan of it. The use of high-quality skin-loving ingredients ensures that each product will be highly effective irrespective of composition.
Undoubtedly, Tatcha is one of the best-selling brands, and Tatcha Dewy Skin Cream is a high-rated product; however, the hefty price tag that comes with it is a little disappointing.
If you want the benefits of Tatcha Dewy Skin Cream, but your pocket doesn't allow it, it's time to check out the Tatcha Dewy Skin Cream alternatives that deliver the same benefits at a fraction of price.
But before splurging into them, let's find out what makes Tatcha Dewy Skin Cream so effective that it has made it popular among the people.
Ingredients
When we talk about luxury moisturizers, we can't escape the name of Tatcha Dewy Skin Cream. Loaded with natural and skin-friendly ingredients, it provides long-lasting hydration by reaching into the deep layers of the skin. At the same time, it nourishes the skin deeply and delivers a dewy glow to the face.
Enriched with antioxidants that are potent and replenishing, it ensures reducing the signs of aging and combats fine lines, wrinkles, and aging spots. Moreover, it improves the skin's texture, making it firm and radiant.
Another good thing about Tatcha Dewy Skin Cream is it is suitable for all skin types. Whether you have normal, dry, oily, or sensitive skin, Tatcha Dewy Skin Cream will ensure a natural glow after regular use. If you have combination skin and looking for a product with richer texture, Tatcha Dewy Skin Cream is your go-to product.
The active skincare ingredients in Tatcha Dewy Skin Cream that plumps the skin and smoothes the lines include the following-
A complex of Saccharomyces, Camellia Sinensis Leaf, Cladosiphon Okamuranus, and Rice Ferment Filtrate- This complex is called Hadasei-3 and consists of green tea, Japanese purple rice, and algae. Each ingredient helps to soften and smoothen the skin while delivering antioxidants to fight off free radicals and bring a glow.
Extracts of Rice Bran, Red Seaweed, Ginseng, Maojorman, Wild Thyme, and Mallow- Each ingredient consists of skin-loving components and is a rich source of essential vitamins and minerals that keep the skin healthy, soft, and supple. These extracts help to even out the skin tone, improve its texture, and prevent the signs of aging.
Squalane- It is a natural, lightweight, and non-greasy moisturizer that keeps the skin well-moisturized.
Sodium hyaluronate- Draws water to the skin to keep it hydrated and plump.
Pros
Provides long-lasting hydration.
Nourishes and moisturizes the skin.
Suitable for all skin types.
Evens out the skin tone.
Reduces the signs of aging.
Cons
Consists of added fragrance.
Comes with a hefty price tag, therefore not easily affordable by all.
5 Best Similar Tatcha Dewy Skin Cream Products
1. Bliss Ex-Glow-Sion Super Rich Moisturizer
Has the same velvety texture like Tatcha Dewy Skin Cream and provides subtle iridescent sheen for an instant glow.
Plumps and nourishes the skin and helps to reduce the appearance of wrinkles and fine lines.
Major ingredients are shea butter and squalane that nourishes dry and flaky skin and limits moisture loss.
Also consists Vitamin C derivatives to brighten the skin and even out the skin tone.
2. It Cosmetics Confidence In A Cream Anti-Aging Moisturizer
Hydrates and nourishes the skin and reduces the appearance of fine lines, wrinkles, pores, and other discoloration.
Absorbs quickly and delivers moisture and hydration for firmer, smoother, and glowing skin.
Consists of skin-friendly components like niacinamide, hydrolyzed collagen, sodium hyaluronate, and ceramides.
Major ingredients are licorice root, turmeric root extracts, green tea and purslane extracts.
3. Olay Regenerist Micro-Sculpting Cream
Reduces the appearance of fine lines and wrinkles and hydrates skin, leaving it looking plump and revitalized.
Contains ingredients like brightening and skin smoothing niacinamide, anti-aging Palmitoyl Pentapeptide-4 and moisture drawing sodium hyaluronate.
Suitable for all skin types.
4. Clinique Moisture Surge 100H Auto-Replenishing Hydrator
Brings intense hydration for up to 100 hours even after washing the face.
Plumps the skin to deliver a long-lasting glow with Clinique's Aloe bio-ferment lactobacillus, activated aloe water, and organic aloe extract.
Also contains activated caffeine that works as an excellent antioxidant and has anti-inflammatory and antimicrobial properties.
Firms the skin and improves skin tone.
5. Make P:Rem Hydrate Me Micro Tension Cream
Hydrates the skin from the inside out.
Strengthens the skin barrier and leaves skin dewy like Tatcha without feeling greasy or oily.
Improves skin elasticity and firmness with its elastic gel texture that sinks in quickly for bouncy, supple skin.
Delivers antioxidants to the skin as it consists of Arctic berry extract and Rubus arcticus fruit (raspberry) extract.
You Might Also Like: