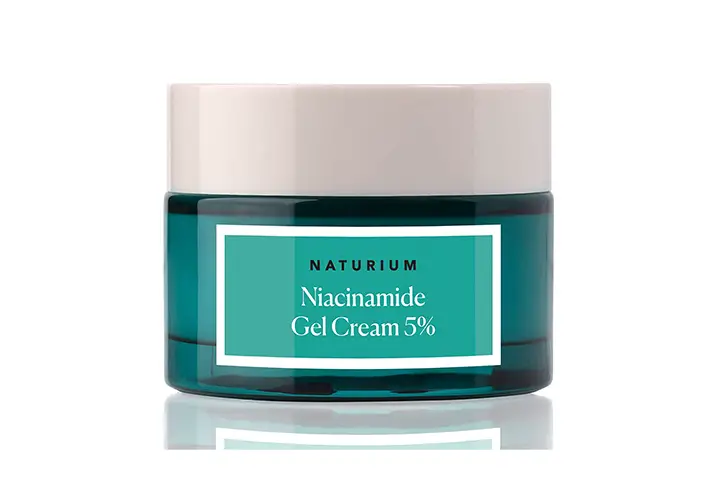 Naturium Niacinamide Gel cream helps your skin to reduce inflammation, and it gives more benefits for the skin. It is the best for eczema or mature skin.
Niacinamide is a stable form of vitamin B3 that helps to lessen the appearance of dark spots and improves skin texture.
Gel moisturizer gives internal hydration and it is suitable for all skin types because of its consistency.
It minimizes fine lines, wrinkles and protects against oxidative stress.
Naturium Niacinamide Gel Cream
How it Works:
The effective formula of this product deeply hydrates your skin and it contains coconut fruit juice, which helps to moisturize and nourish your skin.
The ingredients like phytonutrients, electrolytes and amino acids are rich in this product.
They also help to promote skin elasticity.
The milky translucent appearance of this gel cream is perfect for those with sensitive skin.
Zinc PCA is the best moisturizing molecule and reduces excess shine. It follows all safety rules thoroughly.
It is made with the highest quality botanical, earth and marine based ingredients.
Pros:
Formulated for acne prone, dry and sensitive skin.
Travel friendly.
Fragrance and gluten free.
Affordable.
Non irritating.
Cons:
Rating: 4.4 out of 5
This is the perfect Niacinamide product, which helps to moisturize your skin and remove acne and lessen the signs of aging. For best results make it your skin care routine.
Frequently Asked Questions (FAQ's)
Q. Is this non-comedogenic?
Ans: Yes it is.
Q. Is this product oil free?
Ans: Yes it is absolutely water based not oil based.
Q. Can it be used as a face moisturizer?
Ans: Yes this is a facial moisturizer! It's lightweight and feels really nice on the skin.
Alternate Products:
You Might Also Like: