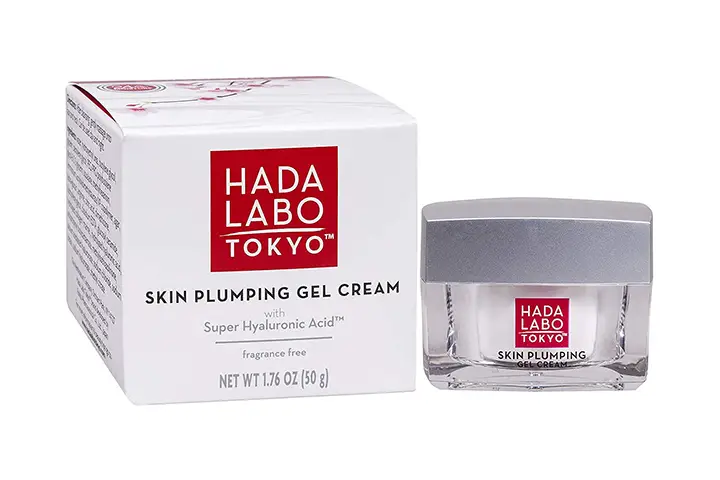 Skin plumping gel cream has the power to reduce the anti aging signs like wrinkles, fine lines and aging spots. The perfect moisturizer which hydrates and makes your skin supple, soft and nourished.
You can find diminishing of aging signs like fine lines within 4 weeks.
You can see major differences in lightning wrinkles and fine lines. It is clinically proven that this product makes your skin soft, supple and bouncy. This cream lifts your skin to avoid the saggy look.
Hada Labo Tokyo Skin Plumping Gel Cream
How it Works:
The key ingredients of this product makes your skin healthy, nourished and radiant.
It contains a powerful hydrator and skin plumper which locks the moisture and maintains your skin wrinkle and spot free.
It contains ceramides to help your skin stay healthy and moisturized.
Arginine: amino acid which helps to maintain moisture and healthy looking skin.
Use a pea sized amount of this gel and gently pat on your face instead of rubbing, which helps to absorb faster and faster.
It is lightweight and non greasy.
This product is free from fragrance, parabens and dye.
Pros:
Restores skin elasticity and makes it bouncy.
You can get a refined skin texture.
Reduce the appearance of fine lines and wrinkles.
Used high quality ingredients.
Mineral oil free.
Cons:
May not be suitable for oily skin.
Rating: 4.4 out of 5
Use this product once sure it will be your favorite. A perfect moisturizer helps to diminish the aging signs and maintain your skin smooth, soft and supple.
Frequently Asked Questions (FAQ's)
Q. Does it reduce the smile line?
Ans: This moisturizer is designed to help plump fine lines and wrinkles so one's skin stays looking younger.
Q. This for oil skin or dry skin?
Ans: You can find better results for dry skin than oily skin.
Q. Can it be used with sunscreen in the morning?
Ans: You need to use sunscreen on top of this gel.
Alternate Products:
You Might Also Like: