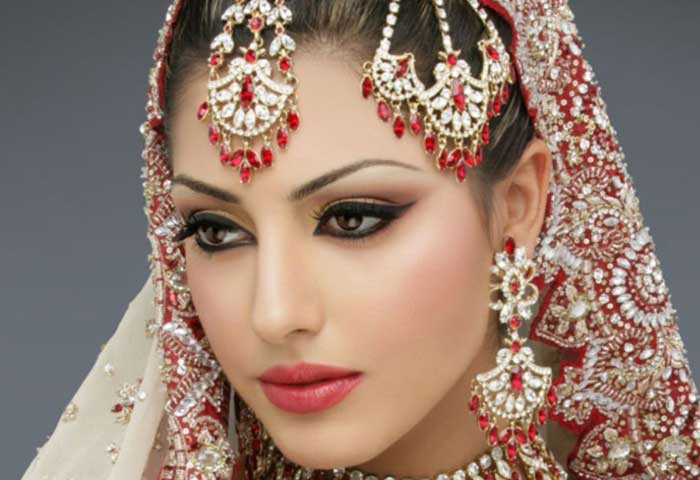 On this special day every girl wants to look perfect, but tears are also followed. The tears on this special wedding day are happy tears, but meanwhile it spoils makeup too. Don't panic, we will help you in solving your problem. If it's a summer wedding one thing adds that is sweat and it ruins all the makeup. Above all your pictures will also be spoiled and no one wants that. The pictures capture our sweet memories. So you must be prepared for these things and best solution for this problem is waterproof makeup for wedding. You must ask your makeup artist for waterproof versions of all the products which are to be used during your makeup.
Step by Step Waterproof Makeup for Wedding
Step 1: Prepare Your Skin
To remove oil, dirt from your face, you must wash the face with a mild cleanser and then scrub to remove dry patches. Girls with sensitive skin should avoid exfoliant. Blot your skin with a rose water or toner. Avoid moisturizer opt gel-based lotion which will smoothen your skin and helps your makeup too long last.
Step 2: Create a Flawless Canvas
The first thing you have to do is select the foundation which suits best with your skin tone. Those with oily skin can prefer a matte finish and for dry skin choose a creamy base. Then apply a light layer of primer. Using foundation brush sweep the makeup into t-zone and blend it out towards the edge of the face and ears. You must work on neck and hairline. Using fingers press all makeup into the skin as this step will remove excess makeup. You can apply balm on your t-zone.
Step 3: Conceal Your Face with Waterproof Concealer
We all have the problem of dark circles and even have shadows in the inner corners of eyes. To eliminate this problem, concealer is used. The concealer should be applied with the help of the fingers so that extra amount is not submerged into the fine lines. Those who suffer from pimples or blemishes can also use camouflage instead of concealer as it will work well. With the help of a small pointed brush, apply a very little amount on your face. If required apply again so as to build coverage.
[ Read: How to Apply Mascara Perfectly ]
Step 4: Prime Your Lids
Prime your lids with waterproof primer. The primer is useful in smoothing of the eyelid skin. The bride's eyes during bidding bye bye are always filled with tears and if the makeup is not waterproof then things will be ruined. Apply primer on your eye crease and dust some of it on the neutral bone using a fluffy brush.
Step 5: Apply Liner Like Professionals
The eyeliner should be perfect as it enhances your overall look. Meanwhile liner must be waterproof as it flows very easily with tears. If you want a well-defined line, then waterproof eyeliner pencil will help you a lot. Using a thin brush which is dipped in same eye shadow powder, trace the line so as to remove any flaws in the line and it should look perfect.
[ Read: 10 Best Smudge Proof Eyeliner ]
Step 6: Apply Eye Shadow
The color of eye shadow must match the liner color if you have used a colored liner. Prefer that color of shadow which will compliment your dress and your skin tone. If you want a diffused look you can also apply regular eyeliner before eye shadow is applied as the shadow will smudge out a bit. In market there are many waterproof eye shadows available. If eye shadow is not waterproof after some time or due to tears the shadow will flow out and makeup will be ruined.
[ Read: Eye Makeup For Brown Eyes ]
Step 7: Apply Blush
Apply blush on your apples of your cheeks. It starts disappearing after some time to avoid it "layering" is the key method. Blend your blush upward and out towards your hairline with the help of fluffy brush. Blush should not be applied to the nose. Before this process, smooth your skin with cream formula on the apples of cheeks. You must dust your face with oil absorbing invisible powder so that you can lock the color. After this apply blush.
[ Read: 10 Best Blush For Mature Skin ]
Step 8: Wear Waterproof Mascara
Waterproof makeups are invented to avoid messy risks on the wedding day. Firstly comb your lashes and separate them. Curl your lashes with an eyelash curler and then apply waterproof mascara. Some people have the misconception that water resistant mascara will also work same as waterproof but that's not true. Water-resistant mascara can't work in the shower and while swimming too, but waterproof mascara works well.
[ Read: 10 Mistakes Need to Avoid While Using Eyelash Curler ]
Step 9: Make Your Lipstick Stay Put
If we use long lasting products for lips, they often feel like thick and dry. But here is a good news for all of us. Your regular lipstick can also stay longer even after whatever you eat. Firstly, use lip balm to moisturize lips, and then buff it with a washcloth and dry skin will also be buffed. Now, apply lip liner so to give a base to adhere. Next, apply lipstick with the help of a brush. Blot the lipstick with a tissue and repeat it again. Prefer to use matte lipstick as they last long. Avoid slippery toppers as they reduce the lifespan of lipstick and will require touch ups.
Waterproof makeup is very important, especially on the wedding day. Makeup sprays are also available in the market these days. These sprays help your makeup to become more water and sweat resistant. We hope this will help you in your wedding day special makeup.
You Might Also Like:
Image:- 1