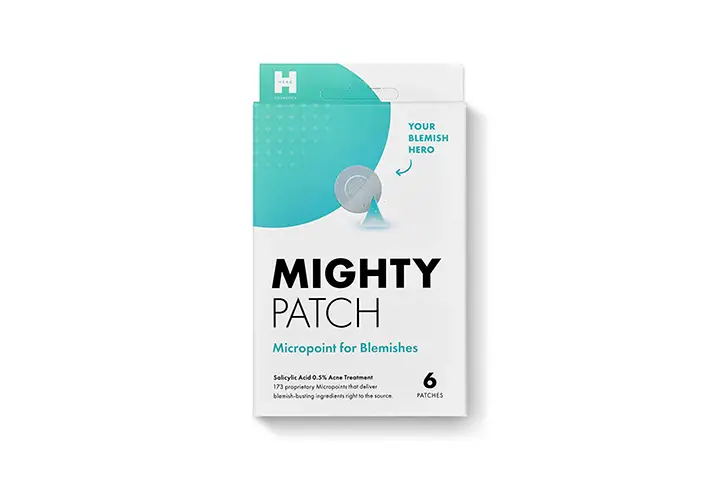 Pimples cause many reasons and leave spots. Get rid of pimples with mighty patch micropoint for blemishes. It treats the pimples which are hidden and will not leave any spot.
It works quickly to keep your skin pimple free and spot less. It helps to protect pimples from dust and pollution and speeds up the healing.
Mighty Patch Micropoint for Blemishes
How it Works:
It clears the early stage zits, quickly.
The fast acting ingredients of these patches help to shrink blind pimples and bring to an early stage.
It is easy to clear the unpoppable zits by using 1-2 patches.
The ingredients are salicylic acid, which stab into your skin and works to dissolve the dead skin cells.
Totarol is a super antioxidant help to stop the bacteria from spreading.
Beta glucan help to calm the upset skin. Hyaluronic acid has many benefits like it treat acne and locks the moisture.
Pros:
Enough coverage to take down any size pimple.
Proprietary micropint technology.
100% pain free.
Best for deep, early stage pimples.
Sticker stays put until the job is done.
Cons:
Maybe not work for extremely sensitive skin.
Rating: 4.2 out of 5
Mighty patch is made with hydrocolloid and more adhesive. Each patch has 173 needles which have more power to fight with pimples. The micro points rapidly dissolve into the skin and leave active ingredients directly into the source of blind pimples.
Frequently Asked Questions (FAQ's)
Q. Do these work really?
Ans: Yes, these absolutely really work!
Q. Are these packed individually or single sheet?
Ans: They are in a single sheet and you only get 6 .
Q. Do these micro needles hurt?
Ans: Not at all. Can't even feel them, especially compared to other microneedle patches.
Q. Can we apply makeup upon this patch?
Ans: sure but it won't look good. The material of the dots is a clear plastic. Not sure if the makeup will stick.
Alternate Products: