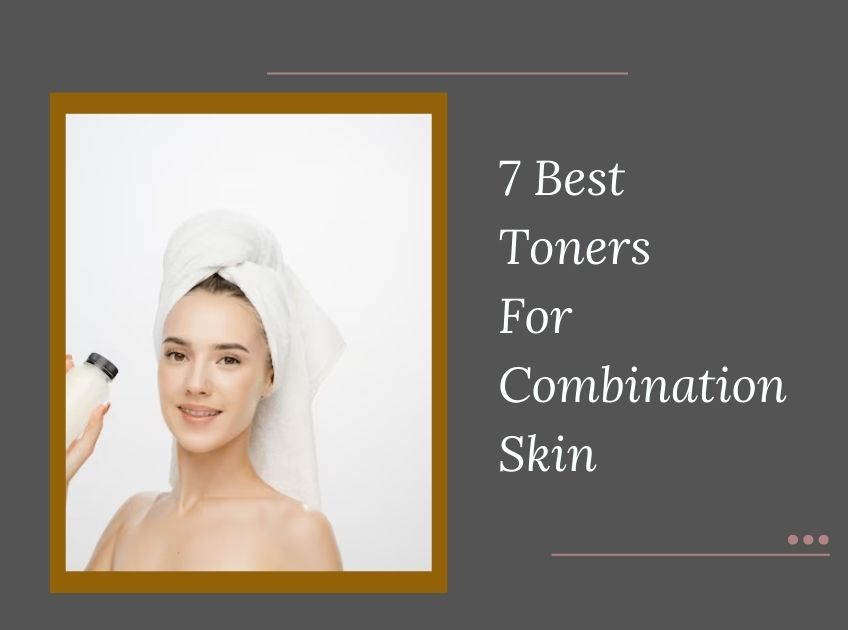 Finding the best products for combination skin is tricky, as you never know what ingredients can trigger a reaction. Generally, combination skin is oily in certain areas, especially the T-zone, and dry in the rest. Therefore, finding the best toner for combination skin is not a cakewalk. Sometimes, you need to test different products and then settle for one.
Toners help to make skin radiant and glowing. It helps hydrate the skin and removes dirt and grime while balancing its pH. Since combination skin requires hydration, a toner that can make the skin supple without stripping off the natural oil and maintaining a proper balance is the best.
Combination Skin
Here, we have curated a list of the 7 best toners for combination skin. We have mentioned each of their major features and potential drawbacks to help you decide on one product. So, if you have combination skin and want to work on redness, acne, premature aging, and dry skin, check out the toners we have mentioned.
Keep scrolling to find the best toner for combination skin and keep it plump and smooth.
7 Best Toners For Combination Skin
1. Cooling Effects: Kiehls Cucumber Herbal Alcohol-Free Toner
It is made with ingredients that won't disturb the flora of sensitive skin
Mild ingredients that stay gentle on the skin
Works well on all skin types- normal, combination, oily and sensitive
It contains cucumber extract and Allantoin that bring a cooling effect to the skin
Moisturizes the skin without leaving it oily or stripping off the moisture
Do not let the skin become dull and dry
Effective for rosacea-prone skin too
What We Don't Like: It has a mild fragrance, so if you prefer a fragrance-free toner, this isn't for you.
[ Read: 7 Best Toners For Black Skin ]
2. Effective Formula: THAYERS Alcohol-Free Original Witch Hazel Facial Toner
The active ingredient is witch hazel, which controls oil production
It helps calm irritation and redness, plus it clears up acne
Suitable for oily and combination skin
Infused with aloe vera and glycerine, thus helps dry skin
Minimizes pores and makes the skin feel refreshing
Available in different versions- cucumber, coconut water, or lavender
What We Don't Like: A patch test is recommended.
3. Anti-Aging Benefits: TruSkin Daily Facial Toner
Addresses different skin issues and concerns
Transform skin for good, making it healthy, soft, and supple
Treats acne and breakouts, thus helping oily skin
It contains anti-aging ingredients that reduce the appearance of fine lines and wrinkles
The active ingredient is Witch Hazel extract that helps reduce inflammation and irritation
It also consists of Glycolic Acid and Vitamin C that even the skin tone and protect the skin from sun damage
What We Don't Like: It has fragrance.
[ Read: 7 Best Toners For Oily Skin ]
4. Anti-Oxidant Rich: Aesop Parsley Seed Anti-Oxidant Facial Toner
Offers the benefits of botanical extracts for the skin
It contains Parsley Seed, Blue Chamomile, and Lavender Stem
Cleanses the skin deeply and offers deep nourishment
It also contains witch hazel that calms the skin and refines the pores
Helps remove dirt and grime from the pores, minimizing them and ensuring even skin tone with a smoother complexion
It is non-irritating and feels lightweight
Suitable for all skin types
What We Don't Like: It is an expensive product
5. Best for Sensitive Skin: Pyunkang Yul Essence Toner
It is a gentle toner, giving soft, smooth, and supple skin
It contains seven major ingredients
Milk Vetch root type extract is the major and active ingredient
It features medicinal properties and makes skin youthful and younger
Reduces inflammation and skin irritation
Protects skin from photosensitivity
It keeps skin well-hydrated, deeply nourished, and non-irritated
It is lightweight and stays gentle and comfortable on the skin
What We Don't Like: It is non-dermatologist tested.
[ Read: 10 Best Toner For Sensitive Skin ]
6. Boosts Skin Health: Missha Time Revolution The First Treatment Essence
It contains fewer ingredients and helps make skin healthy and supple
It stays gentle on the skin and is suitable for all skin types, including sensitive
Moisturizes skin thoroughly and keep it well-balanced
Infused with fermented extracts that help to keep the skin healthy and remove all impurities
It also contains niacinamide and ceramides that gently keep skin nourished
Replenish moisture into the skin and helps soothe irritation
What We Don't Like: It has a mild fragrance.
7. Gentle and Effective: Elemis Skincare Soothing Apricot Toner
It contains mild ingredients that stay gentle on the skin
It helps to remove the traces of makeup that doesn't come out with cleanser
It is non-irritating and suitable for all skin types
Contains sweet betty flower, a natural plant extract
Balances the skin's pH and deeply hydrates the skin
Enables skin to absorb moisturizers and serum effectively
What We Don't Like: It is pricey.
Conclusion
These are the best toners for combination skin. Start using them and transform your skin from dull and dry to soft and supple.
You Might Also Like: