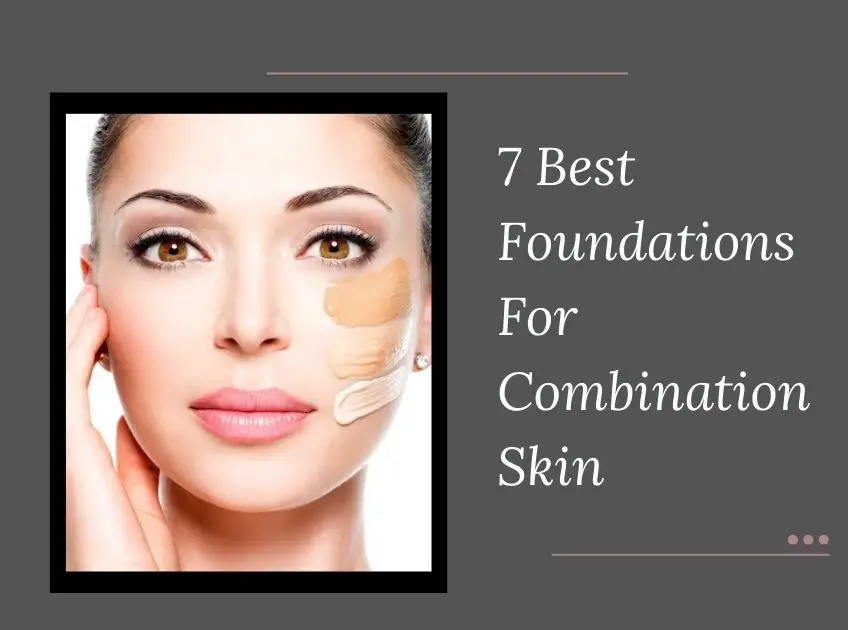 Combination skin is different as it can be dry in some areas and oily in others. Generally, the T-zone that comprises the area around the nose, forehead, and chin is oily. People with combination skin needs to take extra care of their skin as the need of different part is different.
Many people with combination skin avoid using foundation as using them often end up causing breakouts the next day. Therefore, finding the best foundation for combination skin is tricky.
Foundations For Combination Skin
While looking for a foundation for combination skin, you need to check the labels. If it has acne-fighting ingredients like salicylic acid, tea tree oil, or kaolin and provides broad-spectrum sun protection, grab it before it is gone.
Luckily, many high-end and drugstore brands are making products for specific skin types. We have curated a list of the 7 best foundations for combination skin that are lightweight, give natural-looking coverage, and reduce the appearance of marks and blemishes without causing acne.
Check them out!
7 Best Foundations For Combination Skin
1. Best of All: Charlotte Tilbury Light Wonder Foundation
It provides smooth and even coverage with a flawless finish
The skin looks glowing and radiant with no blemishes or other skin flaws
The lightweight of the foundation makes it comfortable to wear all through the day
It is available in 12 different shades
Never clog the pores due to non-comedogenic property
What We Don't Like: More shade ranges are expected with this high-end brand.
[ Read: 7 Best Primers For Glowing Skin ]
2. Silky Smooth Finish: Hourglass Immaculate Liquid Powder Foundation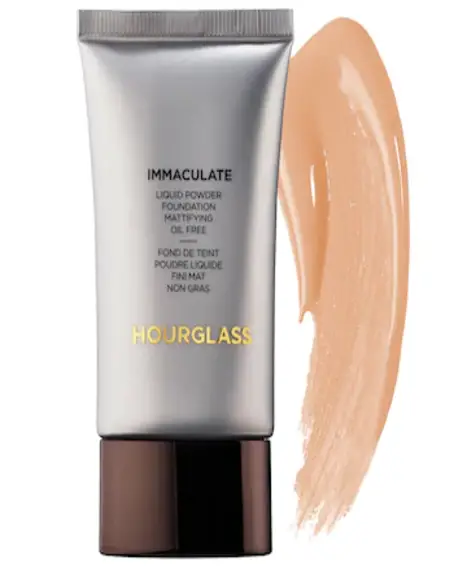 It gives a natural and dewy finish to the skin, making it look radiant and vibrant
The velvety texture of the foundation glides smoothly on the skin
It dries quickly and gives long-lasting results
It is oil-free and never leads to breakouts
Formulated with cashmere kaolinite clay, transformed instantly from liquid to powder
What We Don't Like: It comes with a hefty price tag.
[ Read: 7 Best Foundations For Textured Skin ]
3. Sun Protection: Armani Beauty Power Fabric Full-Coverage Liquid Foundation with SPF 25
It offers a luminous matte finish without creating the unnecessary extra shine
Sun protection with SPF 25 makes it an all-rounder
The result lasts throughout the day
It is lightweight, thus comfortable for all-day wear
The super soft and smooth finish makes it easy to apply
What We Don't Like: It is expensive.
[ Read: Top 9 Best Face Sunscreens For Acne ]
4. Matte Finish: NARS Sheer Matte Foundation
It is an oil-free, matte-finish foundation offering buildable coverage
It controls the excessive oil and shine, giving you a flawless finish all through the day
Regular use of this foundation helps improve skin brightness and texture, giving you a glowing and radiant look
Suitable for all skin types- normal, dry, oily, and combination
The results are long-lasting
What We Don't Like: It is not suitable for people with dry skin. Also, it doesn't offer sun protection.
[ Read: Best Powder Foundation For Oily Skin ]
5. Prevent Acne: Clinique Acne Solutions Liquid Makeup Foundation
It addresses one of the major skin concerns and works best on acne-prone skin.
Gives great coverage and contains ingredients that help fight acne and pimples
It is not cakey and stays gentle on all combination skin
It also helps minimize redness and prevent future breakouts due to non-comedogenic properties.
What We Don't Like: Limited shades are available.
[ Read: 8 Effective Home Remedies for Acne and Pimples ]
6. Full Coverage: Make Up For Ever Matte Velvet Skin Full Coverage Foundation
The gentle ingredients stay comfortable on the skin all through the day
The buildable and easily blendable formula makes it easy to apply
It gives a natural and silk-like finish with mattifying effects, controlling excess oil
40 shades are available
What We Don't Like: It is not suitable for dry, flaky, or textured skin.
[ Read: 7 Best Foundations For Sensitive Skin ]
7. Plant-based Ingredients: bareMinerals Blemish Remedy Foundation
It helps treat acne and prevent breakouts with its lightweight and gentle formulation
The silky texture of the foundation blends seamlessly, giving a flawless finish
Infusion of aspen bark and tea tree oil helps promote healthier and cleaner skin
With full coverage, it ensures reducing the unnecessary shine
What We Don't Like: It may make the skin drier, therefore, not suitable for dry skin.
[ Read: How to Get Clear Skin Naturally at Home ]
Conclusion
Now that you know that these foundations will work best for the combination skin, start using them without second thoughts. They will give a natural, flawless look, hiding blemishes and offering an even complexion. At the same time, they will ensure your skin stays healthy, hydrated, and acne free.
You Might Also Like: