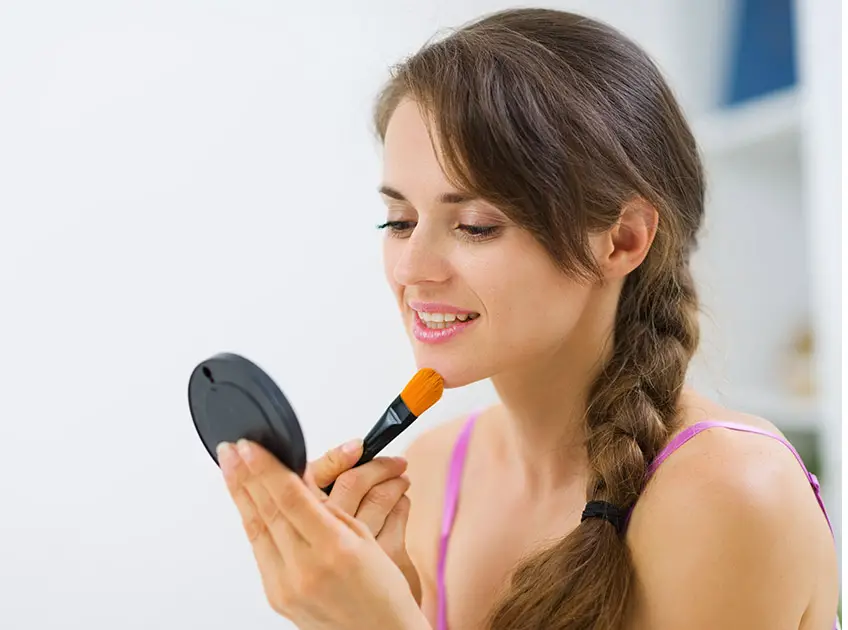 Many dark-skinned girls find it extremely difficult to find the right kind of makes up to match their skin tone. Applying the right makeup can accentuate the beauty and will give you confidence.
What do You Need to Enhance Dark Skin
Having dark or multi-ethnic skin is not a hindrance for getting the perfect look with the makeup. The biggest mistake made is in choosing the color of the foundation. You might choose one that is too dark or light. Take time and have patience in finding the perfect shade. You just need to select the right make-up products and use the right makeup techniques to get the best look. Here is how to do makeup for dark skin.
[ Read: 7 Best Drugstore Foundations For Dark Skin ]
1. Apply Foundation with Right Color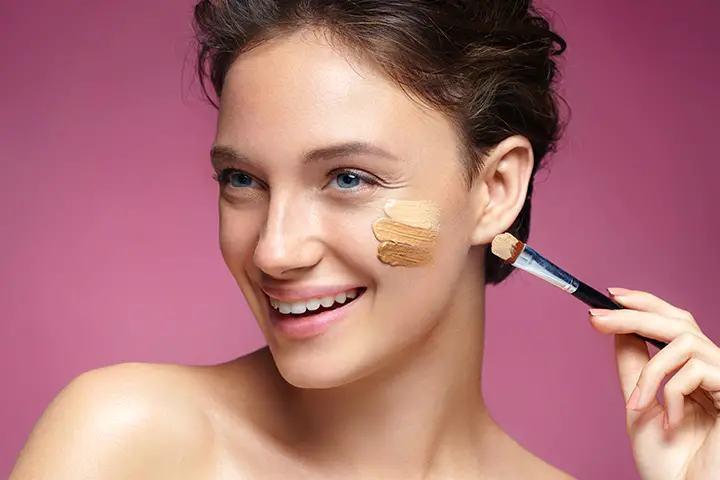 To apply the foundation on your dark skin, you will need to have the  moisturizer/primer gel, and the chosen foundation ready before working on your face.
There are different brands of foundations offering different shades for different skin types. Select the foundation according to the dryness or oiliness of your skin.
Matte finish foundation is for oily skin and creamy foundations are perfect for dry skin. Combination skin can use any foundation which looks best on them.
[ Read: How To Apply Foundation ]
Wash the face before you apply the foundation. Make sure that you apply moisturizer prior to applying foundation if you have dry skin.  For oily skin, you need to use face primer gel.
Start applying the foundation from the center of the face and blend with a foundation brush until the face gets fully covered. Use the brush in a circular motion to blend.
A mattifying powder will help in getting the desired look easily. It can be used over the entire face like the foundation. Your face will have a smooth and velvety look.
If you want to highlight your cheekbones apply bronzer right below the cheekbones. For a more elegant look, try using a blush and finish it with a bronzer on top.
[ Read: How To Choose The Right Foundation For Your Skin ]
2. Apply Bright Eye Shadows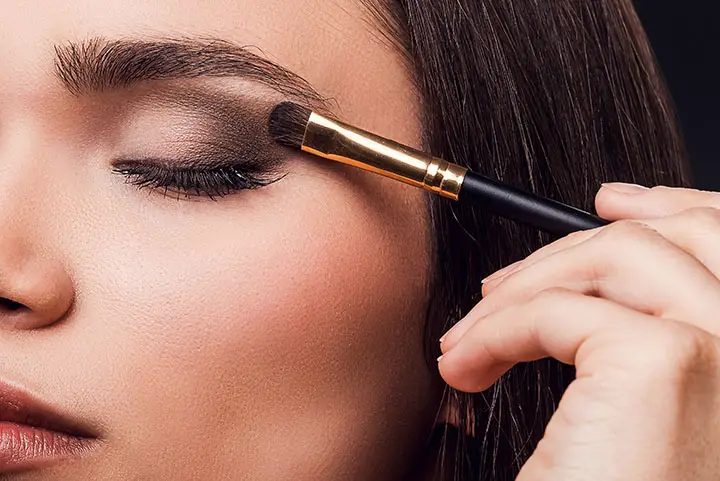 For girls with dark skin, it is better to opt for bright shades like blue, purple, copper, yellow, gold, etc. Bright and vibrant metallic colors can give a dramatic look to the dark skin tones.
You can also try combining two colors which will go together like gold and blue, copper and yellow, etc. Use brighter shade below the eyebrows and at the inner corner of the eyes to make the eyes look brighter and bigger.
For everyday makeup, you can opt for a blend of neutral colors as well. It is always a good idea to use it after you have applied the foundation.
[ Read: How To Apply Eyeshadow Like A Pro ]
3. Use Eyeliner and Mascara to Enhance Eyes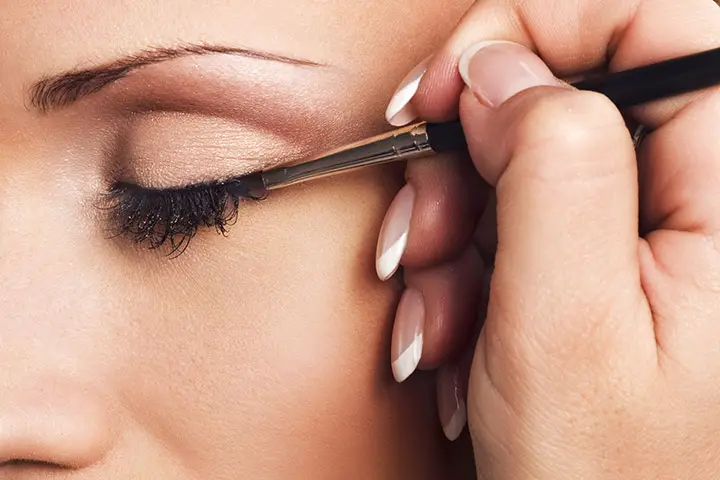 Eyeliner and mascara can give life to your eyes. For natural-looking eyes, use brown or black eyeliner and for a striking look, use colored eyeliner.
Apply eyeliner starting from the inside corner of the upper eyelid and move towards the outer corner. Applying mascara on eyelashes gives a perfect look as they thicken and lengthen the eyelashes.
You can get the best look for your eyebrows by using eyebrow pencils. Use a pencil to make small strokes to make your eyebrows look thicker and darker.
[ Read: How to Apply Mascara ]
4. Wear Bright Lip Colors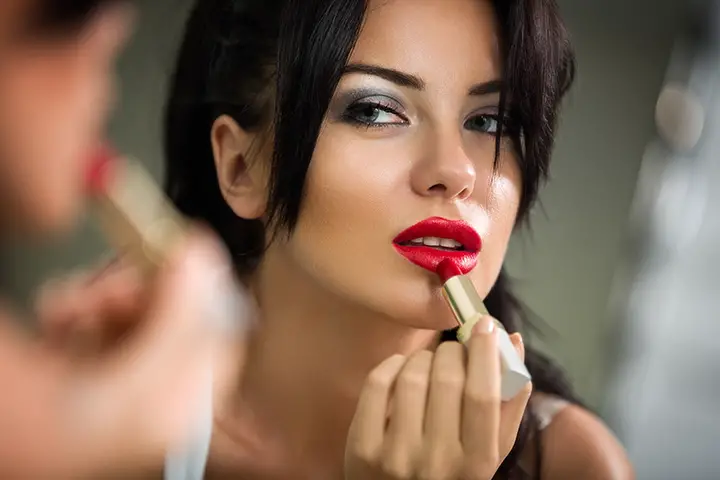 Select lipsticks with colors that match your skin color. You can opt for bright reds, deep purple or orange lip colors.
Apply lipstick and after removing the excess lipstick finish with a lip gloss. Lip gloss helps your lips to remain moisturized.The lip gloss can be used whenever you feel the lipstick is looking dull or dried.
[ Read: How to Apply Lipstick Like a Pro ]
Do a patch test for makeup products to find out whether you have any allergies before you use it for actual makeup. You need to try different products to find out which one suits your skin. Shimmery products can become very reflective. So if you do not want shiny appearance go for the matte foundation.
Always cleanse your face before you apply any makeup. Though the above tips can give you an insight on how to apply makeup on dark skin, you can make it perfect only by trial and error. So try different products with different shades and textures and find the most suitable products and procedures for you.
You Might Also Like: