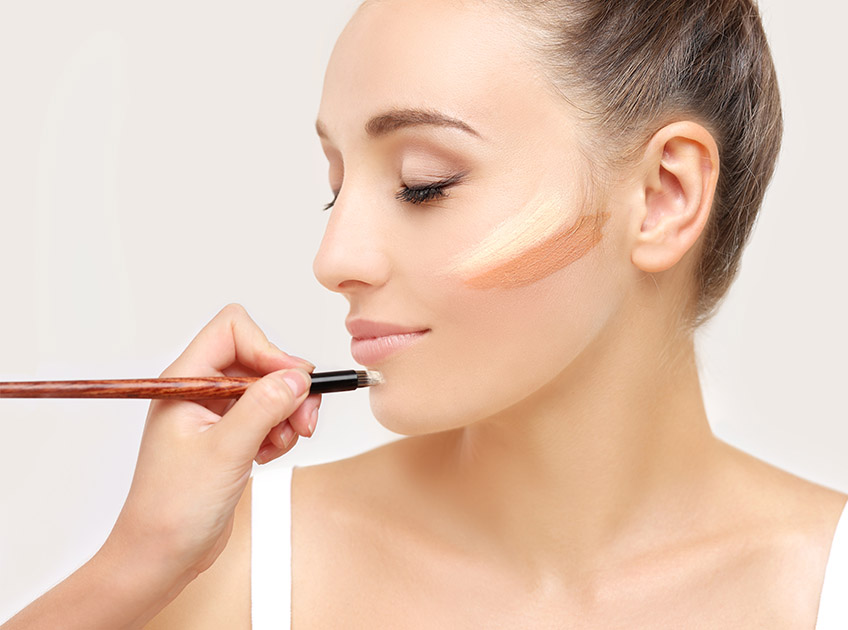 We, women always look for the best ways to apply make as per the shape of our face. In case you have a cheekbone, temples, and the end of the jaw line-up perfectly, you have a square face.
If you follow the tips meant for round or heart-shaped faces, it is going to turn out a little odd. You need to focus on tips that are meant for a square face. When you figure it out, you will realize that the makeup hadn't ever looked better.
In case you have a square face and have a problem applying makeup, check out the makeup tips given below.
8 Best Makeup Tips for Square Faces
1. Contour the Forehead Edges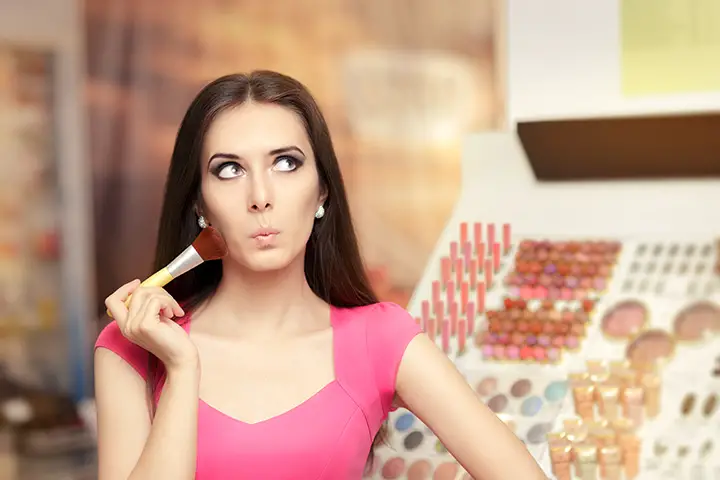 Start by using a shade which is a little lighter than your skin tone. If you use a shade which is too close to your natural skin tone, it is not going to create the shadow effect. To soften the sides and minimize the shape, use contour on the forehead edges.
Avoid adding contour around the hairline. Apply it on the temples. Smooth out the forehead edges and blend to make sure that there are no harsh lines.
The oval face has high cheekbones and the forehead is wider than the chin. To contour it, you should shade in 3 number shape starting from the temples to the cheekbones and finally to the outside of the upper jaw.
[ Read: Makeup For Beginners ]
2. Give Definition to the Cheekbones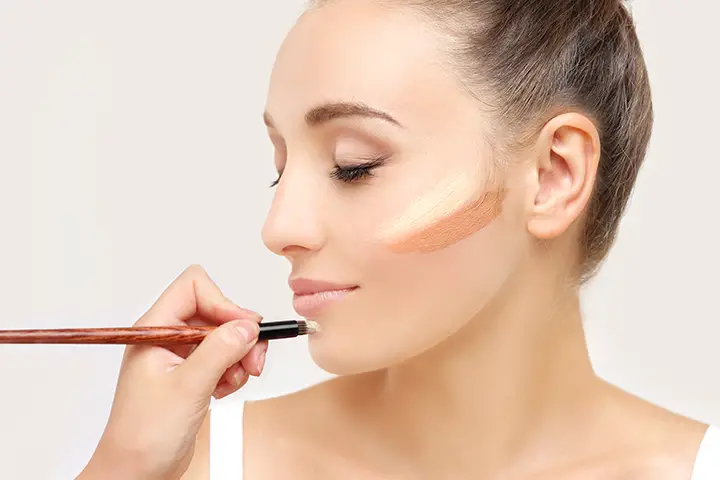 Cheekbones play a significant role when it comes to square face makeup. When you have a square face, you would like your cheekbones to be defined.
Apply the contour in a scooping motion just under the cheekbones. It will make your cheekbones appear outlined. While contouring, your aim is to soften the edges of the facial features.
Blend properly and do not apply contour excessively as it will make your face appear filthy instead of flawless.
[ Read: How to Get Perfect Cheekbones With Makeup ]
3. Soften Jawline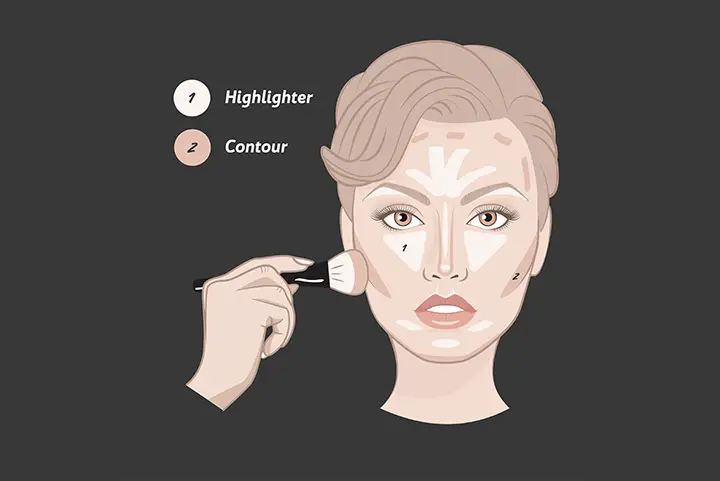 Square faced people have built jawline and have trouble in minimizing it. However, it is much easier than it sounds. Instead of reshaping, you will have to soften the jawline.
Apply contour on the jawline in a scooping motion. Outline both sides of jawlines in a rounded fashion. For reducing the jawline broadness, apply contour in rounded motion to ease out the jawline edges.
4. Use Contour Highlight to Chin, Forehead, Cheekbones, and Bridge of Nose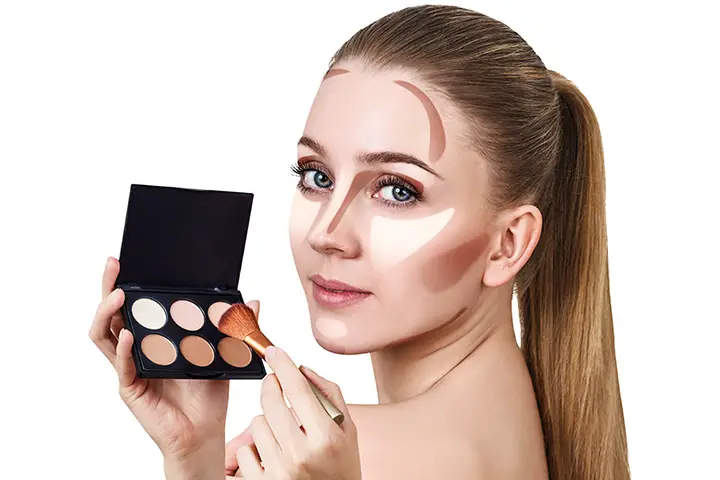 One of the best tips is to contour highlight the chin, forehead, cheekbones, or bridge of the nose. Focus on the high points of the face.
First, highlight the bridge of the nose and forehead and then apply on the cheekbones for bringing them out.
Ultimately add some highlights to your chin center. However, avoid applying too much as it can give you an oily face. Blend precisely to get a natural glow.
It is better to use darker shades while contouring as it will easily reshape and define your facial features. To emphasize certain areas on the face, use baking and highlighter so as to lighten those areas.
[ Read: How to Contour for Your Face Shape ]
5. Apply Dark Eyeshadows for Bringing Out Your Eyes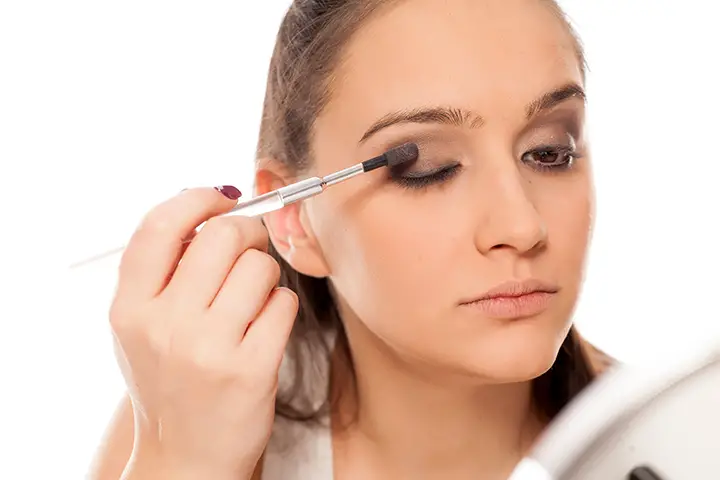 Who doesn't want to have bigger eyes? Dark eyeshadows can make your eyes look larger even when you have a square face which usually hides the shape of the eye.
Use lots of mascara and darker eyeshadow to make that eye look bigger. If you want, you can also use false eye-lashes for opening up your eyes. Don't shy away from pulling off a smoky eye to get the perfect dramatic look.
[ Read: How To Apply Eyeshadow Like A Pro ]
6. Use Rosy Toned Blush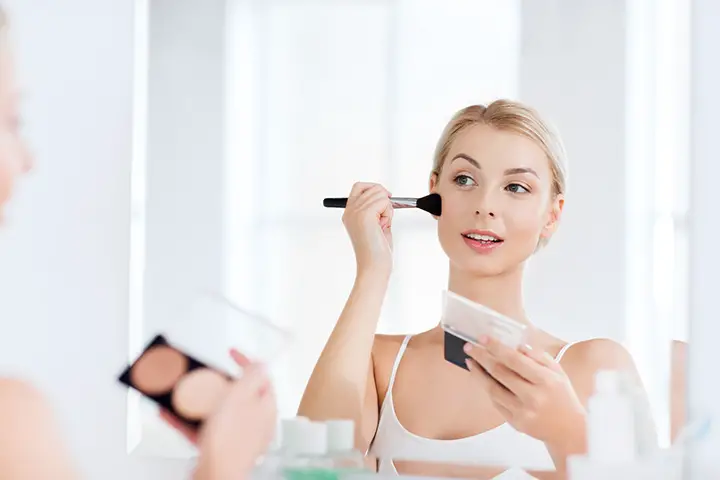 While choosing the blush shade, make sure that it isn't too obvious and pink. Go for a shade that is natural and will help in bringing out the life in your cheeks.
It is better to opt for a rosy-toned blush when you have a square shape face. This is because the color is more on the natural side.
As you have contoured the cheekbones, contour once again to garner attention. Use light lasting blush on your cheeks to get a subtle look.
Applying the blush with the right kind of tool will help in getting the desired result easily. Use makeup sponge for liquid or cream blush and a fan brush for a powder blush.
[ Read: How To Apply Blush Correctly ]
7. Make Lips Look Fuller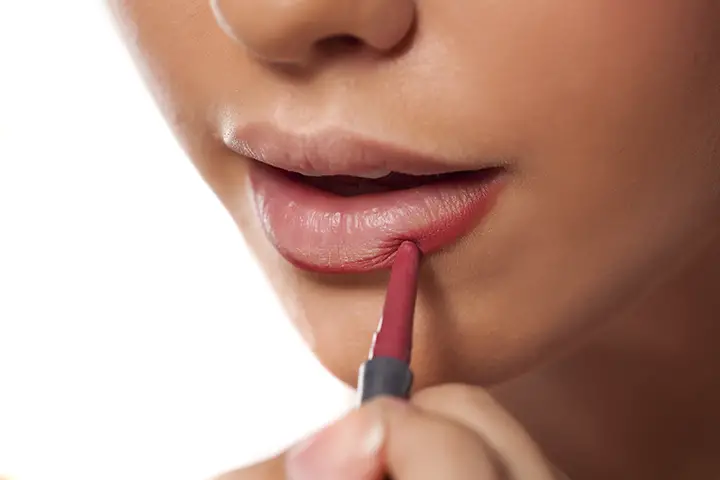 No, you don't need fillers for this. In case you have thick lips, just make sure that you do not use a shade of lipstick that is too dark. Lip gloss works pretty well for making your lips appear fuller.
However, if you have thin lips, try to expand them a little. Use the lip liner for outlining the natural lips and over line them a little.
Thereafter, fill the outer edges of the lips using the lip liner without filling the lips completely. Better use a liquid lipstick for filling the lips as it is easier to blend and is going to dry over the liner.
[ Read: How To Apply Lip Gloss Perfectly ]
8. Bronze Cheek Hollows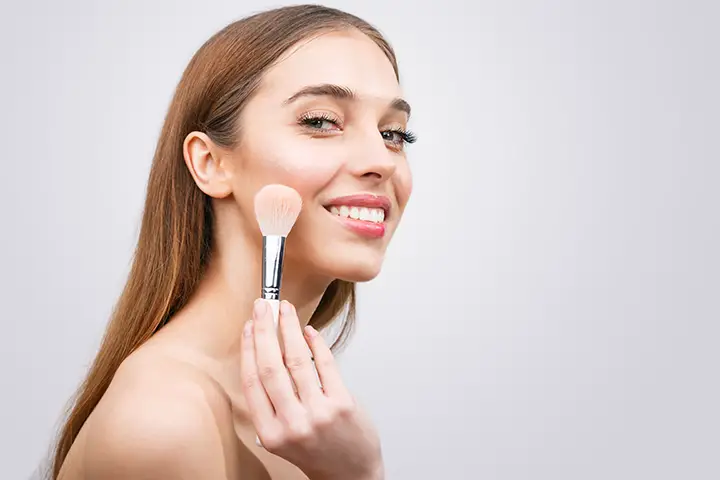 Avoid using a bronzer that is darker. Keep in mind that you want to get a natural makeup look. Go for a shade that is a little darker than the usual skin tone.
As you have already contoured avoid going for a heavy bronzing. With light bronzing, you will be able to bring out the contour and keep blending, till it merges with the skin.
[ Read: How To Contour Your Cheekbones Like A Pro ]
Apply Metallic or Shimmer Highlighter in C-Shape
As you are aiming for a natural look, you should not overdo it. You should highlight in C shape from temples to your cheekbones.
This will soften the edges and yet give a stunning glow to the face when it reflects light.
Make sure you highlight the tip of the nose and Cupid's bow for a better shine.
With the help of these few tips, you can have the best look even for your square face. All that you need to keep in mind is not to overdo the makeup.
You Might Also Like: