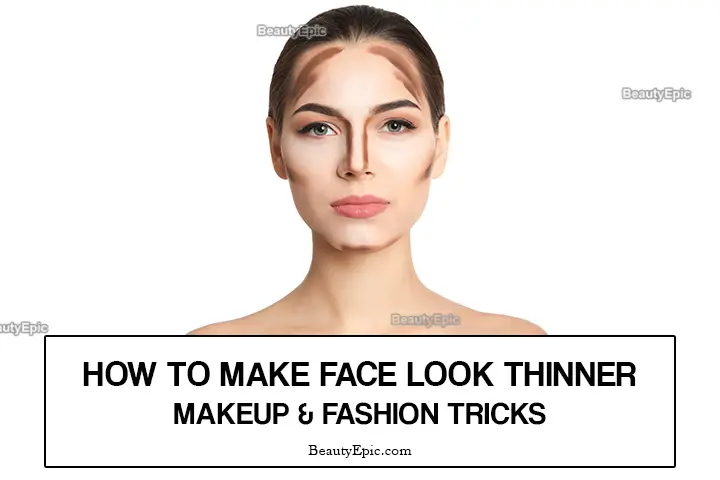 Tired of people talking about your chubby and/or round face? Let's shut them up with these simple tips that will make your face look thinner and even sexier.
Makeup Tips to Make Your Face Thinner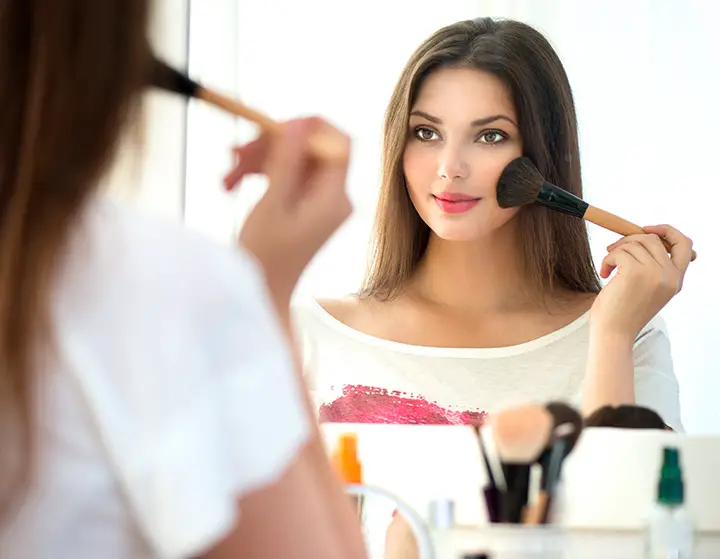 With contouring makeup, you can actually make your face look narrower. To pull this off, simply follow the steps below:
[ Read: Beauty Blender How to Use and Clean ]
Apply foundation that matches your skin tone and be sure to blend it well with the help of a brush or sponge.
Apply highlight that's two shades lighter than your skin tone to your cheekbones and blend it towards your eyes with the help of a small brush. Aim for a shape like flipped over triangles as this will make your cheekbones seem more angled.
Add a thin line of highlight to the bridge of your nose.
Add another upside-down triangle of highlight between your eyebrows and blend it upward towards your hairline.
If you don't have a prominent chin, apply some highlighting powder to your chin as this will make your face seem longer.
Smear bronzer that's a shade darker than your skin beneath your cheekbones. As a guide, pout like a fish and apply the bronzer in your cheeks' indentation.
[ Read: How to Apply Concealer ]
Make your nose appear thinner by using the bronzer to contour the sides of your nose.
Apply a bit of bronzer to both sides of your temple.
Give your jaw a more angled look by applying bronzer under and along your jawline. Focus less on your chin and more on the middle of your jaw.
Now, blend everything you've applied into your foundation with the help of a fluffy brush, or a blending sponge if you used cream-based makeup. Do this till your face looks smooth and voila, slimmer face.
[ Read: How to Apply Eyeshadow Like A Pro ]
Using Eyeliner and Mascara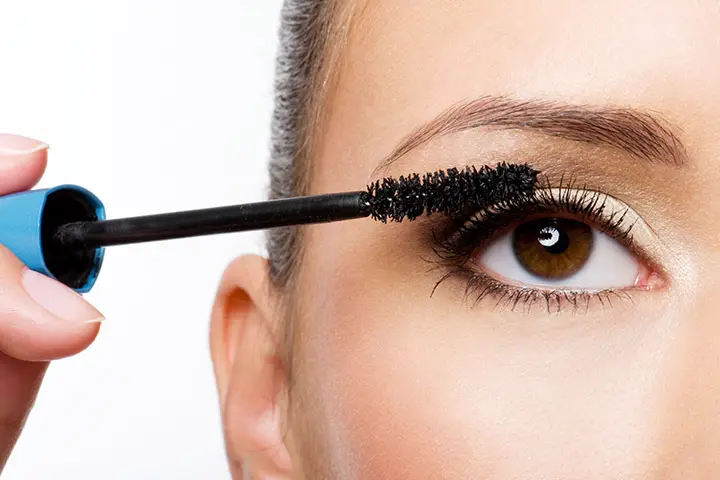 If the above seems like too much work, you can still achieve impressive results by applying more elaborate eye makeup. This will make people focus more on your eyes than your face.
[ Read: How to Apply Mascara ]
Try applying eyeliner in a cat eye style or a wingtip style. By focusing the makeup more on your eyes' outer corners, you will make your eyes seem larger and your face narrower.
You can also use highlighting powder and bronzer to contour your lips and make them look fuller. This will take people's focus away from your cheeks and more to your lips. Remember to cap it all off with bright lipstick.
Wear a Hat
Hats with a small brim or high crown will make your head seem longer and create the impression of a thinner face.
Wider Frame Sunglasses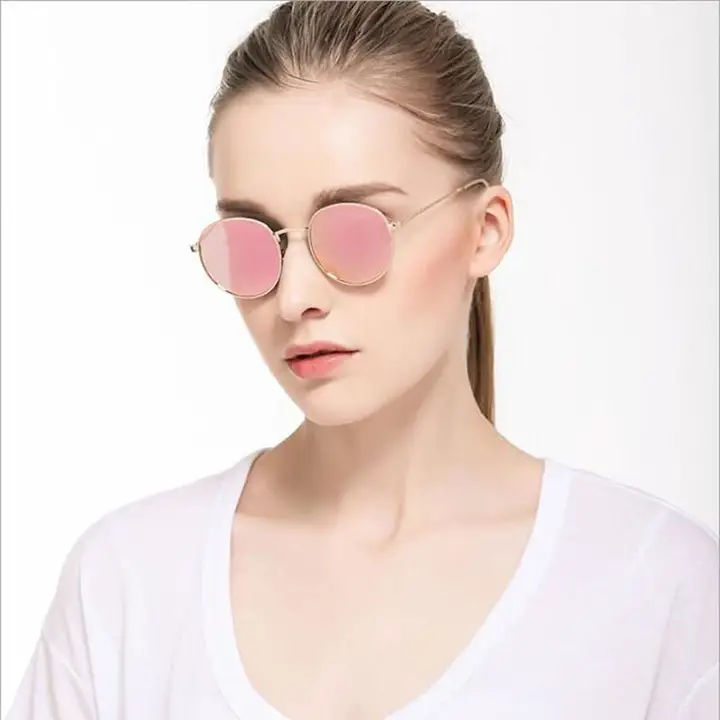 Rectangular shaped sunglasses with rounded corners and that are wider than your face will make it look thinner.
Long Dangling Earrings
Studs and chunky earrings won't work for this. What you need are long, dangly earrings that go past your jaw. The more angular the earrings are, the more they'll contrast with the shape of your face and make it seem thinner.
Scoop and V-neck Shirts
The longer the neckline of a shirt, the longer it will make your neck and face look.
Plunging Necklaces
This will pull attention from your face by drawing eyes downward. It will also create the perception that your face and neck are longer.
The Right Haircut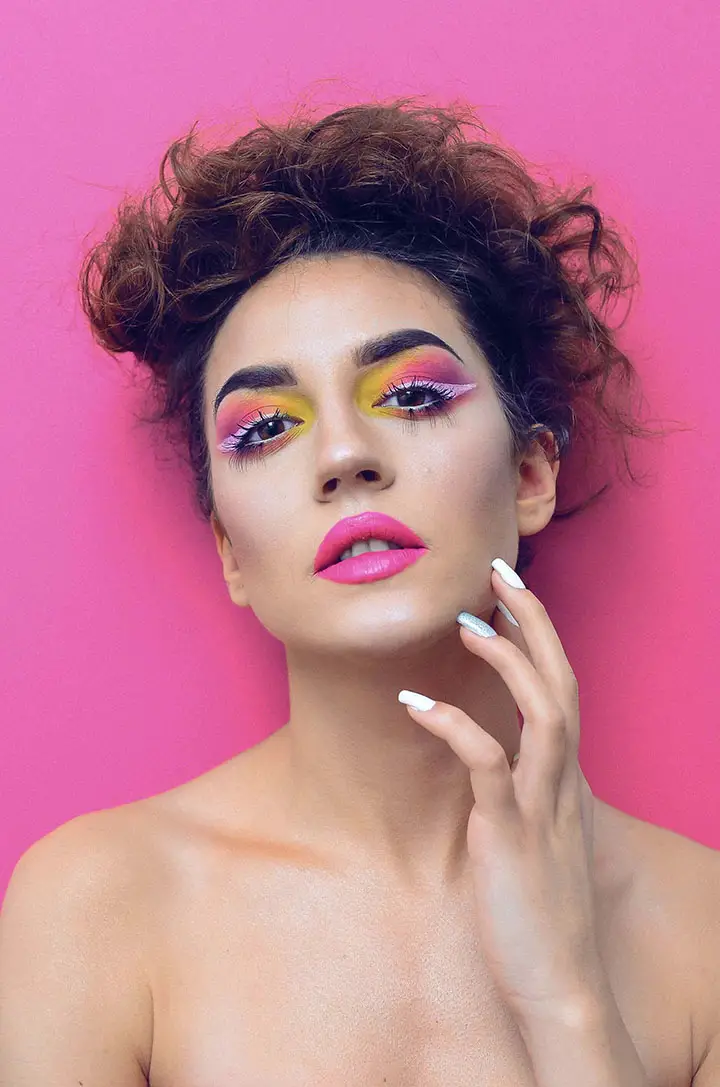 Adding soft fringes and lines to your hair will frame your face beautifully and make it look slimmer. You can also try a longer hairdo which will make your face look longer.
Avoid bushy hair and straight-cut bangs. Instead, opt for curls or slightly wispy bangs that are longer on the sides.
Parting your hair to the side can also make your facial features seem more symmetrical and longer. A low ponytail or braids will also work.
Grow a Beard
For guys, a beard is a great idea for making your face look slimmer. It will help create contrast while a pointed beard or goatee will stretch out your face.
Facial Exercises
For a slimmer face that's less short-term, consider facial exercises. Exercises that can help tone your face include:
Making the most fish face you can and holding it for a few seconds.
Pointing your chin upwards while leaving your jaw wide open. Hold the position for some seconds to stretch your facial muscles.
Closing your eyes tight and squeezing your face for a few seconds. Then, open the whole thing as wide as you can for a few seconds. Repeat the process until you are satisfied or bored.
Those are our simple tricks for helping you achieve a slimmer face. In addition to facial exercises for longer lasting results, consider improving your diet by eating more fruits, veggies, grains and lean meats while avoiding sweet, fatty or fried foods, as well as alcohol.
You Might Also Like: