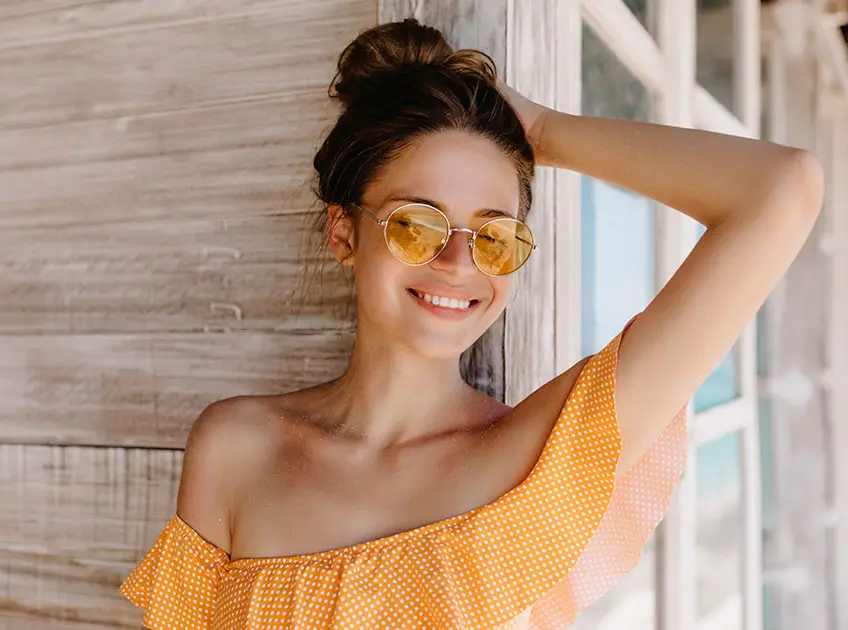 Besides getting a toned body and losing weight by doing exercises, you can also appear thinner with some simple tricks. Slimming makeups, body wraps, cellulite reduction massage treatments such as endermologie and using neck tape are some ways to do this. Tanning is also one way of looking slimmer. Read on to know how effective it is.
Tan Makes You Look Skinnier
Does Tanning Make You Look Slimmer?
When you love a bronze glow on your skin and looking for an easier option to get tanned, the tanning spray is a good choice when you have no time for real tanning. This simply doesn't make you appear tanned but can also make you look slimmer. You can ask your tanning salon for the contour tan to get a set of visually sculpted abs, with slimmer arms, and higher cheekbones. These are done with a spray shade which is a shade darker than your skin tone.
A highlighter of molten metal color can be used for subtly gilding the skin and grabbing attention to shoulders clavicles and top of arms. For lengthening your limbs, some swipes of bronzer or self-tanner under the calf muscle, thighs, and butt cheeks can result in a toned look. While doing this, make sure to avoid anything shimmery when you have cellulite as this will spoil the look by highlighting the area.
To contour in a way that the tan doesn't get washed off when you are in the sea, customize your tan to get better outcomes. A waterproof bronzer stays for at least 6 hours.
Tips: Shaving the skin makes it ready for bronzing. So it is better to shave before applying a tan. But make sure not to do it right before the tanning as it can lead to irritation. Doing this a few hours before is recommended.
[ Read: Can You Get Tan In The Shade ]
Is Fake Tanning Safe?
Yes but some people might get acne with fake tanning products. So, it is better to look for products that are non-comedogenic as they dont have any oil. Thus, they cant block the pores, eliminating the chances of worsening the acne spots.
When you go for a tanned look by contouring your framework, whether it is a visit to the beach or just showing off to others on other occasions, skin protection is a must. The harsh sunlight can lead to sunburns even in the tanned look, so make sure to apply enough sunscreen and stay protected.
You Might Also Like: